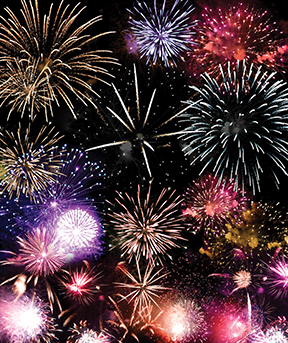 Who was Yankee Doodle?
by Lee Stott
It's an interesting story. We're told the British troops often marched to a version of the famous tune, believed to be about an American who was tarred and feathered for attempting to buy a musket in 1775:
"Yankee Doodle came to town,
For to buy a firelock,
We will tar and feather him,
And so we will John Hancock."
The tune itself is much older than both lyrics and subject. Many knew the melody in England, France, Holland and Spain centuries before the American Revolution. The earliest words came from a 15th-century Middle Dutch harvest song, containing mostly nonsensical, out-of-place words. "Doodle" (in Dutch) meant playing music badly, or "dodel." The player was a fool, or simpleton.
British military officers sang the tune to mock the disorganized Colonial "Yankees".
"Dandies" were men who placed a lot of importance on physical appearance. "A macaroni wig" was an example of extreme fashion in the 1770s. The term became slang for foppishness. In British conversation "Yankee Doodle Dandy" implied unsophisticated misappropriation of high-class fashion, and sticking a feather in his cap further ridiculed the "unmanly" American men.
Interestingly, "Yankee Doodle" became popular among the Colonial forces as a song of defiance. They tacked on additional verses, up to 15 by my count, mocking the British troops. By 1780 "Yankee Doodle" had almost become a tune of national pride.
"Yankee Doodle" also appears in one of America's early comic operas. "The Disappointment" (1762) is about the search for Blackbeard's buried treasure.
There was precious little in the way of composed concert music at the time of the American Revolution. Expression in music and dance was somewhat limited in New England by Puritanical belief – it was intended for divine worship only. Music was more welcome in New York and parts of Pennsylvania, finding expression in games, plays, lotteries and dancing.
The first native-born American composer was Francis Hopkinson (1737-1791), a signer of the Declaration of Independence. His first song dates from 1759, 150 years after the colony of Jamestown was established.
The next American composer of note is James Lyon (1735-1794). Lyon penned a number of hymns, anthems and psalm tunes. In 1770, the year Beethoven was born, William Billings of Boston, the "Father of American Choral Music" (1746-1800), published a book he called "The New England Psalm Singer," which contained many of his own tunes, including his famous "fuguing pieces."
There were other 18th-century American composers, including several American Moravians and foreign-born musicians – the latter taking musical life of the New World into their own hands. Many were English, some French, and a few were Germans.
The first music concert, of which we have record, was held in Boston. The year was 1731, when the New England ban against secular music was gradually being lifted. "A Concert of Music on Sundry Instruments" was held in "the great room at Mr. Pelham's, an engraver, dancing master, instructor in reading and writing, painting upon glass, and a dealer in the Best Virginia Tobacco."
Other "concerts of musick" followed. After Boston, the next American city to enjoy a concert was Charleston, South Carolina, followed by New York City, where in 1736 there was advertised a "Consort of Musick, vocal and instrumental, for the benefit of Mr. Pachelbel, the Harpsichord part to be performed by Himself. The Songs, Violins and German Flutes by Private Hands". (The same Mr. Pachelbel's Canon in D would one day become very famous.)
MUSIC DURING THE CENTENNIAL OF AMERICAN INDEPENDENCE
Not every city or hamlet waited until 1876 to celebrate America's Centennial. Four years earlier, Boston staged a World Peace Jubilee, a concert festival that commemorated the Boston Tea Party and the Battle of Bunker Hill.
The popular French composer Jacques Offenbach came to New York and Philadelphia for a series of concerts. Offenbach's promoters jacked up the ticket prices to double the usual amount – general admission was $1 and private boxes $5. Even so, on May 11, 1876, 5,000 crowded into the hall to see and hear Offenbach, billed as "the most fascinating composer of the age, the operatic Puck."
Offenbach was given a standing ovation when he entered the stage, but half the audience left, disappointed before the concert ended. Did pre-concert hype lead the New York audience to expect singing and dancing, or maybe even a rendition of the Can Can with leggy dancing girls?
John Knowles Paine (1839-1906) was the first American-born composer to achieve fame for large-scale orchestral music. (Paine is recognized as the senior member of a group of composers collectively known as the Boston Six – George Chadwick, Amy Beach, Arthur Foote, Edward MacDowell, and Horatio Parker).
Paine is noted for beginning America's symphonic tradition, and for writing America's first oratorio ("St. Peter"), the Centennial Hymn that, with orchestra, opened the 1876 Centennial Expo in Philadelphia.
Richard Wagner accepted a commission of $5,000 to write a piece celebrating the 100th anniversary of American Independence. Evidentially Wagner found inspiration for the project difficult. His wife, Cosima, recorded in her diary: "He can think of nothing but the 5,000 dollars he has demanded." The work has been seldom if ever played since its premiere in 1876.
MUSIC FOR THE BICENTENNIAL
The U.S. Bicentennial was a whole series of celebrations and observances held during the mid-1970s, culminating on Sunday, July 4, 1976, with the 200th anniversary of the adoption of the Declaration of Independence. There were many screen, film and television events, and several commissioned concert works.
Many 20th-century composers wrote pieces that reflect the spirit of the nation's Bicentennial. Beyond Bernstein, Bloch, Copland and Grofe, I'd like to suggest Gould and Harris.
Morton Gould (1915-1996) was blending widely disparate elements including jazz, folk and Broadway into his concert music long before the term "crossover" was invented. Capping a life full of achievements in all facets of music are Gould's 1995 Pulitzer Prize for "Stringmusic," commissioned by the National Symphony Orchestra for the final season of Music Director Mstislav Rostropovich, and Gould's 1994 Kennedy Center Honor in recognition of lifetime contributions to American culture.
Gould was honored by "Music America" as the 1994 Composer of the Year. He served as President of ASCAP (the American Society of Composers, Authors and Publishers) from 1986 to 1994. Gould's "American Ballads, Settings of American Tunes for Orchestra" was premiered in 1976.
Roy Harris (1898-1979) presents in his music a rugged American patriotism, a kind of "Americana." Harris researched deeply into folk music and to a lesser extent jazz rhythms, and applied both liberally into his works. He also used the early European fugue form, especially in his famous Third Symphony.
Harris's "Bicentennial Symphony 1776 for Six-part Chorus and Orchestra with Solo Voices and Speakers," or Symphony No. 14, out of superstition over the number 13, was posthumously re-numbered as No. 13 with the permission of the composer's widow. His Symphony No. 2 is paired with Morton Gould's 3rd Symphony in an energetic reading on a 2002 disc released by the Albany Symphony. Some may recall the semester or two Roy Harris spent a generation ago at WKU, teaching and mentoring.
THE BROADWAY VERSION
The musical "1776" arrived in 1969, seven years before the nation's Bicentennial. The film version followed in 1972. The production won three Tony Awards, one for Best Show. The story is based on the events surrounding the signing of the Declaration of Independence, dramatizing the efforts of John Adams to persuade his colleagues to vote for American independence and to sign the document. Although many historical inaccuracies pervade the musical, few are really troubling. As New York Times critic Clive Barnes puts it: "'1776' is striking, gripping, literate, urbane, and very amusing."
AROUND TOWN
"Feelin' Groovy: Remembering the Summer of Love." Orchestra Kentucky notes the history, legacy and impact of Summer 1967, when over 100,000 young people converged on San Francisco to share their interest in hippie fashions, politics and music. The Rewinders bring back the music of that summer with songs by Jimi Hendrix, The Who, Simon & Garfunkel, Janis Joplin, Jefferson Airplane, Buffalo Springfield and more. The show begins at 7:30 p.m. Saturday, July 29 at SKyPAC.
The Summer String Institute is scheduled for Monday, July 24 from 8 a.m. to 8 p.m. in the Gordon Wilson Fine Arts Center. For details, contact the Western Kentucky University Department of Music.
Have a musical Fourth!
About the Author:
 Lee Stott is retired from WKU Public Radio, lives near Franklin with his daughter Cindy Wade's family and has 30 grandchildren and one great-grandson.