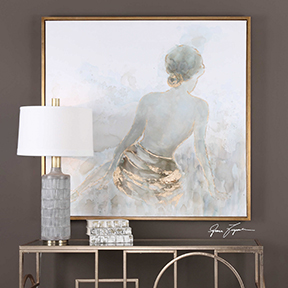 Accessories add that finishing touch
by Clarissa Smith and Pan Thaweechok
Do you ever think of putting some accessories in your house to make it look better? Would it be nicer if you put a beautiful vase on an empty coffee table to make it look more interesting? What if there is not enough light for you to read your favorite book? Should you add a lovely lamp? Now you see, accessories are one of the most important factors in making a house look great.
There are many brands that carry wonderful accessories – Uttermost, Magnolia Home, Sterling Industries and Medallion are the brands that carry high-quality products.
Uttermost has an especially wide variety of products available and is famous for their line of home décor, which includes rugs, prints, lamps and more. Uttermost is passionate about what they do, what they believe and who they are. It is a family owned business, which mean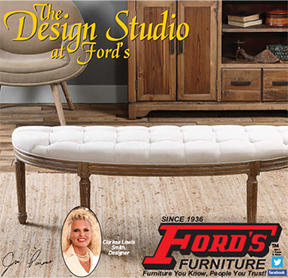 s you can trust that the products you purchase are of excellent quality.
I guarantee that you can find wonderful accessories that you will love at reasonable prices at Ford's Furniture. So take the time to stop in and view all the new accessories we have to offer. Ford's has a variety of items in many different colors, styles and shapes to add depth to a
ny table, shelf, fireplace or other location in your home. A few changes can make a huge difference. Call for your appointment today so you can put those final touches on any room.
About the Authors:
Pan Thaweechok is an intern at Ford's Furniture and a design student at Western Kentucky University.
Clarissa Smith received her education from David Lipscomb University and Western Kentucky University in the field of design. A former visual merchandiser for Castner-Knott, she decorated on the side. She has decorated Parade homes in Fountain Trace and Covington Grove plus a wide variety of commercial buildings including Chandler Park, Chandler Assisted Living and Hospice along with several banks and doctors' offices. She has been employed as a buyer of accessories and the on-staff designer at Ford's Furniture for 12 years.