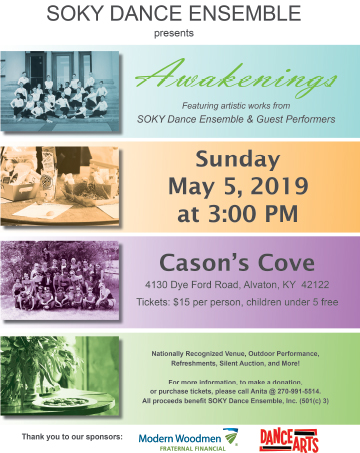 In residence at Dance Arts of Bowling Green since 2011 and under the creative direction of Ashleigh Davis Keefer, SOKY Dance Ensemble is the only pre-professional dance program in south central Kentucky. Dance Arts and SOKY Dance Ensemble provide students with a superior dance education and professional guidance for a career in dance. SOKY Dance Ensemble students currently range from 8-18 years of age. All dancers train 11 or more hours each week in the studio. Students train in a variety of genres of dance including ballet, pointe, jazz, musical theatre and more. In addition to weekly class time, dancers also devote hours to supplemental dance education opportunities including guest artists and choreography workshops, community performances, regional and national dance festivals, conventions and competitions.
Annual Gala – "Awakenings"
Currently, there are 20 young ladies involved in SOKY Dance Ensemble. This year's collaborative performance will be the annual gala, Awakenings, held at the gorgeous Cason's Cove venue on Sunday, May 5, at 3 p.m. The community is invited to enjoy an afternoon of artistic works from the SOKY Dance Ensemble, prestigious guest artists and other guest performers. There will also be light food and drink served, as well as a silent auction items.
Mission Statement
SOKY Dance Ensemble's mission is to provide dancers with the artistic education that fosters excellence in all forms of dance in a manner that embraces a passion for the art form. The SOKY Dance Ensemble members strongly believe in providing dance education and performance opportunities as an avenue for success of artistic expression.
SOKY Dance Ensemble Inc
The SOKY Dance Ensemble Inc. members, dedicated parents of the students, strive to raise monetary means for continued education opportunities by fundraising, donations, sponsorships, and scholarships. In addition to the importance of dance education, these members also have a strong desire to give back and have a positive influence within their community.