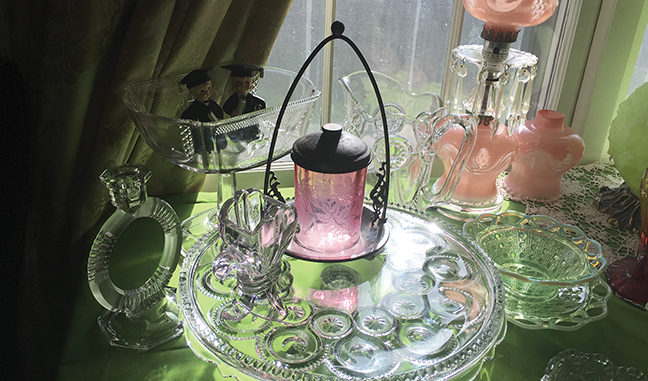 OVERWHELMED. That's the word Kevin and Rebecca Erven hear most often when people are faced with the task of liquidating the estate of a loved one. The countless hours that turn into weeks, then months, and sometimes even years. The daunting task of cleaning, sorting, hauling, deciding what to do with everything, etc., can quickly overwhelm.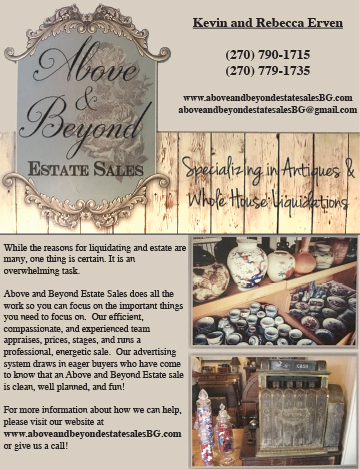 OR, you can call Above and Beyond Estate Sales and let them take care of everything. They professionally stage, sort, expertly price, advertise extensively, and conduct a fun, energetic, well-attended, on-site sale. After the sale is over, the home will be completely empty, vacuumed, and swept out.
Perhaps even more important, Kevin and Rebecca truly respect what people spend a lifetime building, and that care and respect is evident in their estate sales. From the clean, well-lit, beautifully displayed items to the warm ambiance, the music throughout the home, and the happy shoppers delighting in found treasures, an Above and Beyond Estate sale is a much anticipated event.
"How the sale reflects on the homeowner is a hallmark of Above and Beyond that we just won't compromise on," said Kevin, "At every sale we hear people exclaiming that our sales are the best, most organized estate sales they have ever been to. Many of these people have gone to estate sales for decades, and in multiple states. We'll do the same job for you that I would want done for my momma."
The process of having an estate sale with Above and Beyond is easy, Rebecca explained. "Just call, email, or text us. We will come out to the estate property for a consult to answer any questions, set dates for the sale, then we will handle the rest. Our services really free up the client to work on other things that need their attention instead of experiencing debilitating stress at a time when added stress is the last thing they need."
It is not uncommon for out-of-state clients, who have local estates to liquidate, to simply meet with the Ervens, give them the house keys, and go back home, knowing the estate liquidation is in very capable hands. "We have more great references than we can fit on our web page," Rebecca said.
Kevin and Rebecca have owned Above and Beyond Estate Sales for almost a decade. They moved their business to the Bowling Green area over two years ago. 'It's coming home," said Kevin, whose ancestors had lived for generations on property that is now part of Mammoth Cave National Park.
Since moving to Bowling Green, the Ervens success has continued. They say the secret is their deep trust in God and simply doing the right thing. Kevin often says, "When you just do the right thing, everything else will follow." What followed after opening their business in Bowling Green was the opening of the Nashville Above and Beyond Estate Sales. Rebecca added, "The Nashville Above and Beyond has been great for our Bowling Green estate sales because we have so many loyal customers that travel from Nashville to attend our sales."
Here are just a few of many referrals:
" Above and Beyond Estate Sales did a fantastic job taking care of Mom's estate. The staging of the items was unbelievable, the way they put different items together to make it appealing to the buyers. It was amazing how well they managed all aspects of the sale. Kevin and Rebecca were easy to work with and sensitive to the family's feelings while going through the process. They exceeded our every expectation! I would highly recommend Above and Beyond!" -D. Howlett
"We were extremely satisfied with the services of Above and Beyond Estate Sales. They are very professional, honest, great communicators, and your job is totally complete when they leave your home. I would highly recommend their services." – N. Ryczinski
"Above and Beyond was a great help to us! They were very effective, efficient, and certainly trustworthy in handling our estate. I would highly recommend them to anyone who needs this kind of service." – C. Lassiter
"Wanted to drop a note of sincere thanks for the help in the estate sale you did for us a couple of weeks ago. Had it not been for you and Kevin I don't know what we would have done. I would recommend you to anyone who needs an estate sale." – A. Raymer
"Without a doubt Above and Beyond Estate Sales did an excellent job from start to finish on my mother's sale. I would highly recommend their services. It was a delight and a relief to walk into an empty and clean house after the sale. I would use them again if the need should arise." – J. Mansfield
"I can't even imagine what I would have done without you and your staff. The task of going through everything was so overwhelming. The house looked great when I came back." – S. Senteny
"I will say with confidence that Above and Beyond Estate Sales proved to be the most honest and fair businesspeople I have ever dealt with. Any questions or concerns were answered with our welfare in mind. I thank them from the bottom of my heart." – Judy S.
"In my most stressful time, the people of Above and Beyond Estate Sales kindly led the way, taking care of every last detail. I appreciate very much the professional way they handled the sale, but most of all I appreciate their honesty and kindness. I highly recommend them." – Sherri W.
"We had no qualms about turning over the keys to Kevin and Rebecca. They immediately went to work cleaning and staging. They are true to their name as they honestly went 'above and beyond' and we were extremely pleased with the results. We would not hesitate to call on them again should the need arise." – C. Bills
"Kevin and Becky are 100% genuine, one hundred percent of the time. Just great people to work with and very knowledgeable and professional." – R. Whitaker
The website for Above and Beyond Estate Sales in Bowling Green is
www.aboveandbeyondestatesalesBG.com. The email address is
aboveandbeyondestatesalesBG@gmail.com. Phone numbers (to call or text) are 270-790-1715 or 270-779-1735. If interested in having a sale in the Nashville area please call 615-585-5299.