Welcome back, Lilly. After a brief hiatus, the iconic brand, Lilly Pulitzer, has returned to Bowling Green. Pappagallo is pleased to announce Jill Smith has joined our team to continue to provide your "Lilly fix."
"Everything is possible with sunshine and a little pink." – Lilly Pulitzer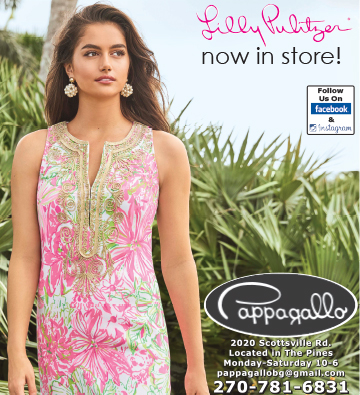 Lilly Pulitzer was born to socialite parents in New York in 1931; her mother was heiress of the Standard Oil fortune. She eloped in 1950 with the grandson of the founder of the Pulitzer prize, Harry "Peter" Pulitzer, Jr. Lilly and Peter owned citrus groves in Palm Beach, Fla. Wanting something to do, Lilly opened a juice stand with produce from the orange groves. This proved to be a messy venture, so she designed a colorful patterned shift to "hide the juice stains." She also wanted it to be cool and comfortable, but fabric thick enough to go "commando." The infamous Lilly shift dress was created, and the rest is history.
Lilly Pulitzer's vibrant, colorful clothing became wildly popular from 1960s to the early 1980s. A former famous classmate, Jackie Kennedy, was photographed wearing a shift dress (aptly named the Jacqueline), and the business soared. Lilly later revealed that the dress, featured in Life magazine, was made of kitchen curtains.
Lilly closed down her clothing company in 1984. Sugartown Worldwide, Inc. approached Lilly in 1993 about purchasing rights and reviving her brand. Lilly continued to serve in the role of creative consultant, approving new designs, fabrics, and collections, until her death in 2013. Today, Lilly is carried in signature stores and select specialty shops.
Print is the magic ingredient that has always set Lillys apart. From the spill-proof days to today, these custom designs are unique and entirely yours. Pro tip… you can tell it's a true Lilly if you can find "Lilly" hidden in the print.
The Pappagallo team – Nicki, Jill, Terri, Maryanne, Stephanie, Betty and Gina – are proud to add Lilly Pulitzer to our mix. As our friend and customer, Page Beard, told me, "You cannot wear Lilly and have a bad day." Come discover the fun today.
-by Nicki Smith
About the Author: Nicki Smith has been in the fashion industry for 36 years. She is the owner of and buyer for Pappagallo, located at 2020 Scottsville Road in Bowling Green (The Pines Shopping Center, next to Chico).