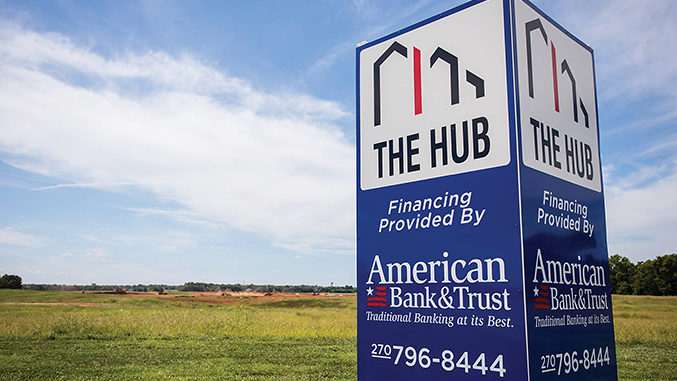 by Scarlet Jent
American Bank & Trust has been building and financing Bowling Green dreams for 17 years. Since our doors opened in 2000, the population of Bowling Green has increased by over 28 percent while the population of Warren County has experienced a growth of over 36 percent.
With an increase in population comes a rising demand for housing, dining and entertainment. As a community-driven institution, it is our pleasure to be in a position to help meet those needs.
Since 2016, AB&T has financed the following projects, totaling more than $55 million in investment in our local community: The Vue on State Street, The Icon on Fairview Avenue, The Hub on Lovers Lane, The Standard on Cumberland Trace Road, and North Pointe on Louisville Road. AB&T has financed many others through the years, including McKinney Farms, Sutherland Farms, and Riverbend Landing.
The most recently completed of these developments, North Pointe, is a 160-unit apartment complex in a previously underserved area of Warren County, where jobs have been created at a much higher rate than the increase in housing. Located on Louisville Road, North Pointe offers amenities such as an exercise facility, pool, and pool house and convenient access to I-65, within close proximity to the Corvette Plant, National Corvette Museum and North Industrial Park.
Progress continues on a mixed-use downtown retail/residential project called The Vue. Located on State Street between Seventh and Eighth Avenues, The Vue will include over 50 one and two-bedroom apartments with a 24-hour workout facility, a restaurant and other retail space. Josh Poling, owner of Home Café & Marketplace, will bring to Bowling Green a "family-style restaurant with a traditionally Kentucky cuisine," reminiscent of his days growing up on Big Barren Trail. Poling's restaurant, Hickory & Oak, will feature a covered patio overlooking Circus Square Park. Joining Poling in the lower levels of The Vue will be clothing stores Pink Daisy and Zingaralla, relocating from their previous homes on Fountain Square.
Just a short distance from downtown, work on The Icon is scheduled to begin soon. Adjacent to our American Bank & Trust location on Fair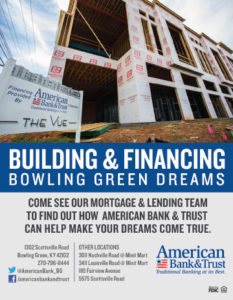 view Avenue, The Icon will be a three-story structure featuring retail, office, and residential space.
Our largest project to date will be The Hub, located on Lovers Lane, conveniently nestled on 90 acres between Scottsville Road and Cemetery Road. This land will be divided into three parcels, featuring a 60,000-square-foot medical facility owned by Med Center Health and the newest location of American Bank & Trust, with the remainder being developed by David Chandler of Chandler Residential LLC. Chandler has developed similar properties in other communities, and his plans for Bowling Green include a 220-room hotel with meeting and convention space, a restaurant, multi-use professional office buildings and over 600 multi-family residential units. The property will also feature ample green space and a greenway trail, creating a state-of-the-art campus look and feel.
American Bank & Trust's impact can be felt not only in the business community, but also in our local residential housing market. At any given time, the bank is financing over 100 residential and new construction projects totaling about $42 million, which turns over about every nine months.
As Bowling Green, Warren County, and American Bank & Trust continue to grow, our commitment to providing community-driven, personal banking service remains steadfast. Come grow with us. We look forward to helping build and finance your dreams, whatever they may be.