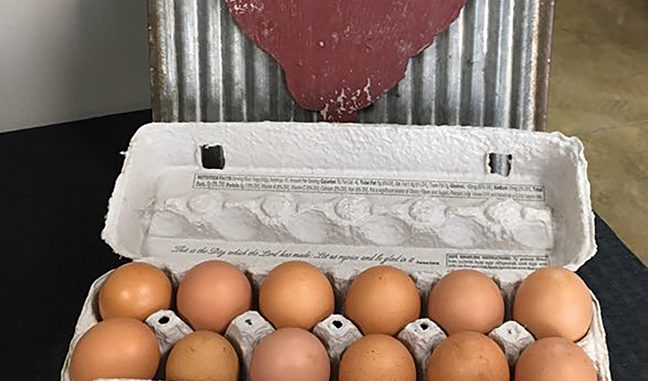 March brings the long-awaited first day of spring. Our vendors are gearing up for another spring season, and SoKY Marketplace is kicking off spring with a new lineup of programs.
Featured Vendor and Farmer Focus
Bluegrass Vineyards is our featured vendor for March. Bluegrass Vineyards is a local wine company producing great wine in Smiths Grove. They have an impressive list of wines ranging from dry to fruity and sweet. Made with fresh grapes, and home stomped, this wine is worth trying.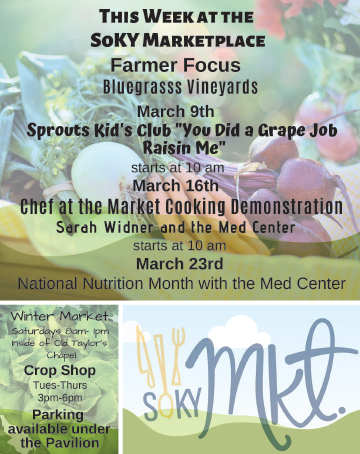 SoKY Sprouts Kids Club
               SoKY Sprouts Kids Club meets on the second Saturday of each month. SoKY Sprouts is an     educational program for children aged 5-13 that focuses on healthy eating and lifestyle habits. We had a wonderful time last month creating valentines and sampling maple candy from South 4 Farms. Our next Sprouts Kids Club is on March 9 with the theme  "You Did A Grape Job Raisin Me." Sprouts will be learning about grapes and raisins and making their own trail mix! The Sprouts Kids Club is limited to the first 20 participants. Participants will also be given SoKY Sprouts vouchers to spend at SoKY Marketplace!
Chef at the Market
The third Saturday of each month is "Chef at the Market." This program brings in area chefs to demonstrate recipes with our featured crop for the month. Last month we demonstrated a spatchcock chicken l'orange showcasing South 4 Farms delicious Maple l'orange sauce and their upcoming poultry rub. On March 16, Sarah Widener, the Director of Community Wellness at Med Center Health, will be joining us, and she will be demonstrating an easy and healthy snack.
Community Focus
The fourth Saturday of each month we will highlight an organization in our community. Last month we had a great time with The Down Syndrome of South Central Kentucky Buddy House and learning about all they do in the community. In March, Sarah Widener will join us again at the market and will be discussing Med Center Health's public health programs and plans for their upcoming mobile kitchen.
Fifth Saturday Craft Fairs
On the fifth Saturdays for the rest of the year, we will have a Craft Fair! Our craft vendors are local artisans who create primarily handmade goods such as pottery, jewelry, decor and practical items. Local crafts have distinct styles and provide unique connection to our local communities and help support community artists and crafts. Mark your calendars for future Fifth Saturday Craft Fairs on March 30, June 29, and August 31!