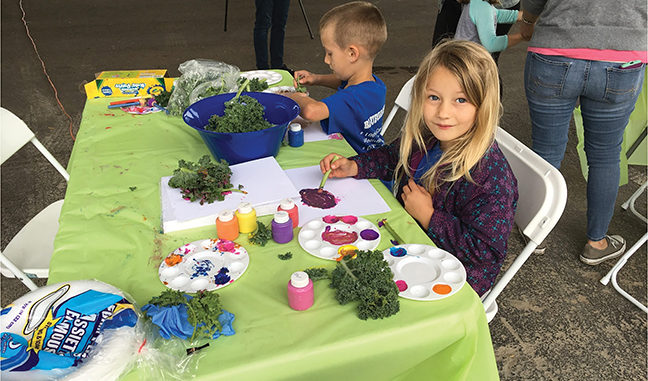 The SoKY Marketplace Farmers Market is ready for summer with new vendors as well as a growing list of food trucks, activities, and events. There is always something to do at SoKY Marketplace. With June being the first month of summer we will celebrate all the fun that comes with it. Visit the market and get your fresh produce, local meats for the grill, artisanal crafts, and grab lunch from one of our food trucks. And if you haven't got your garden in, our vendors have the plants you need to catch up!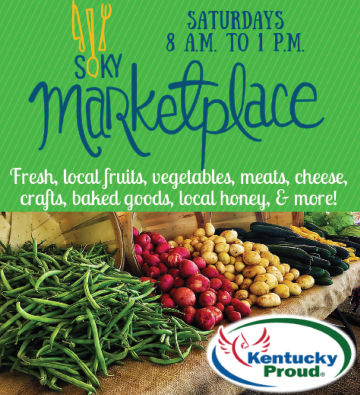 June Farmer Focus – John Brenham from Pure Barren River Honey
Spring has come and the bees have been busy! Honey is the featured crop for the month and our honey vendor John Brenham from Pure Barren is our featured farmer. Pure Barren River Honey has their own hives, and collects and filters all their honey locally. Come by and satisfy that sweet tooth with local honey!
SoKY Sprouts Kids Club- Honey!
SoKY Sprouts Kids Club meets on the second Saturday of each month. SoKY Sprouts is an educational program for children aged 5-13 which focuses on healthy eating and lifestyle habits. Our next Sprouts Kids Club is on June 8.This month the theme is "Honey, Bee Yourself." The kids will do a craft and enjoy a honey tasting. The Sprouts Kids Club is limited to the first 20 participants. Participants will also be given SoKY Sprouts vouchers to spend at SoKY Marketplace!
Chef at the Market
The third Saturday of each month is "Chef at the Market." This program brings in area chefs to demonstrate recipes with our featured crop for the month. On June 15 Danny Gonzalez from 440 will show you how to create a quick and delicious meal using local honey. We will have a recipe card and shopping list available so you can leave the market with all you need to cook a great summer meal!
Community Focus
The fourth Saturday of each month we will highlight an organization in our community. Last month we had a great time with Hope Harbor learning about all the programs they provide. Hope Harbor is a non-profit crisis counseling center that provides one-of-a-kind services to victims of sexual assault and their families and friends. This month we will celebrate national safety month with the Kentucky State Police's pancake breakfast.
Food Trucks!
Each market day, and at special events, there will be food trucks and food vendors at the market. There will be a rotation of local food vendors serving a range of foods including oven fired pizzas, tacos, burritos, BBQ, Mediterranean food, fritters and breakfast food. We will have a table set out for you!
Fifth Saturday Craft Fair
Each fifth Saturday we highlight the creativity, beauty, skill, and style in our community with the fifth Saturday craft fair. We open the market up to local crafters, and artisans. Last craft fair was amazing, and we had a great turn out of vendors with local crafted hemp goods, tie dye, fashions, art, decor, puppets, and much more. Come celebrate and support our community's creativity and style!