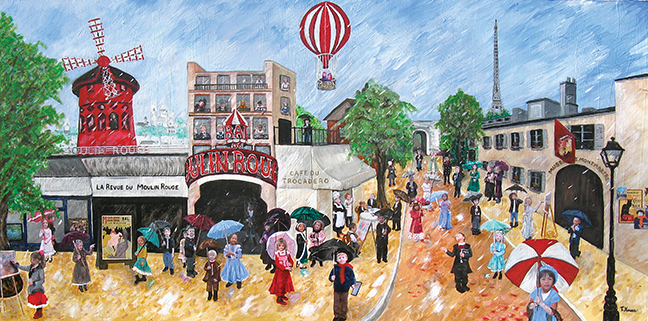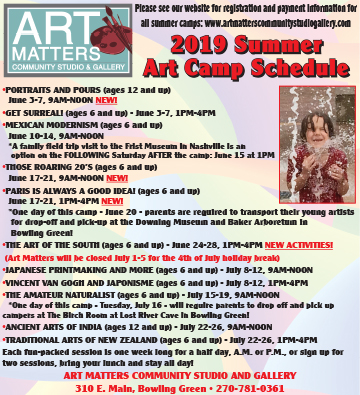 I want to visit Paris, the City of Light. I'm not sure why I haven't. Maybe I'm afraid that once I go I may never come back. The art of Paris is everywhere now. I've seen it in New York, Chicago, Washington, D.C., and even Nashville. But I want to walk along the streets of the city that built the Louvre, more a cathedral than an art museum, the city that housed the Paris Salon, now forever famous for its exclusion of the Refuses and the Impressionists, the city that fomented one revolution after another – Art Nouveau, Surrealism and Cubism to name a few – the city that gave refuge to the Lost Generation of the 1920s.
I don't know if I'll ever make it to Paris, but in the meantime, I think I will make sure that Paris is present in several of the art camps that we will offer at Art Matters this summer. By "we" I mean my daughter, Amelia, and I and our special guests. Amelia is a former Artist in Residence at the Wexner Center for the Arts in Columbus, Ohio, and offers our camps not only her love for art but her way with words, enriching every camp with opportunities for young artists to create with words as well as with paint and easel.
As much as we both love Paris, our initial offering Portraits and Pours is inspired by two American artists, cutting edge portraitists Amy Sherald and Chloe Wise. Campers will use acrylic pours for backgrounds, learn step-by step how to maintain proportion and create a likeness and try their hand at writing a literary portrait as well.
The afternoon camp that week, Get Surreal! features the art of Salvador Dali (charter member of the Paris Surrealists), Rene Magritte and others. Young artists will explore the dreamlike qualities of surrealism and experiment with juxtaposition of images and written words.
Mexican Modernism, features Diego Rivera (who spent 12 formative years in Paris studying and painting) and Frida Kahlo among others. Families are invited to extend the Mexican Modernism experience by joining us at the Frist Museum in Nashville the following Saturday, June 15.
Those Roaring 20s provides art experiences inspired by art and music during the early 1900s in New York City, including Art Nouveau and Tiffany inspired stained glass (our version will be plexiglass). Did I mention that Art Nouveau originated in Paris?
Paris Is Always A Good Idea focuses on the Paris art community of the early 1900s, including Pablo Picasso, Alphonse Mucha, Coco Chanel and more! This camp includes a field trip to the Downing Museum and Baker Arboretum in Bowling Green, where we will learn about artist Joe Downing, who lived in Paris and knew Picasso. Museum staff will lead us in art activities in a very inspiring setting. (Parents drop-off and pick up at the Museum on that day.)
The Art of the South is inspired by Winslow Homer, Jacob Lawrence and his Great Migration series, and Dorothea Lange's photographs of the south, plus reading and writing dialect inspired by Zora Neal Hurston.
Japanese Printmaking And More features Ukiyo e printmaking, Gyotaku, Notan, Sumi E, and Haiku. It is followed in the afternoon by Vincent Van Gogh and Japonisme, a camp that explores one time Paris resident Vincent Van Gogh's interest in Japanese art and its influence on his own creativity.
The Amateur Naturalist will give young artists a chance to draw, to use watercolor and to write from observations of nature – both plant life and animals. (Expect an animal or two to show up at Art Matters that week.) The camp will include a morning at Lost River Cave. Parents drop off and pick up children at Lost River on the appointed day.
Ancient Arts of is a camp that features yoga by Susan Tutino of Strawberry Fields, plus the Art of Mehndi (henna hand painting,), Madhubani painting, mandala and rongoli designs, ghazal poems and much more! Summer Art Camp comes to a close that afternoon with Traditional Arts Of New Zealand offering Traditional Maori Designs, Moku, Koru and more! Susan Tutino will even lead us in a closing ceremony (Kirtan) at the end of the day with music and chanting in ancient Sanscrit.
Two camps, Portraits and Pours and The Ancient Art of India, are for campers age 12 and over. The minimum age for all other camps is age six. I am excited about the prospect for fun this summer. As Audrey Hepburn once said to Humphrey Bogart, "Paris is always a good idea.
-by Teresa Christmas