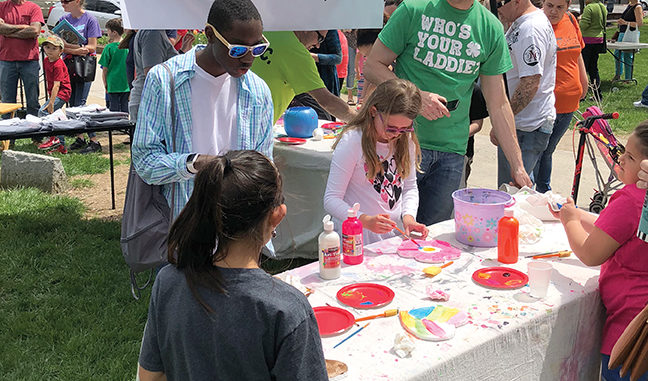 The Historic Downtown District of Franklin, Ky., will be filled with visual and performing artists on Saturday, April 20, during the 12th Annual Cherry Blossom Art and Music Festival.
Festivities kick off at 10 a.m. as artists and craftsmen gather on the courthouse lawn to sell their handcrafted art and offer demonstrations. Shop with our artists for handmade jewelry, baskets, repurposed vintage items, and much more. Painters, potters and writers will be among the artists on the square for the festival.
Several free hands-on experiences will be offered during the festival. Albert Bauman of Springfield, Ky., will throw pottery and give you a chance to get your own hands on the pottery wheel. Bauman – known across the state as The Pottery Guy – has shared his craft with school groups, at festivals and at Kentucky State Parks for over 30 years. His unique style of using everything from Barbie doll legs to toy monster trucks to teach his craft will intrigue you. Stop by and hear Bauman's stories and learn how to make a piece of pottery, too.
Local artist Shelley Bender will have a booth of free art activities for children set up on the east side of the courthouse lawn. Stop by and make something cool with Shelley!
In addition to the visual artists, The Red River Fiddlers of Bowling Green will perform from 10 a.m. until noon on the bandstand, and live music will continue until 2 p.m.
The courtyard will be "yarn bombed" earlier that week by volunteers from the Gallery on the Square. Join in the fun and add your fiber art to the display! You can bring your own yarn with you or use some of ours. The yarn bombing will continue throughout the festival.
The Franklin Downtown Merchants will be open with special sales during the Cherry Blossom Art and Music Festival. Stop by and shop with a local merchant for the chance to choose an Easter egg filled with savings or cash!
Several food vendors will be downtown during the event including Chaney's Ice Cream, the Simpson County 4H with hot dogs, chips and drinks, and Tinsley's Food in the Fast Lane Food Truck.
Artists who are interested in setting up a booth can contact Gallery on the Square Director Lisa Deavers at 270-586-8055 or F-S Renaissance Director Amy Ellis at 270-586-8482. For an application to be a participating vendor go to Gallery on the Square or Franklin-Simpson Renaissance or visit www.fsrenaissance.org.
The Cherry Blossom Art and Music Festival is sponsored by the Gallery on the Square, F-S Community Arts Council and the F-S Renaissance.
The SOKY Earth Day Festival will take place in conjunction with the Cherry Blossom Art and Music Festival. And earlier that day Simpson County Literacy will host the Square-to-Square Bike Ride.
by Amy Ellis
About the Author: Amy Ellis is the executive director of Franklin-Simpson Renaissance