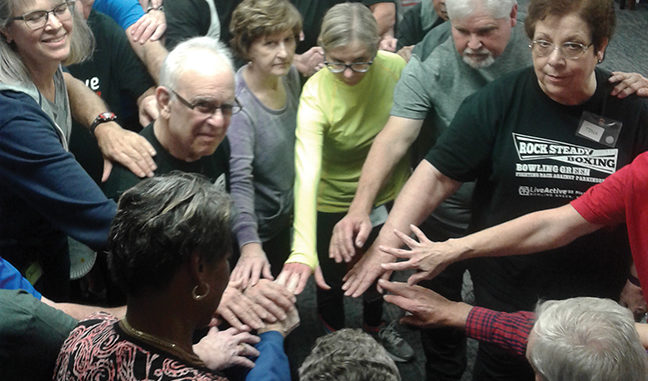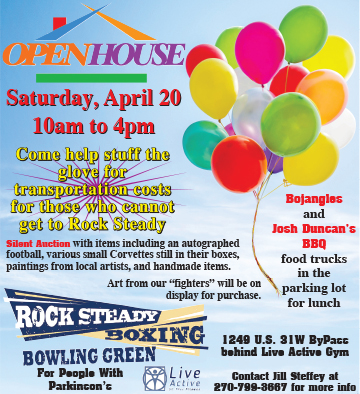 Rock Steady Boxing is an innovative exercise program for people with Parkinson's – we call them fighters. It includes non-contact boxing techniques and a variety other intense exercises to improve our fighters' independent living skills. We include working with heavy bags, speed bags, double ended bags, and tires in the boxing section. We also work on calisthenics, stretching, balance, fine motor, and whatever our fighters need to maintain their independence.
Rock Steady states that various studies in the 1980s and 1990s support that rigorous exercise emphasizing gross motor movement, balance, core strength, rhythm, and hand-eye coordination can favorably impact range of motion, flexibility, posture, gait, and activities of daily living. More recent studies, most notably at Cleveland Clinic, focus on the concept of intense "forced" exercise and suggest that certain types of exercise are neuro-protective, which means that type of exercise that may actually slow disease progression. (Visit https://rocksteadyboxing.org/about/faq/)
Through this intense exercise, our goal is to serve the needs of each individual fighter as well as the entire group. We asked our fighters what they were getting from Rock Steady Boxing, and here are some of their comments:
KB: Meeting new friends and trying to stay healthy.
HW: Better balance and sore muscles.
WA: I am learning to balance better, which make it easier not to fall.
BL: That I am not alone. Balance is the key. Support with the group.
HM: Body Control, balance, fellowship.
CW: Strength, connection, purpose, health, friends, new ideas on activities, a team of like-minded people.
JL: Work on balance, gain strength, movement.
SP: Support, up to date info on Parkinson's, camaraderie, new friends.
WM: Friends, realization that I need to shape up, comfort.
This program has been is existence since 2006 in Indianapolis and was recently brought to Bowling Green in 2016 by Head Coach Jill Steffey and her family. Her father is the inspiration for this, and he is still a part of Rock Steady Boxing on a weekly basis. Classes are held Monday, Tuesday, and Thursday from 5 to 6:30 p.m. Contact Jill at 270-799-3667 or bowlinggreen@rsbaffliate.com for more information.
We will be having an open house on April 20 from 10 a.m. to 4 p.m. Please come join us to see what we do.
Rock Steady Boxing
1249 US 31 W Bypass
Bowling Green, Ky 42101
270-799-3667
bowlinggreen@rsbaffiliate.com