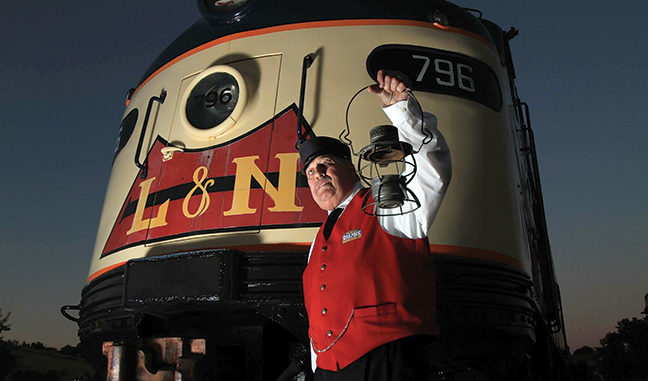 UnSeen BG
The Historic RailPark & Train Museum is now host to UnSeen BG, Haunted History Walking Tours. The tours will be conducted in the historic district in downtown Bowling Green.
These tours trace the history of hauntings you never knew existed in Bowling Green. The tour will disclose histories, mysteries, scandals and haunts from our town's history including ghost stories, the effects of the Civil War, deaths and lynching. All stories were researched and developed by Kara Williams Glenn, original owner of UnSeen BG.
Tours begin at the downtown Starbucks Stadium Park Plaza. The walk covers, in intervals, a total of 1.3 miles. There is one staircase on our downtown tour. All our tour guides are characters and have a passion for both history and theatrics. The tour is family friendly, but is at the parents' discretion whether the tour is appropriate for their child.
UnSeen BG's fall season will run through October. Evening tours will be available Thursdays, Fridays and Saturdays. Tour tickets can be purchased online at UnSeenBG.com or by calling the Historic RailPark & Train Museum.
To learn more about these specialty tours you can check out the website UnSeenBG.com, or find us on Facebook, Twitter and

Instagram. Adult tickets are $18, children age 10 and under $8. You can get tickets online at UnSeenBG.com
Haunted Lantern Tours
Haunted Lantern Tours will come alive again for the fourth year! Evening tours will be held select nights October 18 to 28, and you will hear the tragedies of the circus! Our restored railcars will each host a circus character that will share a tale with you. These historical tales come straight from the old days of circus train travel.
Family Fun Night is October 18 from 6 to 9 p.m. Dress up in your favorite Halloween costumes and bring the whole family out for a spooky and fun tour. Enjoy games and concessions provided by Potter Gray Jr. Optimist Club as a fundraiser. Thanks to our sponsor, State Farm Agent J.R. Wade, admission is half price that evening.
New this year, on Friday October 19, eHotAir Balloon will be on site offering tethered balloon rides. Their balloon basket has a door allowing easy access for riders. This is a family friendly tethered ride, so bring the kids out for a memorable experience. The rides will start around sunset. Tickets will be available for purchase that night for $10.
During the evening tours we will offer a variety of concessions available for purchase. Concessions will benefit the following local school groups: Warren Central Choir – Oct. 19, Warren East Choir – Oct. 20, WCHS Baseball – Oct. 26 and WCHS Cross Country – Oct. 27.
Haunted Lantern Tours is presented by Trent Bedding and sponsored by BGMU. Adult tickets are $10, children age 3-10 are $6, and children 2 and under are FREE. You can get tickets by visiting our website HistoricRailPark.com
Polar Express
The Polar Express Storytime presented by Jim Johnson Nissan Hyundai is nearly here! It is the 16th year of conducting the Polar Express story aboard the Historic RailPark's Duncan Hines Dining Car. The Warren County Public Library, Historic RailPark and Train Museum, Friends of the Library, and Kiwanis Club of Bowling Green have partnered once again this year to offer a memorable family tradition. RailPark members are invited to register for tickets November 1-5 from 10 a.m. to 4 p.m. by calling or visiting the RailPark. Non-members may register November 6 between 9 a.m. and noon in person only at the RailPark.
The Polar Express Storytime is a magical evening with cocoa, cookies, snow, a real conductor, the reading of the book on the Dining Car, and Santa waiting at the end of the train to give children their magic Christmas bell. Again this year, the O scale Polar Express model exhibit will be set up and professional photos will be offered. The Gift Shop will be open for your shopping convenience.
Again, this Christmas the most coveted ticket is the Polar Express ticket and we have 3,500 available and are excited to announce we have added 500 tickets this year.
The Polar Express Storytimes will take place on November 26, 27, 28, 29 and December 3, 4, 5, 6 at 4:30, 5:00, 5:30, 6:15, 6:45 and 7:30 p.m. The Polar Express is a free event, but all participants must have a ticket in order to board the train for the story times. RailPark members can get tickets by calling (270-745-7317) or visiting, non-members may reserve tickets in person only by visiting the RailPark in person at 401 Kentucky St., Bowling Green, Ky., 42101.
-by Jamie Johnson