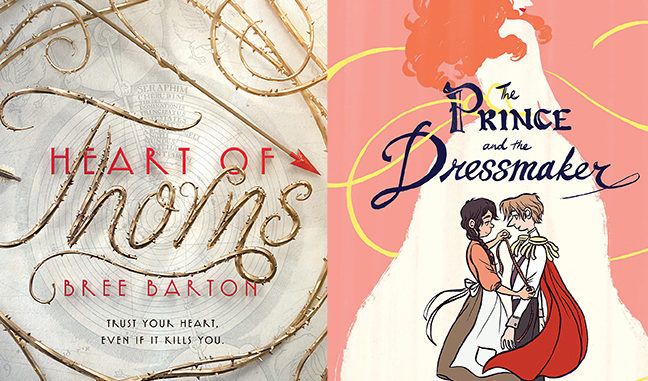 The second annual Young Adult Southern (YAS) Book Con will take place on October 19, 2018, starting at 9 a.m. in WKU's Downing Student Union. Featuring 40 authors of Young Adult or Middle Grade titles, YAS Book Con allows readers to come together and learn more about reading and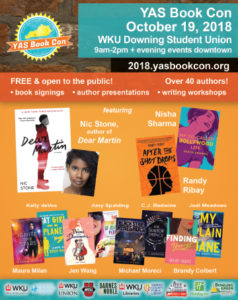 writing from authors they admire in an interactive, open format. This year, attendees will be able to participate in writing workshops, panel discussions, and activities as well as find authors signing books until 2 p.m. in the Downing Student Union on WKU's campus. After 4 p.m., the event will move to downtown Bowling Green, with panel discussions at Spencer's Coffee, Little Fox Bakery, Starbucks, and 643 Bar & Grill. Book sales will be provided by Barnes & Noble. YAS Book Con is free and open to the public and registration is not required (but it is encouraged for groups of 10 or more).
A special component of the event this year is interactive writing workshops where writers of all skill levels can come together to get tips from presenters representing a wide range of creative talent, from professional illustrators to debut talent. Occurring throughout the day at YAS Book Con, these workshops offer a crash course in methods from making a zine to creating your own cartoon characters from scratch. Those who desire to hone their writing skills will find that the workshops integrate fun activities with educational opportunities, with time for attendees to ask questions and talk one-on-one with authors. More about each workshop and author/instructor is below.
The Art of Cartooning
Joe Wos, a nationally syndicated cartoonist and the visiting resident cartoonist of the Charles M. Schulz Museum for the past 15 years, is ready to show artists how to bring their characters to life. In his workshop, attendees will learn how to draw and create comical characters using fun and easy to follow instructions. From the basics of line to character persona, Wos will guide you step-by-step through the creative process. Wos has been a professional cartoonist since the age of 14. His career path over the past 30 years has taken as many twists and turns as one of his mazes as he finds new and innovative ways to pursue his passion for the cartoon arts. Wos has been drawing mazes since the age of 7 and is regarded as a master maze maker. In 2012, he created the world's largest hand-drawn maze. Measuring at 140 square feet, it features more than 100 illustrations.
Make Your Own Zine
Learn how to make and publish your own zines and mini-comics using simple everyday tools. Work with friends or make one yourself! (Supplies provided.) Jen Wang is a cartoonist and illustrator living in Los Angeles. She is the author of The Prince and the Dressmaker, Koko Be Good, and the co-author of the New York Times Bestselling graphic novel In Real Life with Cory Doctorow. Her work has also appeared in Los Angeles Magazine, Hazlitt, Slate, and The Believer. She is the co-founder and organizer of the annual festival Comic Arts Los Angeles and has written/illustrated for the Adventure Time and Lumberjanes series.
Dance it Out
Dance and movement has been huge in debut author and YouTuber Bree Barton's own fight against depression. A certified instructor in various dance methods, Barton caters her classes to all ages in an inclusive, upbeat environment. Join her to discuss the relationship between creativity and physical movement. Finding a path back to dancing – albeit the silly kind of dance where she's twirling around her kitchen – has had a massive impact on her writing (and her ability to be a functional human). Barton is a writer in Los Angeles. When she's not lost in whimsy, she works as a ghostwriter and as a dance teacher to teen girls. She is on Instagram and YouTube as Speak Breely, where she posts funny videos of her melancholy dog. Bree is not a fan of corsets.
Admissions Essays That Don't Suck 
Using examples of college admissions essays from Juleah del Rosario's debut novel, 500 Words or Less, this workshop will explore crafting a personal essay that taps into experiences that shape us. No boring essay writing here. Juleah del Rosario currently lives a book and mountain filled existence as a librarian in Colorado. Her debut, 500 Words or Less, a YA novel written in verse about a high school senior who writes her Ivy League obsessed classmates' college admissions essays, published with Simon Pulse on September 25.
For information about these and the other authors attending YAS Book Con this year, visit 2018.yasbookcon.org. You'll also find a full schedule (including a listing of all evening events), parking information, and more. Hope to see you October 19 for this special celebration of literature!