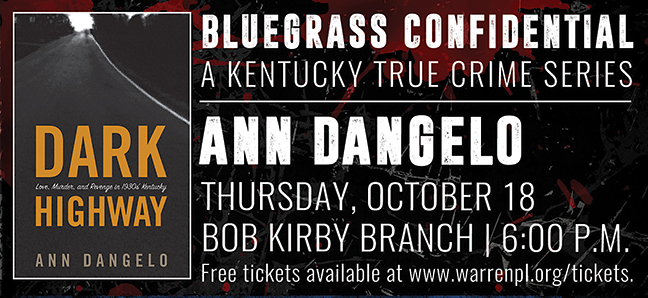 October's calendar of events is as crammed as a kid's bag of candy following an evening of non-stop trick-or-treating! Aside from the library's typical lineup of monthly offerings, ranging from a new infant/toddler signs and rhymes class to a number of adult book clubs, WCPL has put together an assortment of Halloween-inspired activities to coincide with the season of spooks. In addition to these haunted happenings, the library also has a sweet lineup of programs appealing to various ages and interests.
Alive Inside Film Screening/Q&A, October 4
Warren County Public Library is partnering with Timesavers for a screening of the documentary film, Alive Inside at the Bob Kirby Branch on Thursday, October 4, at 6 p.m. Chronicling the astonishing experiences of individuals around the country who have been revitalized through simply listening to music, the documentary explores the human connection in music and how its healing power can triumph where prescription medication falls short. Following the screening, there will be a Skype Q&A with filmmaker Michael Rossato-Bennett.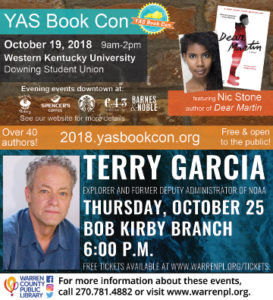 Hispanic Heritage Month Celebration, October 13
Representatives from a variety of Hispanic countries will share food, arts and crafts, performances, and more during WCPL's Hispanic Heritage Month celebration of Hispanic culture on Saturday, October 13. Don't miss this opportunity to learn about local Hispanic customs and traditions. No registration is required; feel free to drop by anytime from 2 to 4 p.m.
Bluegrass Confidential with author Ann DAngelo, October 18
This month's Bluegrass Confidential will feature Ann DAngelo and her book Dark Highway: Love Murder and Revenge in 1930s' Kentucky. Centered around the death of Verna Garr Taylor, who was found in a ditch along a lonely highway in rural Kentucky, her fiancé, former state lieutenant governor and brigadier general Henry Denhardt, emerged as the prime suspect. General Denhardt insisted Taylor committed suicide, though evidence indicated otherwise. What followed was a sensational murder trial, another mysterious death, and an act of revenge that continues to keep
people talking about this story over 80 years later. DAngelo will visit General Denhardt's hometown of Bowling Green on Thursday, October 18, at 6 p.m. to share her book at the Bob Kirby Branch. Anyone interested in finding out more about this Warren County son's epic rise and fall from grace are invited to attend this month's installment of WCPL's popular Kentucky True Crimes series.
Young Adult Southern (YAS) Book Con, October 19
The second annual Young Adult Southern (YAS) Book Con is a book festival just for readers of young adult and middle grade literature. It will be held Friday, October 19, from 9 a.m. to 2 p.m. at WKU's Downing Student Union. Evening events will take place throughout downtown Bowling Green, and all programming is free and open to the public. YAS Book Con is a project of the SOKY Book Fest partnership; check out 2018.yasbookcon.org for more information about this year's events, including headlining author, Nic Stone and her book Dear Martin.
 Road to Race Day Film Screening, October 23
Considered the "New York Yankees of NASCAR," October's featured independent film screening, Road to Race Day, offers unprecedented access to NASCAR's most-winning team, Hendrick Motorsports. Producer/Director Cynthia Hill will be in attendance to discuss the film and her examination into Hendrick's powerhouse of elite drivers, which holds the most titles in any major American professional sport in the last 30 years. All Southern Circuit film screenings are free and open to the public, and no ticket is required. Road to Race Day gets underway at 7 p.m. at the Capitol Arts Center in downtown Bowling Green and will include a Q&A.
Terry Garcia Discussion, October 25
Just when you thought October's programing could not get any more interesting, WCPL will welcome Terry Garcia, who can best be described as a real-life Indiana Jones, for a presentation at the Bob Kirby Branch on Thursday, October 25 at 6 p.m. Garcia has traveled to more than 90 countries, with adventures ranging from finding the long-lost Gospel of Judas to discovering a hidden city in the jungles of Honduras. Apart from searching the Black Sea for shipwrecks and evidence of a "great flood," Garcia has also searched for hidden chambers inside the Great Pyramid and raced to find a gold cache in war-torn Afghanistan.
Garcia is the CEO of Exploration Ventures, previously served as the Executive Vice President and Chief Science and Exploration Officer for the National Geographic Society, and was the former Deputy Administrator of NOAA. In June 2010, he was appointed by President Obama to serve on the National Commission on the BP Deepwater Horizon Oil Spill and Offshore Drilling.
During his visit to WCPL, Garcia will speak on the subject, "Our Changing Ocean." He said while many tend to associate outer space most with exploration, the truth is that some of the greatest unexplored regions today lie at the bottom of the ocean. By utilizing new technologies, Garcia believes the 21st century has the potential to be the greatest age of exploration in the history of humankind.
"It's remarkable to think that we've visited the moon six times and launched humans into space hundreds of times, and yet only twice have we visited the deepest place in the ocean, our backyard," Garcia said. He will discuss his collaborations with filmmaker James Cameron, who dove to the Earth's deepest point, and also his Pristine Seas Expeditions initiative to protect some of the last intact natural wonders of the world.
From a NASCAR documentary to a free UnSeen BG Haunted History Downtown Walking Tour, Warren County Public Library has programs guaranteed to inform and entertain this month. For a complete listing of events, please visit warrenpl.org/events. While this month might be known for trick-or-treating, at WCPL, it is all about the treats – and that's exactly what October's lineup is sure to be for all those who attend. Plus, instead of expanding waistlines, these treats will only expand your mind, so enjoy as many as you'd like!