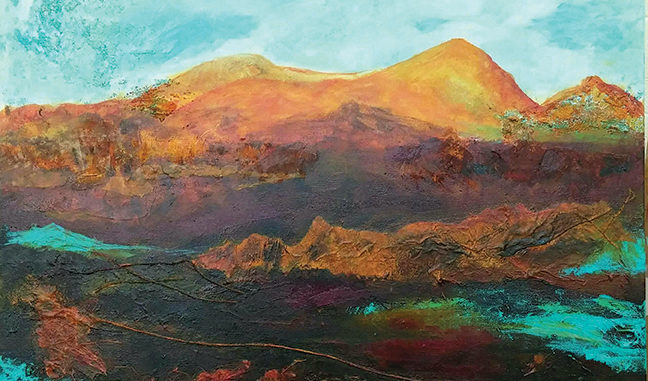 Many people might wonder how it is that a small city in south central Kentucky could be home to something that bills itself as the World's Greatest Studio Tour.
Seriously? The world's greatest?
That seems like a lot to live up to. Who ever came up with a name like that?
Well, actually it was Bowling Green artist Memphis Marsha, also known as Marsha Heidbrink, who operated out of a bright pink two-story building on 12th Street where she made art, invited her friends to make and exhibit their art, and opened her doors to local and visiting artists who gave art lessons and hands-on workshops for anyone who wanted to try their hand at it.
No one knows exactly when or how, but one day Memphis Marsha beheld the art community that had coalesced around her – the artists and artisans, painters and potters, teachers, dreamers and entrepreneurs who were her friends and fellow travelers – and decided it was time for a celebration. It would be one great big rolling party that would not happen only at her big pink building, but at everybody's studios and homes, attics and lofts, garages and barns. They would advertise it, hand out maps, serve refreshments and create beautiful exhibits to sell their wares. This was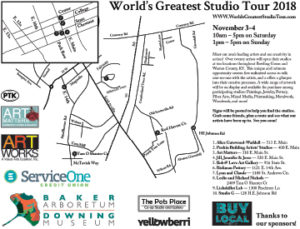 the beginning of the World's Greatest Studio Tour (WGST).
When Marsha passed away in 2011, the event became a tribute to a strong woman with a vision. Proceeds from the art sales of the members of the Studio Tour continue to support the arts in our community. WGST sponsors awards at the annual U.S. Bank Celebration of the Arts and at the annual Artworks Show among others.
This year the tour will be November 3 and 4 and marks our 23rd year. We are fortunate to welcome back well-known Kentucky artist Delaire Rowe, who will show her multi-media works at Art Matters Community Studio, along with Donna Schulte, who will have sculptural urns that represent endangered animals. Also featured are hand-pulled prints and works on paper by Julie Schuck and watercolors by Teresa Christmas.
Visit Leslie Nichols and Michael Nichols at their home studio where Michael's innovative use of the ancient technique of fresco and Leslie's work in text-based media, including typewriter, alphabet stamps and letterpress are on display. Both Leslie and Mike will offer demonstrations of their unique techniques on both days of the Studio Tour.
There are some traditions we hope never change and the opportunity to visit Alice Gatewood Waddell's home studio on Main Street is one of them. Alice's home is a gallery itself and she usually has the art of cuisine on her table as well. Recently she was featured in Nashville Arts Magazine and her works are always available to see in the RoGallery in New York City, as well as the E & S Gallery in Louisville.
The Crocker Law office honors the late Helen Crocker, whose contributions to local art are also remembered this time each year, by opening their space to Jill Gentry and her award winning jewelry, made with gold and silver wire and semi-precious stones as well as the paintings of regional artists Jennifer Simms and Jesse Ray Sims.
The Pushin Building Artists' Studio features five artists. Always environmentally conscious, Cindy Houston is currently creating wearable art using natural fibers and locally sourced dyes. Laura McGee creates beautiful and unique designs on silk scarves and other silk items. Myra Dwyer creates paintings with multiple layers and acrylic pours and uses the drip off to make jewelry and key chains, and Angie Alexieff and Terry Wilson will have watercolor paintings for sale.
Also downtown is Love and Arts, where it is always a delight to drop in on Ronna and Robert Love, who calls his art "recycled brushstrokes." He actually does a mosaic style technique, cutting aluminum cans. Quite the Kentucky artist, Love's art can be found in galleries in Lexington, Berea, Frankfort and Louisville, but you can visit him where he makes it, right in Bowling Green!
Another well-known Kentucky artist, Mitchell Rickman, offers pottery-making demonstrations at his studio, Rickman Pottery, on 14th Street. Although you can collect his wheel thrown stoneware for all your kitchen needs by visiting gift shops and galleries all around the state, you don't have to go very far to watch him create it.
Local artist, Lynn Robertson has worked behind the scenes over many years to ensure the quality of the Tour. She and her partner in art, Claude Robertson, both award winning painters, share a home studio that is another beautiful stop along the Tour, with oil paintings, pastels and mixed media works you will want to purchase.
Studio G studio is on the outskirts of town, but it is well worth the scenic drive during this fall season. Studio G is the home studio of Karen Genter who displays a wide array of different types of art and affordable gifts ranging from photography to pottery to painting and wood block prints. She also will demonstrate the playing and the building of her bamboo flutes.
Lickskillet Lab, home of Kristina Arnold and Charles Hurst, will offer decorative kiln-formed glass pieces by Kristina and the working blacksmith shop of Charles, featuring hand made pocket-knives and other functional and decorative metalwork. David LeNoir will be a guest artist with his lovely woodworking, featuring bowls, vases, turned wine stoppers, wands and more! The Kentucky Forge Council members will offer blacksmithing demonstrations on both days of the tour!
Studio Tour brochures with a map and directions to these locations are available at every studio, at all branches of the Warren County Public Library and online at www.worldsgreateststudiotour.org.
Hopefully, you are beginning to see what makes the World's Greatest Studio Tour… well, the world's greatest! It's been 23 years now, and no one has challenged us for the title – a claim that not even Muhammad Ali (also one of Kentucky's greatest) could make during his reign at the top of his game! Still not convinced? Mark your calendars for November 3 and 4! Take the tour! It only happens once a year and it only happens here!
-by Teresa Christmas