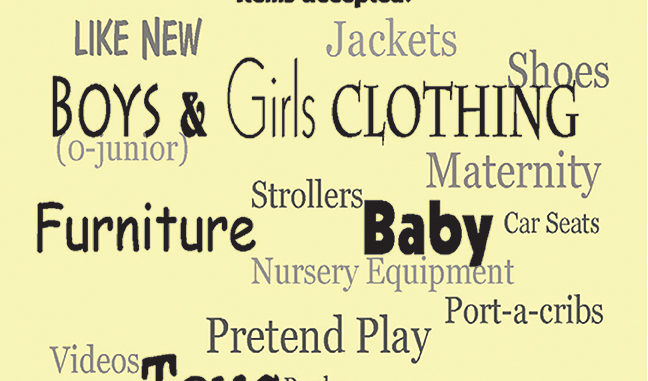 You don't have to volunteer to consign! (But if you do, you save $10 off your $15 registration fee, AND you get to shop even earlier than the Consignor Private Sale…)
Start by getting your consignor number by registering online today at www.dkdkgoose.com.
Begin by hanging, tagging, and pricing your items. Minimum items is 25, and there's no max! You price your own items and receive 70% of the selling price! See our "Ready…Set… Tag!" instructions on our website for more details.
Order barcodes online and print at home! Each item must have a tag (3×5 card) with a barcode sticker attached. Consignors can create and print their barcodes on our website or pick them up during Drop Off.
Bring your items to Drop Off the week before the sale (see our online calendar for dates).
Shop the Consignor's Only Private Sale! As a consignor, you earn the privilege to shop before the public. Want to shop even earlier?? Sign up to volunteer at least one four-hour shift!
Let us handle all the details of getting your items sold for you!! No putting out signs for a garage sale, no meeting strangers in parking lots, and NO haggling over your prices!
Finish by picking up or donating any unsold items. Children's items benefit our local schools, and infant items help local pregnancy crisis centers. (Please follow tagging instructions carefully.)
Collect your check following the event! You can pick up your check when you pick up your items, or we can mail it to you if you choose to donate.
There's still time to consign!
Shopping is easy!
What to bring?
A laundry basket, shopping bag, or wagon to hold all of your great finds while you keep shopping.
Maybe a snack. When you're shopping for a whole season at a time (or for multiple kiddos at once), through a large selection of inventory, it may take a while so be prepared to balance all the excitement with some fuel!
Definitely a FRIEND!! Shopping is fun, but it's way more fun as a girls'-day-out, guys'-day-out, or even a date. Grab a meal or dessert together after you're done.
When to come?
New mom? Shop our early sale just for you! Register online to shop on Tuesday at 7 p.m.
Bargain-hunters: Don't miss the best deals on Opening Day! (Unless of course, you got even better deals the day before during our Volunteer/Consignor Private Sale). Are you a Black Friday enthusiast? Then THIS is YOUR day to shop!
Coupon clippers: Follow us on Facebook for special savings on Thursday.
Big Hearts: Shop on Friday with a Fundraiser Friday flyer from your favorite non-profit and 10% of the purchase price will go back to the organization!
Ready for 50% off?! Come back on Saturday! Everything without a red dot on the tag will be half-price!
Come back each day to take advantage of each special daily event!
Duck-Duck-Goose has more sale days than any other consignment event in Bowling Green which gives you more opportunities to shop! But four days come and go quickly, so don't miss it!
Volunteering is easy!!!
You don't have to be a consignor for the opportunity to shop early!
The more shifts you work = The earlier you shop = The better deals you find!
Register as a volunteer on our website (this does not obligate you in any way) and you can view all available shifts through the volunteer login. (Already a consignor? Just login with your consignor number).
Each shift is just four hours. Choose the shifts that work best for you! The earliest Private Shopping time starts at 11 a.m. on Tuesday before Opening Day.
You can even earn a pass to shop early on Half-Price Day!