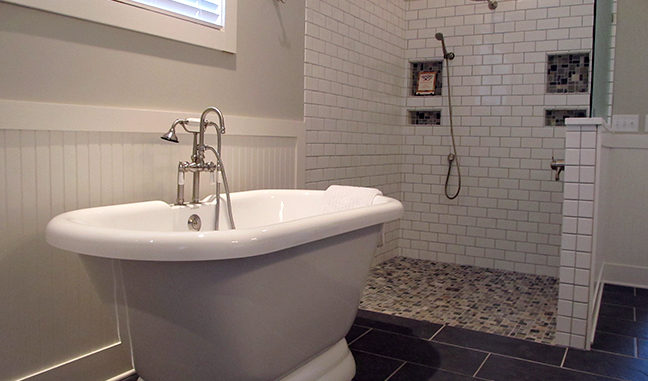 by Anita Napier
Some of us have it; some of us don't. That certain flair for design. The ability to match curtains to a bedspread or maybe even not do the matchy-matchy thing and have it look even better. The ability to pick the perfect paint color or hardwood. But whether you've got it or not, we know you'll get great ideas at Parade of Homes 2018, scheduled for September 13-16.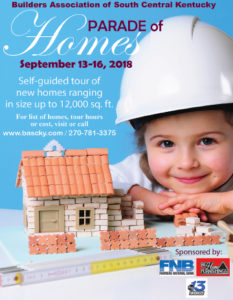 This year's event features homes ranging in size up to 12,000 sq. ft. (and that's just one of the 14 entries). We have new custom homes built by Registered Builders in conjunction with professional designers as well as the family who will live there, and we have spec homes that will be for sale to the public.
The Parade of Homes is a self-guided tour that gives you a chance to visit these homes at your leisure and walk away with some great ideas. Or, if you plan on building, you'll have a chance to meet a multitude of Registered Builders to start you on your search for that perfect match to build your dream home. In fact, all homes in the Parade are built by general contractors who have earned Registered Builder designation by meeting a stringent set of criteria including building education and experience. And many of our Associate members were part of the building team as well. Associates are members such as landscapers, roofers, bankers, painters, and more.
It is so important to find the right Registered Builder. Home building is a lengthy process. You need to make sure your personalities mesh so you can work comfortably together through the process. And, it's important to checkout their professional credentials to help ensure a quality product. B
y touring these homes, you can see firsthand superior craftsmanship and beautiful design. And if you don't have a flair for design, you'll be excited to know that designers will be in some of the homes so that you can speak with them about their design services and how they can help with your project – big or small. Designers can help the dreams you envision come true and prevent costly and unfortunate mistakes. Even the spec homes have been staged with furniture and other design accessories to provide fresh ideas!
Presented by the Builders Association of South Central Kentucky and sponsored by Farmers National Bank, Bowling Green Home Furnishings and WBKO, this is an opportunity to see new colors, building products, home fashions, and much more. This year sees the return of the $5,000 Dream Room Furniture Giveaway from Bowling Green Home Furnishings and a special contest from Farmers National Bank. Complete contest details and requirements will be released closer to the event.
Tickets, which are only $10, are available for purchase at every home on the tour during the Parade, September 13-16, and are good for all four days and entrance into all homes on the tour. Tickets can also be purchased in advance at the Builders Association office at 859 Lovers Lane. Children under twelve get in free. Each ticket holder will receive a Parade Magazine that includes information on the Registered Builder, the home, and decorator information that is known at the time of printing. And, we are proud to say that each year, a portion of the proceeds is donated to a non-profit community organization. South Warren High School FFA will be the recipient of this year's donation.
Contact the Builders Association of South Central Kentucky at 270-781-3375 to find a Registered Builder with the experience, qualifications and knowledge to do the job right – the first time. Or, visit our website at www.bascky.com and search for Registered Builders or other providers of products and services for that special project. You can also visit us on Facebook at Builders Association of South Central Kentucky where we will feature info about the homes from now until the event.
Mark your calendar for the 2018 Parade of Homes
 Thursday, September 13 – 5-8 p.m.
Friday, September 14 – 5-8 p.m.
Saturday, September 15 – 10 a.m.-5 p.m.
Sunday, September 16 – 1-5 p.m.
Co-sponsored by Farmers National Bank, Bowling Green Home Furnishings and WBKO
 About the Author:
Anita Napier is Chief Executive Officer, Builders Association of South Central Kentucky