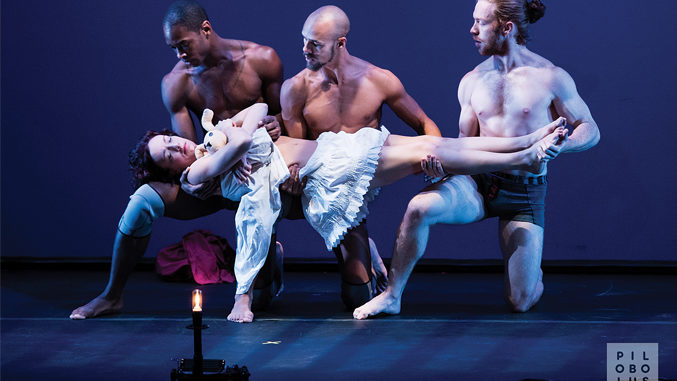 submitted by Southern Kentucky Performing Arts Center
Upon seeing SKyPAC's announcement of the upcoming show Shadowland by Pilobolus, some of your first thoughts may have been, "Pilobolus? How do I even pronounce that? What is it? What do they do with shadows?" Please read on and then make plans to attend Shadowland by Pilobolus on Saturday, March 3, 7:30 p.m. at SKyPAC.
The famed dance company Pilobolus began at Dartmouth College in 1971. Moses Pendleton, an English literature major and cross-country skier, Jonathan Wolken, a philosophy science major and fencer, and Steve Johnson, a pre-med student and pole vaulter, were enrolled in a dance composition class taught by Alison Becker Chase. In that class, they created their first dance, which they titled "Pilobolus," and a legacy of movement and magic was born.
Pilobolus crystallinus is a phototropic (light loving) fungus. Commonly known as "Hat Thrower," its spores accelerate zero to 45 mph in the first millimeter of their flight and adhere to wherever they land. Jonathan Wolken's father was studying pilobolus in his biology lab when the group first formed. The name was apt and stuck.

The group went on to create dozens of dance works with its founding members Robby Barnett, Alison Chase, Martha Clarke, Lee Harris, Moses Pendelton, Michael Tracy, and Jonathan Wolken. In the more than four decades since, Pilobolus has performed on Broadway and at the Oscars and the Olympic games and has appeared on television, in movies, in advertisements, and at schools and businesses. The group has created over 120 dance works. Pilobolus continues to propel the seeds of expression via human movement to every corner of the world, growing and changing each year while reaching new audiences and exploring new visual and musical planes.
Shadowland combines multimedia, projected shadow play, and front-of-screen choreography in a wild evening of storytelling. The first shadow theater event of its kind to tour the globe, Pilobolus has performed Shadowland for more than one million fans in 32 countries throughout Europe, Asia, Australia, and the Americas. Pilobolus pioneered this new form of shadow theater in advertisements for Hyundai, and at the 79th Annual Academy Awards where it performed, through shadow, iconic images of the films nominated for Best Picture. Shadowland is a natural evolution of Pilobolus's ground-breaking experiments in shadow creation.
Shadowland tells the story of a teenage girl longing for her independence with nowhere for her thoughts to go but to her dreams. She sleeps, only to wake to something incredible lurking behind her bedroom wall – her shadow. Walls spin, darkness swallows the girl, and she's off on a journey into Shadowland.
Shadowland was conceived in collaboration with Steven Banks, lead writer for the playfully surreal animated series "SpongeBob SquarePants," and is propelled by a rhythmic original score by the popular American musician, producer and film composer David Poe. Shadowland is a universal and intimately portrayed experience that is both intensely dramatic and comedic. It has the fluid logic of a dream powered by the grace of an acrobatic dance, evincing surprise and joyous delight in a way that is uniquely Pilobolus.
SEE RELATED VIDEO HERE
SEE RELATED VIDEO HERE