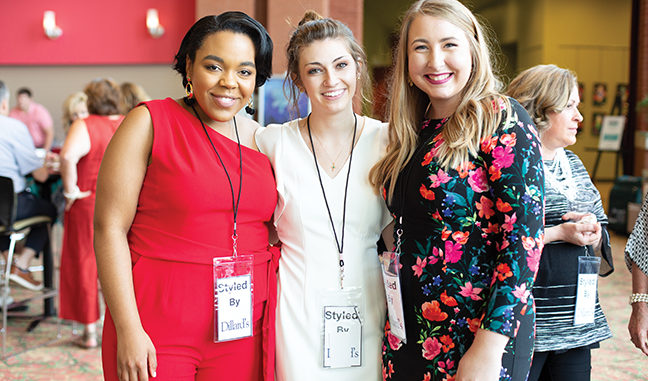 Thursday, May 16, 2019, 5:30 p.m.
Presented by Dillard's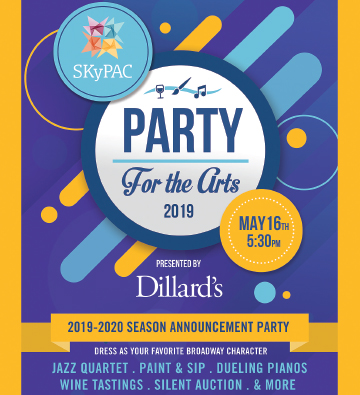 Party for the Arts – 2018 was so much fun; we simply had to do it again! Make plans and get your tickets now to enjoy a fantastic evening with some new twists to create even more enjoyment. Some of the area's best restaurants and caterers will be back to tempt your taste buds and area wineries return to test your palate. Dueling pianos, The Paint 'n Place, and Bluegrass Jazz Quartet were very popular, so of course we had to ask them back. Dillard's will again provide activities such as mini-facials and mini-makeovers. We'll also have a few surprises up our sleeve.
Who is your favorite character from a Broadway show? Show everyone by coming dressed as your favorite character. Yes, prizes will be awarded! Why the focus on Broadway you may ask? Because when you attend Party for the Arts, you'll be the first to know which exciting shows are coming to SKyPAC in 2019-2020. That's right, SKyPAC's new season will be announced with multiple titles sure to grab your attention.
Circle Thursday, May 16, 2019, 5:30 p.m., on your calendar! Call your friends and plan an evening out. Visit www.theskypac.com to secure your Party for the Arts ticket … and remember, you'll do more than have a great time celebrating the arts and being entertained. You will help raise the financial support that allows SKyPAC to provide important arts education experiences – more than 14,000 last year – in our schools. You will help ensure the existence of the resources needed to entertain and challenge you. So, what are you waiting for? Get your tickets and we'll see you at Party for the Arts!