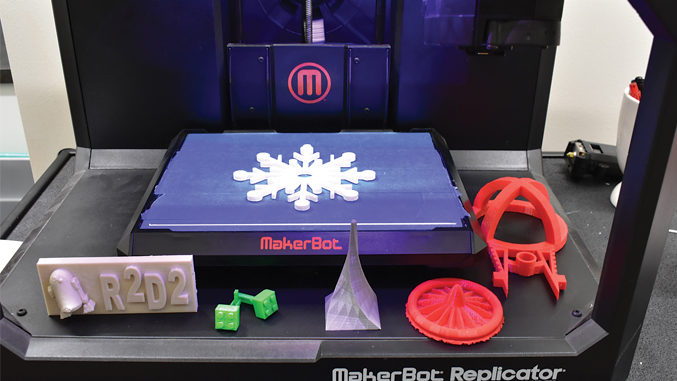 submitted by Warren County Public Library
What comes to mind when you contemplate resolutions for 2018? A gym membership, expensive art lessons, cooking classes, or perhaps a visit to a financial planner? The Warren County Public Library offers benefits from each of these services, all free of charge. Instead of buying pricy books, audiobooks, or music and television downloads, take advantage of the many free options available through WCPL, and fulfill your goal to save more money this year. Additionally, the library offers yoga classes and a variety of crafts and hobby courses, as well as computer, career/educational advancement, and foreign language learning opportunities for those seeking to take on a new challenge in the new year.
The ongoing "Sensational Snow Days" Winter Reading program is also a great way for kids and adults alike to get rewarded for reading and utilizing the library's many resources. More information, including a complete events listing for the program continuing through January 25, can be found at www.warrenpl.org/snowdays. Be sure to register your kids for the interactive Discovery Dome, and also check out the "New Year, New Habits" series for adults covering a variety of topics throughout the month.
Also in time to keep those resolutions and to grow or expand skills, Warren County Public Library is announcing the completion of their latest expansion at the Bob Kirby Branch featuring over 3,000 square feet of new space. Concluding nearly a year of construction, this phase includes an increase in the library's footprint for book stacks as well as a larger devoted area for its Educational Delivery Service program. The defining feature of the addition, however, is the innovative "Idea Lab" – a makerspace that will provide numerous opportunities and tools for patrons seeking to explore new hobbies or resurrect old ones.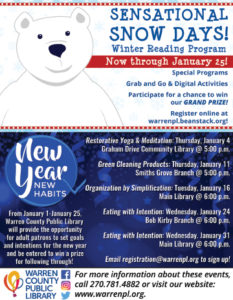 Offering a glimpse into the new "Idea Lab," Ashley Fowlkes, branch manager at the Bob Kirby location, explained that equipment available for patrons to use in the new makers space will include a CNC router, an embroidery machine, a vinyl plotter, a heat press, a pottery kiln/pottery wheel, button making machines, and other electronic devices. Also finding a home in the new "Idea Lab" will be sewing machines and a 3D printer, which the library previously had available for use.
"The library has always led classes in do-it-yourself projects, but now we are taking it to the next level," Fowlkes said. Among the main catalysts propelling this enhancement is the renewed focus on workforce development and an increasing awareness of "lost" or "dying" trades.
As one of the first public libraries in the state to begin construction for a devoted makerspace, WCPL designed the setting solely for the purpose of creating. The new flexible workshop-styled site features a retractable glass door that can be opened to utilize the exterior area as well. Offering DIY-ers the opportunity to elevate their projects through use of the new equipment or by experimenting with different kinds of machines before purchasing their own, the "Idea Lab" brings to reality a project that has been discussed for quite some time.
"We first started talking about the possibility for a makerspace a couple years ago," Fowlkes said. She recalled the concept had been on their minds since STEM (science, technology, engineering, mathematics) activities took off and the library realized the need to put these technologies in one place. According to Fowlkes, the term "makerspace" got its name in 2005 from the publishers of Make Magazine, who have been instrumental in the forward momentum of the maker movement since that time. Currently, maker groups can be found throughout the U.S. as well all over the world, including a chapter of local artisans right here in Bowling Green.
Fowlkes said WCPL has already been in touch with people in the community about working in the library's new space to conduct classes and workshops. She also previewed additional technology the library is hoping to incorporate in the future, including music recording tools for aspiring musical artists. The space will also contain a variety of hand tools and robotic coding and programming devices for people to experiment with.
From sign making to creating an assortment of promotional materials, Fowlkes said the "Idea Lab" will be a tremendous asset for patrons, whether in pursuit of a hobby or marketing a small business venture. She also encourages any recommendations for additional equipment or desired courses to accompany the new "Idea Lab" as the process of implementing the area's first makerspace for the public unfolds.
Warren County Public Library is excited to welcome in the new year with this new evolution in library services. If you have not checked out the library lately, you are missing out on a host of tools to aid you in both work and play. For additional information on WCPL's new "Idea Lab" at the Bob Kirby Branch, or to learn more about the free services available online or at any library location, visit.
Just as the traditional New Year's song begs the question, "Should old acquaintance be forgot?" we say neither should your neighborhood public library. With four locations throughout Warren County, the library looks forward to serving you in 2018 and beyond.