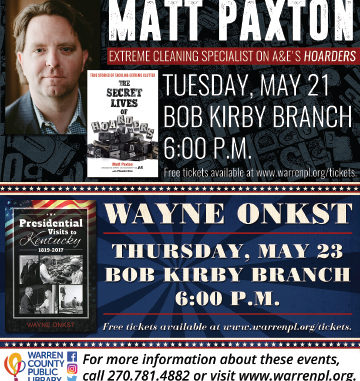 American poet Robert Frost said, "Poetry is when an emotion has found its thought and the thought has found words." Since the Warren County Public Library is dedicated to the collection and the distribution of words in various subjects and formats, it seemed only appropriate for WCPL to host a poetry competition in conjunction with National Poetry month.
The contest was created and facilitated by WCPL's Teen Advisory Board (TAB), a group representing the teenage community that works alongside the library in developing teen-driven services at WCPL. Open to middle school and high school age students, the competition, held from March 18 through April 8, included approximately 20 submissions. A winner was selected for both the middle and high school division, and each poem is being published in SOKY Happenings and the Bowling Green Daily News.
High School Category Winner: Annika Avula
Age 18
Grade 12: The Gatton Academy of Mathematics and Science
"A Poem for the Women's March, 2017"
My rights are my own,
I sit atop them on a throne
For not everyone has this sacred right
that we call 'freedom' every night
But the reality we face is too grave to tell
We spend our days at work
and nights in hell
No means no, and that is certainly true
But what were you wearing that night,
how many drinks did you consume?
There is no force stronger than our might
Except a man's fist on our face
when we do something right,
something not to his taste.
There is every reason to cower,
say we cannot help the results
But standing up my dear, is a power,
a true insult
And every time a sister
Is denied the right to choose
We stand with her in solidarity,
because we know she can refuse
In her heart and her mind,
and everywhere in between
For every woman on earth,
We pledge to show her she is a queen
Because my rights are my own
And her rights hers
We are all the same,
black, brown, white, and gold
Whether you love men or women
or both, or neither
Whether you are yourself
A man, woman, or either
Join us in our fight
As we pledge to our enemies and friends,
"My rights are my own…
and they will never, ever end."
Middle School Category Winner: Rebekah Houck
Age 14
Grade 8: Homeschooled
"Safe Dangers"
The nights that I love are the ones filled with tears
Where the monsters come out and they scream in your ears
You cover your head
Your body shakes fast
Your vocal chords snap
And you whimper at last
You slip out of your bed and you hug your cold skin
You put on a jacket, a hat, and a couple of sins
You tip toe out of the house, when you close the door
You're greeted by chill, the demons indoors
They're still in your room waiting for your return
You say you'll sleep here as you dash through barn doors
You stumble through woods that have trails left by you
The moonlight catches your flesh
Pale ghost replaces you
You run and you run and you pray for thick trees
But all you find are thorn bushes and other small seeds
So you lay in a field and you look at the stars
You sing to the moon and you speak to the yard
It feels dangerous and cold
And of course it is
You doze off for a minute til the rainstorm it hits
Drops of water they patter your face
At first you're upset, then the cold you embrace
Then you catch your fast breath in your two purple hands
As lighting comes out across the sky to meet land
It weaves between the stars and cuts open your eyes
To see wonder and perfection in demon flee night
For that's what it's called
It's my favorite kind
Maybe it's twisted but it is my night
The night where I run and run believing I'll never pause
I scream in my head and turn it to song
I turn to pale ghost as thorns rip at my arms
You see perfect things that no one else can
When you go back inside the door clicks in your hands
You undress very fast and rush to your bed
But there is no need
The demon flee night is all in your head
In addition to having their poetry published, both Avula and Houck have been asked to read their work during a poetry program at Little Fox Bakery on Saturday, May 18, at 7 p.m. Little Fox Bakery is located at 314 East Main Avenue in downtown Bowling Green.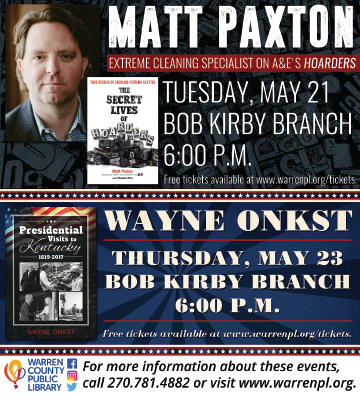 This was the first poetry competition coordinated by WCPL's Teen Advisory Board, which was established in March 2018. According to Teen Services Librarian and TAB coordinator, Laura Beth Fox-Ezell, TAB members really took ownership of this contest.
"The board saw this as an opportunity to elevate the voices of middle school and high school aged poets in this area," Fox-Ezell said. With limited opportunities for teen writers to showcase their work, Fox-Ezell noted TAB members not only identified this need but also sought to provide an outlet through this teen-focused competition.
For Fox-Ezell, the success of the poetry contest reflects the progress of the Teen Advisory Board members over the past year. Having witnessed the development in the TAB member's confidence as well as their ability to communicate with each other and the community, she is excited to see what project the board will pursue next. Anyone interested in finding out more information on the Teen Advisory Board is encouraged to visit warrenpl.org/tab.
As this contest proves, Warren County Public Library is so much more than just books. Please take a look at the adjoining "calendar at a glance" to see a few highlights of upcoming programming scheduled for May. WCPL also invites you to stay tuned for next month's article, featuring an overview of the Summer Celebration of Space, which will launch in early June. From an astronaut visit to aerial performers, this summer's line-up promises to be "out of this world!"