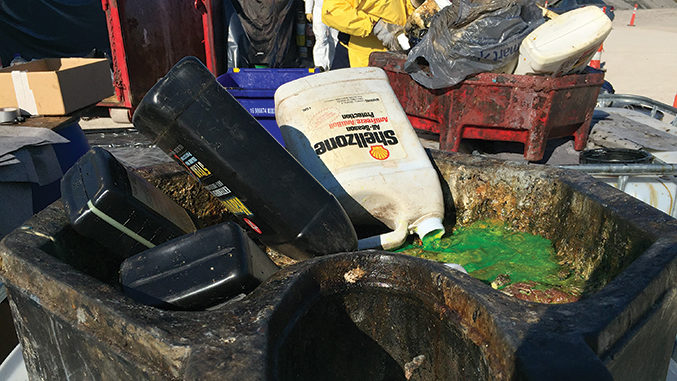 submitted by Stan Reagan
Do you have household hazardous waste that you don't know what to do with? Bring it by the Warren County Household Hazardous Waste Day Collection on October 28 from 8 a.m. to 1 p.m. in the front parking lots at Greenwood High School at 5065 Scottsville Road.
Warren County's Public Works Department, through its Division of Stormwater Management, is partnering with its Bowling Green stormwater coun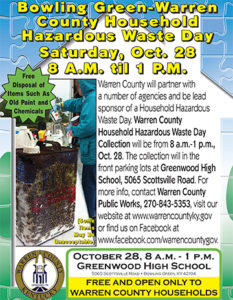 terpart and local businesses to host the event. A certified hazardous waste disposal team, Clean Harbors of Greenbrier, Tenn., and other waste management professionals will be on-site to accept household hazardous wastes for recycling or proper disposal. Scott Waste Services will be on-site to dispose of regular waste and non-hazardous
materials. In addition, area recyclers will collect waste oil, anti-freeze, cooking oil, batteries and even small propane tanks.
Most household hazardous wastes can be disposed of safely, but recycling the material is a better option when available. Recycling keeps the material out of a landfill, which helps to extend the useful life of the landfill while preserving improving the chances those toxic materials won't be buried with other solid wastes.
e-Scrap Recycling
 Small electronics, or "e-waste," including computer CPUs, laptops, tablets and monitors will be accepted at the drop-off site. No large electronic appliances or commercial machinery will be accepted; this specifically applies to copiers, washers, dryers, microwaves and smoke and carbon monoxide detectors. Computer hard drives cannot be removed on-site.
Personal Document Shredding
 Land Shark Shredding is continuing to partner with Bowling Green and Warren County and will be on-site to accept personal documents for shredding. It is not necessary to remove small staples and paper clips, but large clips and binders should be removed from any paper prior to the event. You can bring items in boxes or plastic bags. Previously shredded material MUST BE sealed in a bag to prevent escape. Shredded paper must not be mixed with non-paper shreds, such as shredded compact discs and DVDs – Those items must be disposed of as rubbish.
Things that CANNOT be accepted
 Please don't bring trash and junk from where you cleaned up your yard – that's what trash pickup is for and why it is mandatory countywide. The HHWD drop-off site also isn't accepting tires or anything containing asbestos or radioactive materials. This includes smoke and carbon monoxide detectors and microwave ovens, as well as construction/demolition debris. Again, these materials are unacceptable.
All wastes must come from area households, which may include small home-based businesses. Containers should not be leaking or larger than five gallons unless prior approval is obtained. Materials from other businesses CANNOT be accepted because of federal guidelines.
Waste also will not be accepted from outside Warren County. Participants should be prepared to produce a photo ID showing proof of Warren County residency and/or be driving a vehicle with proof of Warren County registration.
For more information, go to www.warrencountyky.gov or www.facebook.com/warrencountygov.