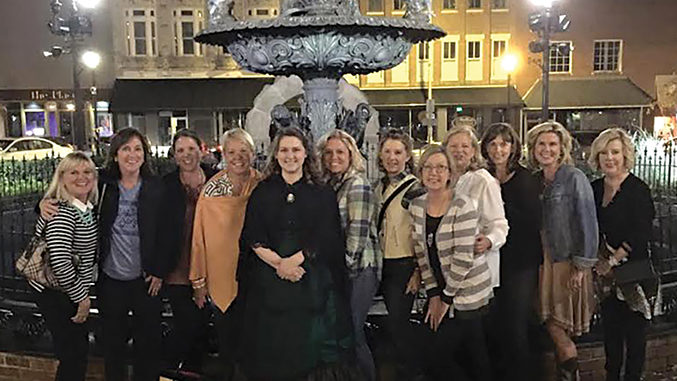 by Kara Williams Glenn
While I spend many October nights telling Bowling Green's secrets on my haunted walking tours, it's no secret that I love this time of year. The smell of fall leaves, the taste of a Spencer's Coffee Spiced Apple Chai, the chill in the air… or down your spine… October is my favorite month. Not just because it holds my birthday and wedding anniversary (five years), but also because there is so much fun to be had. Please join me on my Unofficial October Bucket List. Post photos of your adventure using #seetheunseen, so everyone can enjoy the adventure together!
Drink a Hooded Sweatshirt… No Really
Move over Pumpkin Spice Latte, Spencer's Coffee on beautiful Fountain Square is brewing up a new fall favorite called the Hooded Sweatshirt. Sip the flavor of toasted marshmallow, pumpkin spice and cinnamon in this seasonal latte.
Take John Carpenter's Reel Sites, Real Driving Tour
This entertaining driving tour highlights streets and locations mentioned in so
me of John Carpenter's films as well as his childhood home, high school and other sites associated with the Master of Horror. Carpenter spent his formative years in Bowling Green after his father, Howard Carpenter, began as a professor of music at WKU in 1953. Learn more at visitbgky.com.
Find Your Way Around the Autumn Sky at the Hardin Planetarium
Learn to "Find Your Way Around the Autumn Sky" with this highly interactive planetarium experience. Participants will examine star patterns visible in the current evening sky and learn some of the stories our ancestors told to help them remember these patterns.
My, Oh My, Have a Pecan Pie at Boyce General Store
Standing in the same spot as it did in 1869, ten miles outside of Bowling Green city limits, Boyce General Store is a pleasant drive out Hwy. 240, past Drakes Creek, tobacco farms and fields of Kentucky bluegrass. Come on out and enjoy some of their old-time favorites, delicious Pie Queen desserts and visit your friends at Boyce General Store.
Hit the Scarecrow Trail at Lost River Cave
See all of the creative, spooky and fun scarecrows built by our community members. You can even vote for your favorite 'crow! The Scarecrow Trail lasts through October 31.
Sponsor or adopt a black cat at the BG/WC Humane Society
October is the perfect month to sponsor or adopt a black cat. Some might think black cats are spooky but they make wonderful pets… take it from us, we are spooky experts.
Eat a Caramel Apple and Fried Pie at Jackson's Orchard
Whether you are here for the weekend or you have lived here your whole life, just follow the Kentucky Tourism signs to Jackson's Orchard. Jackson's Orchard is a 105-acre farm located on one of the highest points in Warren County, Kentucky. This land has been an orchard for over 100 years. The Orchard currently has over 7,000 apple, peach and cherry trees.
Take a Selfie at WKU's haunted Van Meter Hall
An excerpt from Dolly Carlisle's article "Boo! Van Meter Ghost Haunts Western's Actors," College Heights Herald, May 3, 1973: The one most commonly known to students is that a construction worker fell through the skylight in the lobby and was killed. In this version it is said that the blood of the worker reappears when the floor is washed.
However, according to an excerpt from Chris Hutchins' article "Thrill on the Hill: Ghosts, spooks haunt Western," College Heights Herald, October 30, 1997: Some say the man's demise was caused by a distraction… most say it was the thrill of seeing an airplane in the sky. As the legend goes, he fell onto the floor of Van Meter's 2,000-seat auditorium. Now, the spirit of the man's wife and daughter roam Van Meter, singing and talking in voices no one can understand.
Taste Chaney's Dairy Barn's Bourbon Crunch Ice Cream
This tasty, perfect-for-fall treat is a bourbon ball ice cream, made with Makers Mark. After you have finished your tasty treat you can find your way through their corn maze. Chaney's Dairy Barn was opened in September 2003 to a public hungry for something different and "udderly" wonderful. The farm itself was purchased by the Chaney family in 1888 and became a dairy farm in 1940.
Discover Our Downtown Haunted History Walking Tour
Unseen Bowling Green's Haunted History Walking Tours guide your family on a ghostly adventure you never knew existed in Bowling Green's Downtown. The tour discloses the dark and mysterious history rooted around Fountain Square Park. Each tour will visit haunted and historic locations, an eerie cemetery and will enter a secret haunted location that has been closed to the public for nearly 100 years. Tickets available at unseenbg.com.
About the Author:
Local wife and husband team, Kara Williams Glenn and Kenn Glenn, guide locals and travelers alike on ghostly adventures every October. They reside in Bowling Green with their three beautiful cats.
Together, they share Bowling Green history on a Downtown Haunted History Walking Tour. They have researched each story and location to ensure that you'll get both the facts and the history passed from generation to generation. Not every story will be from the history books, as so many of life's adventures are never recorded.