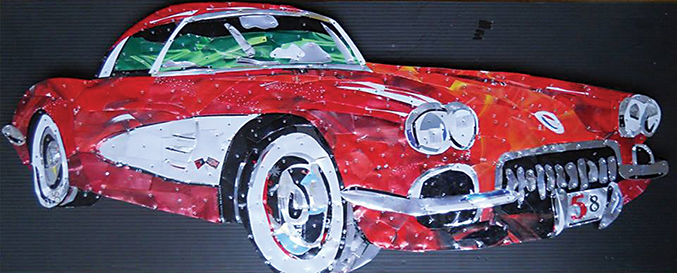 by Teresa Christmas
The World's Greatest Studio Tour will celebrate its 22nd year Saturday, November 4, and Sunday, November 5, 2017, when Bowling Green and area artists invite you into their studios and homes to view their art and processes.
The World's Greatest Studio Tour is Southern Kentucky's most exciting art event! This annual tour is designed to allow the public to meet our area's leading artists, talk with them one-on-one, and see exciting new art works. This year, 34 artists are participating in the event wi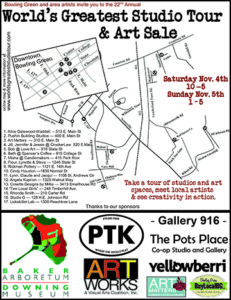 th 17 different studios or venues to visit. This unique opportunity gives access to the artists and a glimpse into their creative processes.
Hopefully this article and map will help you make a plan for a weekend of seasonal beauty and hidden treasures! You may not be able to visit all the studios in one weekend, but you can try! It's a great way to do your holiday shopping, buy local and surprise a loved one with a unique, original work of art! While it is true that there are a lot of artists to visit right on Main Street in Bowling Green, you really won't experience the beauty of the November Studio Tour without an autumn drive to some of the studios located in serene landscapes, such as Lickskillet Lab at 1300 Peachtree Lane, where artists Kristina Arnold and Charles Hurst reside and create art. They will have blacksmiths on hand demonstrating their traditional skills and crafts, and David Lenoir will be there with his woodworking! Perhaps you will buy wooden bowls or a turned wine stopper made by David, or you might purchase a handmade pocketknife from Charles or a fragile glass sculpture created by Kristina. You must see her prints made with a photographic process that does not involve a camera!
It's a lovely drive to Studio G on 128 H.E. Johnson Road, but even more than the view, you will enjoy the exhibit of photos, pottery, paintings and prints by Karen Genter and, perhaps most of all, the sound of the bamboo flutes she makes by hand, which she will gladly demonstrate!
In that same vicinity are more studios you can check out either on the way out of town or on the way back. The home studio of Rhonda Smith is located at 210 Carter Road, w
here you must see her oil paintings and prints! Two Local Girls, at 248 Timberhill Avenue, is where artists and art educators Kim Soule and Missi Carini will show their works of art. In addition, these girls offer opportunities for viewers to make their own art during their hands-on workshops each day of the tour!
As you make your way back to town, Alice Gatewood Waddell has a studio located in her lovely home at 513 East Main Street. We are fortunate to have such a renowned artist living right downtown! Although her works are available in galleries in New York and other cities, as soon as you walk in the doorway, you will feel right at home, as Alice will have her table set for company. (Most studios will offer refreshments!) Ms. Waddell will welcome you in to see not only majestic paintings that deck her walls, but even the upstairs studio where she creates the colorful collages she is primarily known for. This year, Fredric Manuel will join her for the studio tour. He may be a newcomer to the local art scene, but his art is amazing!
At the Pushin Building at 400 East Main you can see six artists in one location! Just take the entrance on College Street, (near the distillery), and up the stairs you are sure to find something to please everyone with the paintings of Angie Alexieff, the abstract works of layerist Myra Dwyer, painted silks by Laura McGee, and works by new members of the tour this year – Terry Wilson (paintings), Emily Hendrickson (collage works) and mixed media work by Jack LeSeiur.
Also on Main is Art Matters Community Studio (310 E. Main, betwee
n College and Center Streets). Here artist Teresa Christmas is honored to share her beautiful exhibit space with Alla Gilbert, who will have not only her paintings but also her wood-fired ceramics, including Yunomi and Sake cups. Christmas is also excited to welcome Julie Schuck back to town with her limited edition prints and lovely artists' books.
While you are downtown, drop by Spencer's for coffee (915 College Street,) where Beth Reitmeyer will have paintings, drawings and lighted sculptures! Then stop by Candlemakers (415 Park Row) to see the art of Misha Ambrosia, an artist who came from New Orleans and fell in love with our city of Bowling Green, capturing it in incredible colors! A must-see is the mosaics using aluminum cans by Bob Love. His place, Bob@Love Art (916 State Street), is new to The Studio Tour.
Crocker Law Offices open their doors at 520 East Main and welcome artists Jill, Jennifer & Jesse, whose studios are far away, to bring their works to town. Beautiful paintings and other works by Jennifer Sims and Jesse Sims will be on display there, as well as one-of-a-kind pieces of jewelry made of wire and semi-precious stones by Jill Gentry.
Don't leave the downtown area without seeing award winning artists Fleur Whitaker (cold wax paintings, encaustic monotypes and acrylics), Lynette Haggbloom (fused glass and 2-D art), and Steve Haggbloom (unique wood pieces) at Whitaker's studio located above the garage at 1246 State Street.
Once you visit Rickman's Pottery you will return whenever you want a gift for someone special. Mitchell Rickman's Kentucky pottery can be found all over the state, but you don't have to travel far; just visit 1121 E. 14th Avenue. Nearby is wearable art and fiber wall art by Cindy Houston at her home studio at 1830 Normal (on the corner of Sumpter).
There would be no studio tour without Lynn Robertson, an artist who has volunteered long hours to keep the arts alive in Bowling Green! See her oils, pastels and mixed media along with oils and mixed media by Claude Robertson, and weaving and jewelry by Jacqui Lubbers at the Robertson's home and studio at 1108 St. Andrew's Circle.
A renowned portrait artist is Angela Kuprion and you won't want to miss a chance to meet her and see her portraits located just off of Smallhouse Road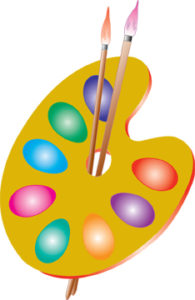 at 1325 Walnut Way! Not far away is Cosette Designs by Millie at 3415 Smallhouse Road, where artist Mildred Wallace has handcrafted jewelry using precious metals and semi-precious gemstones.
Click on the Painter's Palette to see an interactive map to all the studio locations.
See you at the Studio Tour, Saturday, November 4, 10 a.m. to 5 p.m. and Sunday, November 5, 1 to 5 p.m.! It only happens once a year, and it only happens here! Visit www.worldsgreateststudiotour.com for more information.