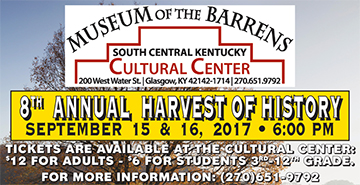 submitted by South Central Kentucky Cultural Center
The South Central Kentucky Cultural Center (SCKCC) is located in the heart of Glasgow, Kentucky, at 200 W. Water Street. It holds rich, historic memories within its collections of newspapers, letters, scrapbooks, documents, photographs, genealogy resources, and exhibits. It is dedicated to collecting, preserving and sharing the treasured heritage of the geographic area known as "The Barrens" which includes Barren, Hart, Metcalfe, Monroe, and Allen counties. People young and old, from Kentucky and around the United States and even some foreign countries visit and say things like… "We loved the authenticity of the exhibits!" "This place is cool!" "The exhibits make me feel like I'm really here in that time period!" "Awesome!" The Kids Corner is a wonderful addition for families with children; the kids love it!"
Come explore and discover South Central Kentucky's heritage and see what life looked like for Native Americans and early settlers of this region. Discover tools and firearms used by our ancestors, the Meredith log cabin, and a gristmill from the mid–1800s. Explore the extensive military exhibit, a one-room schoolhouse, a 1920's exhibit complete with a moonshine still, and a depiction of the town square as it looked at the turn of the century.
While admission to the museum is free, your donations help the museum create new programs and exhibits. Visit the Museum Gift Shop where you can purchase a souvenir of your visit or books of local history for the genealogist in your family.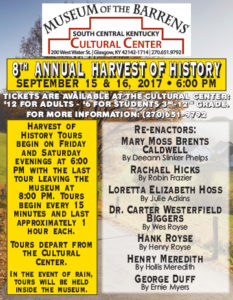 On September 15 and 16, the SCKCC will present the 8th Annual Harvest of History fundraising tour. Each year, the tour highlights different historical figures from The Barrens. Talented re-enactors dressed in period costumes become their historic characters, entertaining while sharing their unique life story. The Harvest of History is a popular event, entertaining and teaching while patrons glimpse their community's past.
The Harvest of History tour serves as a primary fundraiser for the Cultural Center. Tickets are $12 for adults and $6 for students from grades 3 through 12. Teachers, this is a good opportunity to offer extra credit to students who attend the Harvest of History; students, this is a perfect time to be entertained while you learn about our local history. The Cultural Center continues to be a work in progress; therefore, funds raised will be used to support the creation of new exhibits. Now that the museum has a new air conditioning system, work will begin on the addition of a clothing store and beauty shop exhibit on the second floor.
Sherry Wesley, the Cultural Center director and Harvest of History coordinator, emphasizes that an event of this size is not possible without the help of the community and many dedicated volunteers. Each volunteer is necessary for the Harvest of History tour to accomplish its goals – to honor the historical figures by telling their stories and illustrate that everyone's life is significant to our community.
The historic characters who will be portrayed this year include Mary Moss Brents Caldwell, a WWI mother who will be portrayed by Deeann Slinker Phelps; Rachael Hicks, owner of a local business of the 1920s and 1930s known as the Hoodoo Wagon, will be portrayed by Robin Frazier; Loretta Elizabeth Hoss, a Temple Hill fortune teller, will be re-enacted by Julie Adkins; Dr. Carter Westerfield Biggers, an early physician, will be portrayed by his descendant Wes Royse; Hank Royse, a pioneering radio announcer, will be portrayed by his son Henry Royse; Henry Meredith lived in the log cabin now located inside the museum and will be portrayed by a descendant, Hollis Meredith; and finally George Duff, a gentleman with a distinguished career as an early attorney and judge, will be portrayed by Ernie Myers.
Harvest of History Tours will begin on Friday and Saturday evenings at 6 p.m. with the last tour leaving the museum at 8 p.m. Tours will start approximately every 15 minutes and each tour will take approximately one hour. Those attending will arrive and park at the Cultural Center where they will board a bus and be transported to and from the cemetery site. In the event of rain, the tour will be held inside the museum.
Visit the Cultural Center, review our web page at , like us on Facebook, or call 270-651-9792 to learn more about the events that take place throughout the year.