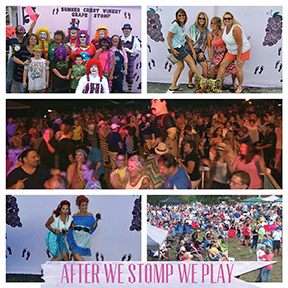 submitted by Sumner Crest Winery
While August reminds us that summer is coming to an end and the kids are starting back to school, it always brings around harvest time for vineyard growers. As usual, Sumner Crest will host a celebration of the harvest with the 18th Annual Grape Stomp, but this year there is even more to celebrate. The end of August will bring around all kinds of things in Portland, Tenn.
Many of you know about the Solar Eclipse that will happen on August 21, 2017. This will be the first eclipse to go from west to east, coast to coast across the United States in over 500 years, and it will be another 500 plus years before it happens again. Since we are lucky enough to be in the totality path, we are celebrating and will raise our glasses to it. We will start the festivities on Sunday, August 20. Sunday Serenade will feature live music on the lawn from Dean & Jerry from 3 to 5 p.m. You can enjoy some of our wine and snacks while relaxing to some great music from the duo. On the day of the eclipse, August 21, we will have a viewing party from 9 a.m. until 5 p.m. We will offer live music on the lawn from 11 a.m. to 1 p.m. Totality will start around 1:27 p.m., so you want to make sure you get here and get your seat for the event. There is a VIP Party Package that is available with an eclipse T-shirt, a special wine glass, viewing glasses and a boxed lunch for $30. You must reserve these tickets ahead of time, so get your reservations in for this event.
After we view the Great Eclipse, preparations will start for the biggest event of the year at Sumner Crest – the Grape Stomp Event. Thi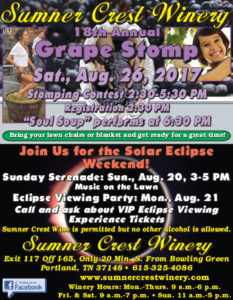 s will be the 18th year for the winery to put on the free event and it will be on August 26. Over a ton of grapes will be brought in to be used in the Stomp Contest. People may sign up and participate for free. A tub of grapes is given to each contestant and they have a limited time to produce as much juice as possible. The juice is then measured and logged in so we can determine the winner at the end of the stomp. Children's division is age 12 and under, we have ladies' and gents' divisions and prizes are given in all three divisions. The Stomp Contest hours are from 2:30 to 5:30 p.m. After the Stomp Contest, we set up for a night of celebration and dancing. Soul Soup will be our featured band, and they will play live on the stage from 6:30 to 9:30 p.m. There is free wine tasting, as well as gift shop and wine specials that are only for Grape Stomp Day, so you don't want to miss it. Don't forget to bring lawn chairs or a blanket. There is a food vendor available, but you can also bring your own picnic. You may enjoy a bottle of Sumner Crest Wine, but no other alcohol is allowed. This is strictly enforced. For more info on the events at Sumner Crest, call 615-325-4086 or visit our Facebook page.
Along with the events at Sumner Crest, Portland has a full weekend of activities for the Eclipse Weekend, August 19-21. Contact the Portland Chamber of Commerce for more info at 615-325-9032. Activities include live music, a Classic Car Cruise-In and a Farm-to-Table Dinner. Visit www.portlandcofc.com for more details.