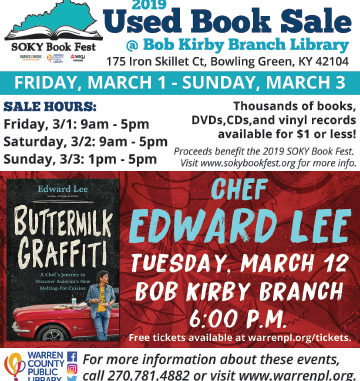 If you think over 65 games in less than 20 days counts as madness, then get ready for three renowned authors making stops in less than a week at the Warren County Public Library! Indeed, WCPL's March lineup looks as hectic as the NCAA tournament bracket schedule, complete with some top-seed programming. Here is a preview of what's ahead this month; we hope you will have as much fun marking your calendars as you do filling out your brackets!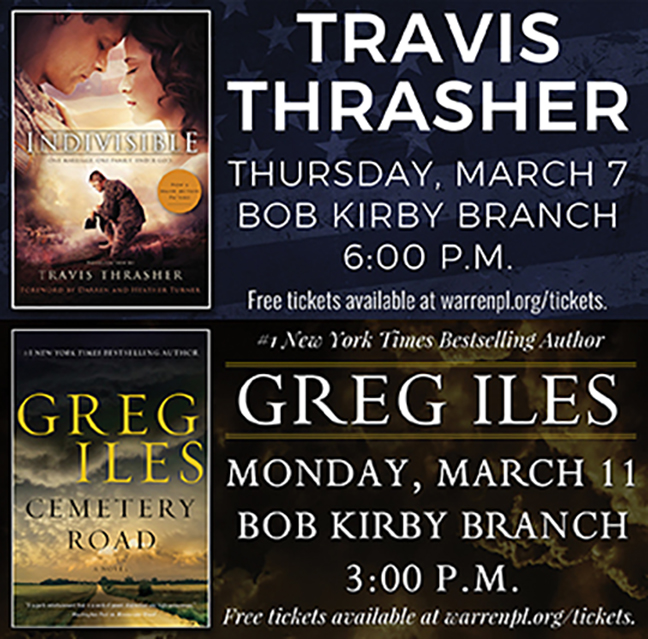 SOKY Book Fest Used Book Sale on March 1-3
March gets underway with the spring Used Book Sale, an annual fundraising event benefitting the Southern Kentucky Book Fest. Thousands of books, DVDs, CDs, and vinyl records are available for purchase for $1 or less. The multi-day event will be held at the Bob Kirby Branch on Friday and Saturday from 9 a.m. to 5 p.m. and on Sunday from 1 to 5 p.m.
Travis Thrasher Author Event on March 7
Bestselling author Travis Thrasher will speak at the Bob Kirby Branch on Thursday, March 7, at 6 p.m. Thrasher will discuss his latest books Indivisible and American Omens. Thrasher has written over 50 books, spanning genres in fiction, nonfiction and children's literature. His inspirational stories have included collaborations with filmmakers, musicians, athletes, celebrities and pastors. He has also penned novels based on songs such as Paper Angels with Jimmy Wayne and novelizations for films including Do You Believe? and God's Not Dead 2.
Greg Isles Author Event on March 11
Number one New York Times bestselling author Greg Iles will speak at the Bob Kirby Branch on Monday, March 11, at 3 p.m. He will discuss his new novel, Cemetery Road. Iles wrote his first novel in 1993, a thriller about Nazi war criminal Rudolf Hess, which became the first of 12 New York Times bestsellers. His novels have been made into films, translated into more than 20 languages, and published in more than 35 countries worldwide.
Chef Edward Lee Author Event on March 12
Warren County Public Library will host Chef Edward Lee on Tuesday, March 12, at 6 p.m. at the Bob Kirby Branch. Lee is the chef/owner of 610 Magnolia, MilkWood and Whiskey Dry in Louisville. He has received multiple finalist nominations for the James Beard Foundation Awards and is a former Top Chef contestant. He will discuss his book Buttermilk Graffiti: A Chef's Journey to Discover America's New Melting-Pot Cuisine.
Southern Arts Film Screening of Parallel Love on March 19
A screening of the independent film Parallel Love: The Story of a Band Called Luxury, will be held at the Capitol Arts Center on Tuesday, March 19. Filmmaker Matt Hinton will be in attendance to discuss his work, which follows the path of Luxury, a band from small-town Georgia, who, on the cusp of success, suffer a devastating touring wreck with long-term consequences. In the intervening years, they continue to make records and three members of the band become Eastern Orthodox priests. Through interviews and archival footage, Parallel Love tells the gripping and poignant story of Luxury and documents the making of a new record, now as priests. All Southern Circuit film screenings are free and open to the public, no ticket required.
Ready, Set, Prep! featuring Certified Personal Safety Instructor Deborah Williams on March 21
This month's presenter will be Deborah Williams on Thursday, March 21, at the Bob Kirby Branch beginning at 6 p.m. Williams has taught self-defense classes and concealed carry courses around this area and will be speaking on the topic, "refusing to be a victim." Her remarks will incorporate practical tips and advice for overcoming security threats both at home and away.
The program is part of WCPL's ongoing preparedness series, providing a different area of focus each month. In April, the topic will be home and workplace organization with Alex Trabue, owner of Tabulated Professional Organizing.
With all of these March must-sees, please be sure to complete advanced registration through WCPL's website, warrenpl.org/events. All programs are free and open to the public. Each of the author events will also feature opportunities to purchase their books through Barnes and Noble. If you already have a copy you would like to have signed, feel free to bring it with you.
WCPL is putting a full-court press on March's calendar that event Coach Cal would be proud of! We hope you will join this month's lineup of all-star programming, including Chef Edward Lee, Travis Thrasher, and Greg Iles. Visit the events calendar on WCPL's website to see a day-by-day breakdown of all WCPL activities. These include a variety of Idea Lab courses and a Myers-Briggs Type Indicator class as well as a string quartets concert, just to highlight a few. We hope you will agree that WCPL is the undisputed MVP (most valuable public library, that is) and they intend to "dance" their way through March with slam-dunk programming for every age and interest.