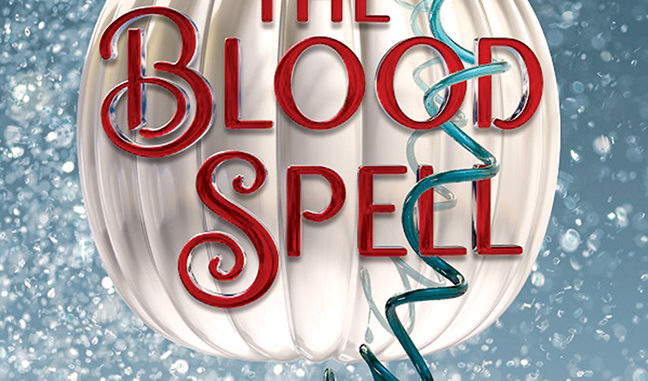 Southern Kentucky Book Fest, one of the largest book festivals in the region, is turning 21 this year! Through generous support from our sponsors, including Dollar General, SOKY Book Fest remains totally free and open to the public, so bring friends and family to the Knicely Conference Center in Bowling Green on April 26-27, 2019.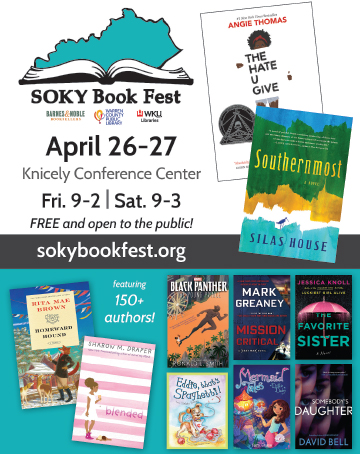 Among the special guests at this year's event are Angie Thomas, New York Times bestselling author of The Hate You Give and On the Come Up. And well-known Kentucky resident Silas House, author of Southernmost, Eli the Good, Clay's Quilt, and multiple other titles, will attend as well. Both Thomas and House will deliver keynotes Saturday. We're happy to welcome such prolific writers as Rita Mae Brown, too! Over 140 additional authors representing all literary genres will sign books and chat with fans, including Mark Greaney, Jessica Knoll, Ann Gabhart, and Jolina Petersheim. Barnes& Noble booksellers will provide book sales onsite throughout the weekend.
Apart from the opportunity to meet and talk to authors in the bookselling area, fans can attend panels and presentations throughout the weekend to learn more about the writing process and getting published. Writing workshops and a few special sessions will again occur Friday and Saturday, with two agent/author sessions offered this year. Register for Friday workshops on our website, sokybookfest.org.
Do you want to meet authors before the big event on Saturday? Our Meet the Authors Reception, a special ticketed event, occurs Friday from 5 to 7 p.m. in the Knicely Center's West Lobby. Tickets are available for purchase on our website.
Here's a look at all that will be going on at this year's Book Fest…
Kentucky Writers Conference
On Friday, April 26, from 9 a.m. to 3:30 p.m., the Kentucky Writers Conference, sponsored by Dollar General, takes place in WKU's South Campus, adjacent to the Knicely Center. Find the schedule and register in advance for sessions on our website. Friday boasts more workshops than ever, including sessions on infusing humor in your memoir writing, how to write and illustrate for kids, and the agent/author relationship. All workshops are free, but these sessions fill up fast, so don't forget to reserve a seat online. Workshops are perfect for writers at all stages of their careers – from the budding poet to the experienced novelist and everyone in between.
Teen and Children's Day
Teen and Children's Day, from 9 a.m. to 2 p.m. on April 26, caters to local elementary-high school students, librarians, and educators. The event is open to the public, but pre-registration for school groups is available on our website, sokybookfest.org. Students can attend writing workshops or panel discussions featuring up to half a dozen authors discussing their work in an interactive, high-energy environment, complete with Q&A session. With more than 60 authors attending, it is sure to be an amazing day.
Students have the opportunity to meet their favorite authors, participate in performances, and get creative in the "Make and Do" area provided by the Warren County Public Library. David Arnold, C.J. Redwine, Beth Revis, Mark Wayne Adams, Allan Wolf, Debbie Dadey, Kristin O'Donnell Tubb, Jessica Young, and other well-known authors will teach writing workshops or appear on panel discussions with other authors throughout the day.
SOKY Book Fest
On Saturday, April 27, from 9 a.m. to 3 p.m., nearly 150 authors representing all literary genres will attend. Meet New York Times Bestselling and award-winning fiction authors like Mark Greaney, the man behind The Gray Man series and many other novels. Say hello to Jessica Knoll, bestselling author of the runaway bestseller Luckiest Girl Alive. Festival favorite Ann Gabhart will also attend, along with Jolina Petersheim, both authors of inspirational fiction.
Chat with debut novelists Rea Frey and Kimmery Martin, along with regional talents like David Bell, Dana Chamblee Carpenter, Andrew Shaffer, Gwenda Bond, and Tiffany Reisz. Find titles from musicians like Tommy Womack of Government Cheese, chef Maggie Green, or bourbon connoisseur Linda Ruffenach, who will inspire you to appreciate and cultivate excellent taste.
Saturday's schedule also includes dozens of author presentations and panels, and there is plenty of time to buy books and get them signed on the spot. A list of attendees and other information is available on sokybookfest.org, or reach out to coordinator Sara Volpi at sara.volpi@wku.edu with any questions. Remember, SOKY Book Fest events are free and open to the public, and there is ample parking onsite at the Knicely Center.
SOKY Book Fest is a partnership of Warren County Public Library, Barnes & Noble Booksellers, and WKU Libraries, who work together to build a list of diverse authors who come to enjoy a full literary weekend. Check sokybookfest.org to read more about each author, register for Friday workshops, and see daily schedules. Sign up for our newsletter or follow us on facebook, twitter, and Instagram for important announcements and the chance to win free books.
See you at Book Fest!