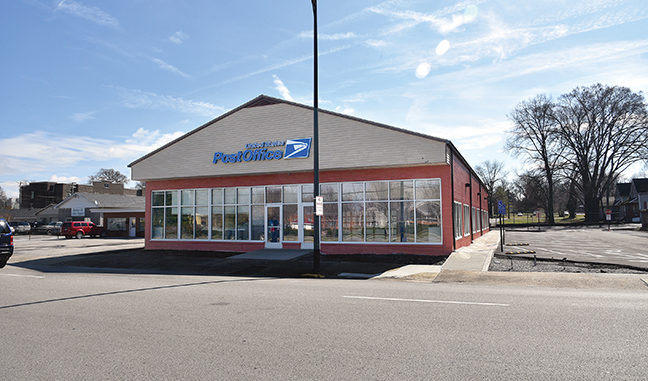 In this ever-changing world of electronics, there exists a passel of objects slowly disappearing from our everyday world. The local and long-distance telephone operators, for example, softly faded from our regular use. Other items in our society do not vanish, they simply adjust and continue to serve us faithfully. The United States Postal Service is an example of this latter response. Though personal letter writing appears to be less eminent with the younger generations, a wealth of other services by the postal community continues to impact our lives.
Like other services, the postal service emerged slowly as our nation was settled and grew to prominence. Locally during the late and 1790s and early 1800s as the new settlers made their mark, communication was limited to news passed by travelers and/or homesteaders. Soon, local sites became focal points for receiving and sending messages. George Moore's home and tavern served as the "first" service in this area. His first official recorded report of the Bowling Green Post Office was made in April of 1802.
In the more settled colonies, postal services became more defined and available with post routes established using post riders between settlements. The post rider did not have an easy task. Many of the routes were poorly developed between communities and were dangerous. The riders were only assigned short routes for every 20 or 30 miles on post roads. The men were protected and there was a penalty of death to anyone robbing the mails. Riders traveled both night and day on horseback averaging about eleven or twelve miles an hour with brief pauses. Eventually, the stagecoach replaced them on major post routes, and of course, the railroad replaced the state coach services eventually.
It was during the second half of the 1700s when the stagecoach routes were established and replaced most of these post riders. Ohio, Kentucky, and Tennessee were able to receive this stagecoach service for delivery of mail and newspapers as early as 1806. In Bowling Green, once the governing body was established, a stagecoach route was maintained, and this service became routine for this area. Then individuals were appointed by the local magistrates to provide the service for the community. On January 11, 1803, James Brown, Jr. was delegated to serve in Moore's place, and he was followed by John Phelus, later William Gatewood, then Adolphus Hubbard, and finally by Leander Sharp before the first officially appointed postmaster was designated on August 27, 1813. The tavern and the stagecoach stops were officially the locations of these gentlemen's place of operation.
By the mid 1930s, the square surrounding the local park had seen the construction of several businesses. One of the most important at this time was the Thomas Quigley building erected on the corner of Main and State Street. Built with the attractive architectural lines of buildings in Williamsburg, Va., (and still standing in that spot today) this structure became a central location for the city. It housed items for sale, but the post office was moved to a storeroom inside the building with Charles D. Moorehead as its postmaster. When the Quigley building became the Younglove drugstore in 1849, Joseph L. Younglove became the postmaster and remained as such until 1853.
The city of Bowling Green began to expand rapidly with the influx of more settlers, the presence of the railroad service and the industrial development expanding. The governing body decided the city needed a more functional and central post office so they choose a location near the new courthouse. This building stood next to the east side of the courthouse. The post office was located in the back of this Cook Building on the south side of what is known now as Tenth Street. P. B. Hawkins was the postmaster at this time. During 1876–1877, the post office received mail from the northern route twice a day at 2:55 p.m. and 5 a.m., from Nashville and Memphis once a day at 4:25 a.m. and 4:10 p.m. respectively.
The city officials later decided the post office should be located nearer the railroad, so they selected a new building on the northwest corner of Main and Center Streets. This building, located in what was known as the Covington Block of land, remained the post office location until 1912 with Edward U. Fordyce as postmaster. He was followed in this position by J. Will Wright, Will R. Speck, William Turner, and Enoch P. Lashmit.
The federal government recognized the importance of the Bowling Green community and constructed the impressive Federal Building across Center Street from the existing post office at a cost of $125,000. The postal service was then under the leadership of J. Tom Doores, postmaster, and had expanded considerably. The location received 11 deliveries daily and dispatched 13. Mr. Doores was assisted by Mrs. Ida M. Turner, as stamp clerk, a mailing clerk and a special delivery clerk. There were four star routes working the rural area with carriers Joe W. Carr, R. E. Lively, C. E. Haner, Charles W. Meritt and J. E. Moyers.
(It is interesting to note at this point, that at one time following 1827, there were as many as 84 Warren County Post Offices in the area according to the Postmaster's Appointment Roll #49. Most of these did not exist for long term. They were discontinued and their mail sent to another rural location, i.e. Anna, Benleo, Glenmore, Greencastle, Log, Swan Creek, Sand Hill and a host of others were all discontinued and their mail sent to Richardsville.)
The city delivery from the new federal building included six carriers: Will B. Follis, E. I. Smith, H. H. Carter, C. W. Follis, W. C. Campbell and L. R. Landers. These carriers made two deliveries daily to the residents in the city and three deliveries daily to businesses. An interview made in 1952 with W. B. Follis remarked on the 166,000 miles Mr. Follis believed he walked on his route from his first year in 1906 dutifully carrying the letters in his mailbag.
Our local postal facility remained in the federal building until it was moved to its present location at 311 East 11th Street. There exists an impressive list of distinguished individuals who have served as postmasters in Bowling Green. They represent some of the finest citizens of our city and their efforts have helped to make Bowling Green an outstanding community in Kentucky. This list of postmasters is available on line, but I had the opportunity to be introduced to them and some of the local information above from an article written by Mrs. Betty B. Lyne, a member of the local Southern Kentucky Genealogical Society, in a 1985 copy of the organization's Longhunter magazine.
Soon the local downtown postal office will relocate again to a new service location. Our civilization moves on. Changes come, changes go, but the strength and dignity of our nation never changes. We adjust to situations and we strive to always improve as we stop and look around us at the wonderful advantages life provides us. The efforts of individuals like Betty Lyne and the dedication of leaders like George Moore help us to share our heritage and appreciate it more fully.
-by Mary Alice Oliver
About the Author: Mary Alice Oliver is a Bowling Green native who is a 1950 graduate of Bowling Green High School. She retired from Warren County Schools after 40 years in education. Visiting familiar sites, researching historical records and sharing memories with friends are her passions.