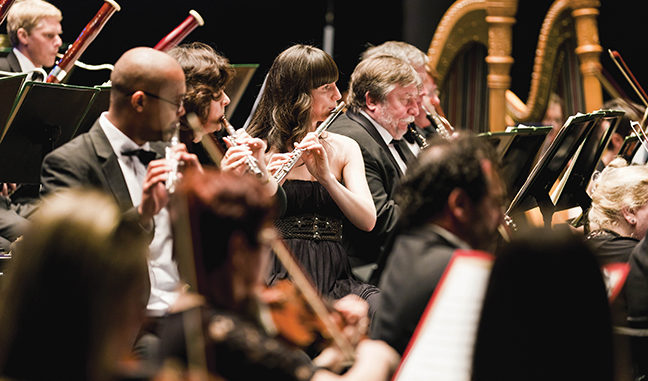 Buddy Holly, born Charles Hardin Holly, singer-songwriter and record producer, widely-known for several hit tunes including "That'll Be the Day" and "Peggy Sue," died at age 23.
Ritchie Valens, born Richard Steven Valenzuela, Mexican-American singer-songwriter, noted for the American No. 2 hit "La Bamba," died at 28.
The Big Bopper, born Jiles Perry "J. P." Richardson, Jr., singer-songwriter, famous for his rockabilly look, style, voice and personality, and for his hit "Chantilly Lace," died at 29.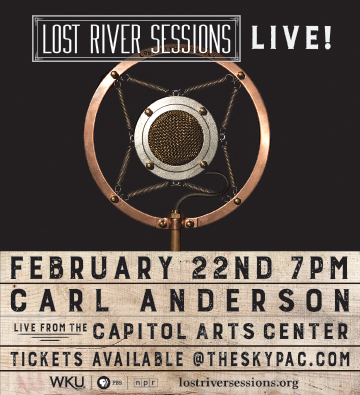 Holly, Valens and Richardson were ejected from their plane on impact and probably tumbled along with the wreckage across an icy Iowa field before the mangled plane came to rest against a barbed wire fence. The trio was headed for an engagement at nearby Moorhead, Minn., on February 3, 1959, – the day, they say, when music died.
Orchestra Kentucky, Music Director and Concuctor Jeff Reed, and a host of special guests take exception to that view with a joyful Winter Dance Party, presenting a faithful recreation of hits by Buddy Holly and his Crickets band, Ritchie Valens and the Big Bopper as all three made an astonishing impact on the shape and future of rock 'n roll. The music begins at 7:30 p.m. Saturday, February 2, at SKyPAC.
FINDING NEVERLAND
Also at SKyPAC this month, "Finding Neverland" takes flight. This winner of Broadway.com's Audience Choice Award for Best Musical is directed by Tony winner Blanc Paulus and is based on the run-away popular film of the same name. It tells the story behind the character Peter Pan.
Playwright J. M. Barrie struggles to find inspiration until he meets four young brothers and their beautiful widowed mother. Attracted by the boys' enchanting make-believe adventures, he writes a play that he hopes will astound London theater-goers. With a mix of pixie dust and faith, Barrie takes this leap, leaving the old world behind for Neverland, where nothing is impossible and the wonder of childhood lasts forever.
The curtain rises for "Finding Neverland" at 7:30 p.m. Valentine's Day, Thursday, February 14.
BACK TO THE CLASSICS!
Nothing in music could be much more "back to the classics" or part of the "classical" era than early Brahms, late Mozart or Beethoven. WKU Baker Professor of Music Dr. Brian St. John will conduct the Symphony at WKU in the spirited "Academic Festival Overture" by Johannes Brahms, Wolfgang Amadeus Mozart's lyrical Clarinet Concerto, and the structured Symphony No. 7 by Ludwig von Beethoven.
Brahms wrote his "Academic Festival Overture" as a tribute to Beslau University which had notified him that it would award him an honorary doctorate. Hoping to avoid all the notariety, he first thought of sending a hand-written note of thanks, but was told that protocol required him to produce nothing less than a musical offering.
"Compose a fine symphony for us," Brahms was entreated. "But well-orchestrated."
Brahms was a jokester. For Breslau University, with tongue firmly in cheek, the esteemed composer inserted into his overture what he called a "very boisterous potpourri of student drinking songs a la Suppe." (Franz von Suppe was a writer of operettas and lighter fare). Brahms' offering sounded episodic, light-hearted, and yet very academic.
Mozart's Clarinet Concerto was originally intended for basset horn, which is not a member of the horn family. It looks more like a clarinet except for its larger size and a bend at the mouthpiece. Eventually Mozart's Concerto was thought to be more effective for clarinet. Since some notes in the piece reach beyond the conventional clarinet's range, special basset clarinets were made.
Internationally recognized for his teaching, scholarship, serving on competition juries and as recording artist, Dr. John Cipolla, Associate Professor of Clarinet on the WKU music faculty, will solo in the Mozart Concerto.
The WKU Symphony concert concludes with what Beethoven called one of his best works. At the premiere of his Symphony No. 7 in A, the second movement was so popular that it had to be encored. Its popularity results in its frequent performance, separate from the complete symphony.
"Back To the Classics!" begins at 7:30 p.m. Friday, February 22, at Van Meter Hall.
ELSEWHERE ON THE HILL
There will be two major WKU choral concerts, two WKU music faculty recitals, and the WKU Wind Ensemble and Symphonic Band Concert – all this month.
The WKU Chorale will assemble at First Christian Church in Bowling Green at 3 p.m. Sunday, February 3, for a special concert under Dr. Paul Hondorp, Director of WKU Choral Actviities. Dr. Hondorp and all of the WKU Choirs will perform in a combined concert beginning at 3 p.m. Sunday, February 24, at Van Meter Hall
Heidi Alvarez and Donald Speer will present a flute-piano Faculty Chamber Recital at 3 p.m. Sunday, February 10, in the WKU Fine Arts Center Recital Hall. Heidi Alvarez teaches flute and music theory at WKU and has held flute master classes across the United States, Europe, Central America and Canada, and was principal flutist in the North State Symphony. She is a noted avid supporter of up-and-coming flutists.
Donald Speer is Professor of Piano at WKU. Dr. Speer has been a performer in recordings with many renowned musicians, has premiered and recorded numerous works by contemporary composers, and has performed across the United States and Europe.
Violist Andrew Braddock will give a viola Faculty Chamber Recital at 7:30 p.m. Valentine's Day Thursday, February 14, in the WKU Recital Hall. Dr. Braddock has given master classes across the United States and abroad and has performed in Israel and Austria. He has served as new music editor for the Journal of the American Viola Society.
The always popular WKU combined Wind Ensemble and Symphonic Band Concert has been scheduled for 7:30 p.m. Thursday, February 28, at Van Meter Hall.
By the way, the WKU Department of Music will be honored with an appearance at the Kentucky Music Educators Association (KMEA) conference, this year held in February. The University Chorale under Dr. Hondorp and the Symphony at WKU directed by Dr. St. John will perform featured concerts for the convention-goers. These ensembles were selected from across the state. They represent all the other WKU music performance ensembles and demonstrate their sharp competitive edge and keen musical excellence.
So, the music did not die in that Iowa field 60 years ago with Buddy, Ritchie and the Big Bopper. Music in all its styles and expressions is alive and thriving in south central Kentucky.
-by Lee Stott
About the Author: Lee Stott is retired from WKU Public Radio, lives near Franklin with his daughter Cindy Wade's family and has 30 grandchildren and one great-grandson.