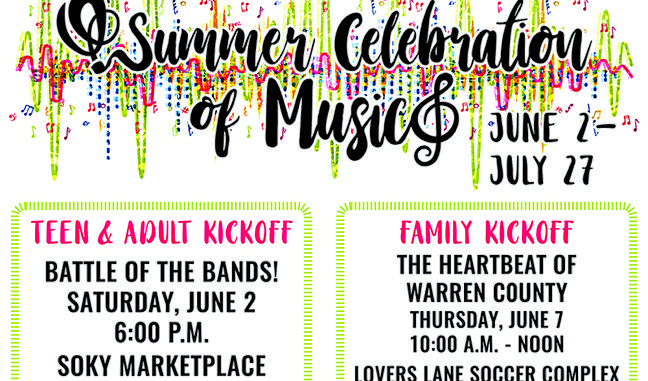 The conclusion of the school year signifies the arrival of the annual summer reading program, and this year's theme promises to be particularly NOTEworthy! WCPL's newly dubbed "Summer Celebration of Music" will include activities from the beginning of June to the end of July and is intended to engage individuals and families. Among its main objectives is the prevention of educational slide in school-aged children during the summer months.
In keeping with this year's music theme, WCPL will open the Summer Celebration with a Battle of the Bands,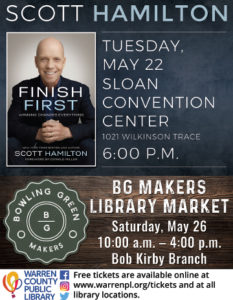 happening Saturday, June 2, from 6 to 10 p.m. at the SOKY Marketplace Pavilion in downtown Bowling Green. Five amateur bands will have the opportunity to compete, and Tyrone Dunn and the Kinfoke will also be performing. Various food trucks will be on site, along with a tie-dye station and registration tables to sign up participants for this year's program. The concert will be free.
Veronica Rainwater, Youth Services Manager at the Warren County Public Library, said that while the event is open to anyone, the Battle of the Bands is targeted toward teens and adults who might otherwise have limited access to enjoy live music from these area bands. She described the Battle of the Bands as a means of reaching participants through a non-traditional format.
"We had over 700 attend an illusionist event last year, but given the name recognition from some of our performers and this rare opportunity to hear them at a free concert, we expect the potential for a much higher number of attendees this year," Rainwater said.
While the main purpose of the event is to sign-up participants for the Summer Celebration, Rainwater said the Battle of the Bands seemed like a unique opportunity to engage participants given this year's music theme. She said the library was excited to embrace this out-of-the-box concept and emphasized the community support that helped make the event possible.
"This area has strong musical connections, and we are so grateful to the many community members who have come together to help make the Battle of the Bands a reality," Rainwater said.
In addition to this year's Battle of the Bands, WCPL will also host the Heartbeat of Warren County Family Kickoff on Thursday, June 7, from 10 a.m. to noon at the Lovers Lane Soccer Complex. This event will offer a second opportunity f
or participants to sign up for the Summer Celebration of Music. Cumberland Trace Elementary has been designated as the alternate location in case of rain.
Monica Edwards, the Community Outreach Manager for Warren County Public Library, detailed many of the activities anticipated for the Family Kickoff. These include dancing, drumming, tie-dye, obstacle courses, bubble stations, kindergarten screenings, stilt walker, art exploration, caricaturist and more.
"With multiple vendors and activities for all ages, this family-friendly event always attracts a large crowd," Edwards said. She added that Preston Green with Beaver FM 96.7 will serve as emcee for the June 7 kickoff.
The Summer Celebration of Music officially gets underway June 2 and will continue through July 27. Special presentations will include a didgeridoo demonstration, West African drumming, and a performance by Lafferty Pike Band, in addition to special music-themed activities throughout the two-month period. Along with WCPL's regularly scheduled STEM camps, the library will introduce a new coding camp as well as art and theatre camps to coincide with this year's music theme.
Also new this year will be an acting fundamentals workshop from Kentucky Shakespeare and a series of clown college programs for aspiring performers. From musical petting zoos to a 1950's sock-hop, there are countless activities planned to entertain and inform over the course of the summer. Printed calendars of activities will be available at each of the branch locations as well as online at www.warrenpl.org/summer/.
Scott Hamilton Author Event on Tuesday, May 22
Olympic gold medalist Scott Hamilton will speak at the Sloan Convention Center on Tuesday, May 22 at 6 p.m. He will discuss and sign copies of his book, Finish First: Winning Changes Everything.
The most recognized male figure skating star in the world and figure skating's voice of authority in the U.S., Scott Hamilton has won 70 titles, awards and honors including an Emmy Award nomination, induction into the United States Olympic Hall of Fame, and a privileged membership in the World Figure Skating Hall of Fame. Finish First is a wake-up call for business leaders, entrepreneurs, spouses, parents, and even students to stop settling for mediocre and begin to revitalize their intrinsic will to achieve excellence and go for the win.
BG Makers Library Market on Saturday, May 26
Also on the calendar in May is the Bowling Green Makers Library Market on Saturday, May 26. The BG Makers are a group of local artists and craftspeople who have developed their crafts as side businesses to their full-time careers. They will be set up at the Bob Kirby Branch Library to sell their art and provide demonstrations of their creative processes. Over 20 vendors are expected to attend the market, which will also include a performance from representatives of Dance Arts in Bowling Green from 1 to 1:30 p.m.
May might be the shortest-spelled month of the year, but the Warren County Public Library will not be running short on activities to keep patrons engaged. For more information on the upcoming Summer Celebration of Music or any other events taking place, please stop by your nearest WCPL location or visit www.warrenpl.org.