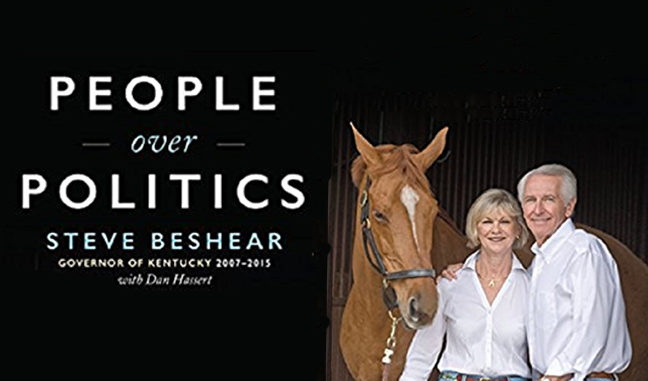 Southern Kentucky Book Fest, one of the largest book festivals in the region, is celebrating its 20th year! Through generous support from our sponsors, including Dollar General, SOKY Book Fest remains totally free and open to the public, so bring friends and family to the Knicely Conference Center in Bowling Green on April 20 and 21 to see what all SOKY Book Fest has to offer.
We are excited to welcome Loren Long #1 New York Times bestselling author/illustrator of the Otis series, and illustrator of President Barack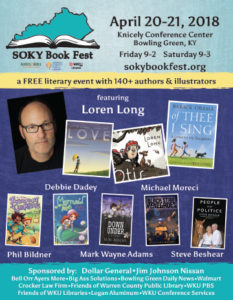 Obama's Of Thee I Sing and dozens of other titles. SOKY Book Fest favorite Phil Bildner will also attend, along with Kentucky natives Debbie Dadey and Holly Goddard Jones; former Governor Steve Beshear; National Book Award-nominated Mitali Perkins; Mike Mullin, author of the Ashfall series; and 140 more authors representing all literary genres. Apart from the opportunity to meet and talk to authors in the bookselling area, fans can attend panels and presentations throughout the weekend to learn more about the writing process and nerd out with fellow word-lovers. For the first time ever, writing workshops will occur on both Friday and Saturday.
Loren Long will sign books after his 10 a.m. presentations on both Friday and Saturday (11 a.m. signing). Barnes & Noble booksellers will provide book sales onsite, and we will have a commemorative 20th anniversary SOKY Book Fest t-shirt and poster designed by Mark Wayne Adams available for purchase at the event. Andee Rudloff, nationally known mural artist, will be live-painting a large literary themed mural Friday starting at 10 a.m., and attendees are encouraged to paint along with Andee!
Do you want to meet authors before the big event on Saturday? Our Meet the Authors Reception, a special ticketed event, occurs Friday from 5 to 7 p.m. in the Knicely Center's West Lobby. Tickets are available for purchase on our website.
Kentucky Writers Conference
On Friday from 9 a.m. to 3:30 p.m., the Kentucky Writers Conference, sponsored by Dollar General, takes place in WKU's South Campus, adjacent to the Knicely Center. Find the schedule and register in advance for sessions on our website. Friday boasts 16 writing workshops with topics ranging from "Setting as Character," "The Science of Publishing," and "Crafting Sci-fi." Catherine McKenzie and Wendy Tyson will offer advice on getting past that first draft, and Cheryl Hopson and Max Garland, former poet laureate of Wisconsin, will help attendees fine-tune their poetry. Sessions on Saturday include "Fight Scenes 101" with Alisha Klapheke and "The Joy & Pain of Co-Authoring" with festival favorites Carey Corp and Lorie Langdon. Seating for Saturday workshops is first come, first served and occurs in the Knicely Center.
Teen & Children's Day
Teen and Children's Day, from 9 a.m. to 2 p.m. on April 20, caters to local elementary-high school students, librarians, and educators. The event is open to the public, but pre-registration for school groups is available on our website, sokybookfest.org. Students can attend writing workshops or panel discussions featuring up to half a dozen authors discussing their work in an interactive, high-energy environment, complete with Q&A session. With more than 60 authors attending, it is sure to be an amazing day.
Students have the opportunity to meet their favorite authors, participate in performances, and get creative in the "Make and Do" area provided by the Warren County Public Library. Activities this year include yoga and an interactive mural-painting session with nationally known muralist, Andee Rudloff. Tracy Barrett, Jennifer Maschari, Joe Wos, Olivia A. Cole, Geoffrey Girard, Mike Mullin, and other well-known authors will teach writing workshops throughout the day.
SOKY Book Fest
On Saturday, April 21, fr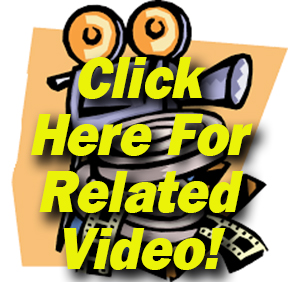 om 9 a.m. to 3 p.m., 140+ authors representing all literary genres will attend. Meet New York Times Bestselling and award-winning fiction authors Alma Katsu, Jessica Strawser, Michael Moreci, Molly Harper, Jamie Quatro and many more (along with all the authors that participate on Friday's events).
Chat with debut novelists Abby Fabiaschi, Ismée Williams, or Leesa Cross-Smith, whose debut Whiskey & Ribbons, is set in Louisville. Authors of inspirational romance like Ann Gabhart, Scarlett Dunn, and Sarah Loudin Thomas will also be there, along with many authors of exciting thriller/mystery books. With titles from musicians like J.D. Wilkes of the Legendary Shack Shakers to chefs Albert Schmid chronicling the hot brown and Garin Pirnia writing the history of beer cheese, there is truly something for everyone.
Saturday's schedule also includes dozens of author presentations and panels, and there is plenty of time to buy books and get them signed on the spot. A list of attendees and other information is available on sokybookfest.org, or reach out to Coordinator Sara Volpi at sara.volpi@wku.edu with any questions. Remember, SOKY Book Fest events are free and open to the public, and there is ample parking onsite.
SOKY Book Fest is a partnership of Warren County Public Library, Barnes & Noble Booksellers, and WKU Libraries, who work together to build a list of diverse authors who come to enjoy a full literary weekend. Check sokybookfest.org to read more about each author, register for Friday workshops, and see daily schedules. Sign up for our newsletter or follow us on facebook, twitter, and Instagram for important announcements and the chance to win free books.
See you in April!