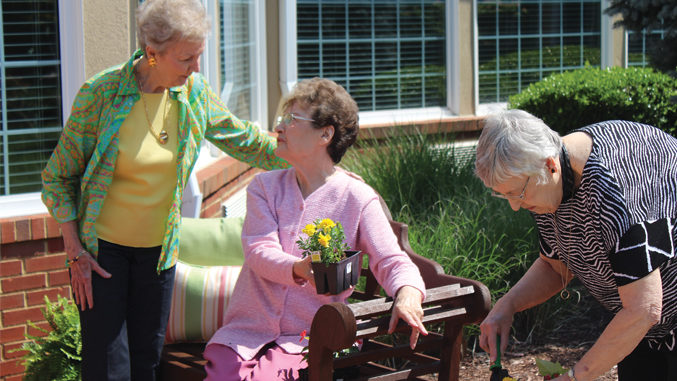 For many, the holiday season is the most wonderful time of the year. For those caring for an aging loved one, however, this time may be the most stressful. How will you manage the busy holiday schedule on top of your caregiving responsibilities? How can you make traditions meaningful for your loved one? Is it all possible?
Village Manor thinks so! With years of experience caring for seniors in need of independent living, assisted senior care, memory care and skilled nursing care in Bowling Green's only continuing care retirement community, the Village Manor team understands just how trying full-time caregiving can be. They also have some helpful ideas for caregivers at home who want to manage the holidays with less stress and worry.
"Try not to get caught up in the hustle and bustle," said Heather O'Banion, executive director at Village Manor. "Instead stay focused on the positive of the season. While the holidays may not be exactly as they've always been with your family, enjoy the little things with your loved one and reflect, share, and remember holidays from years past while living in the present moment of each day"
If you could use some help preparing your loved one and the rest of your family for the holidays, read on for tips and inspiration for managing the season simply.
Ideas for Keeping Calm & Making Merry
Limit the number of guests in your home. A large, noisy crowd of people can be overwhelming for the healthiest person, let alone someone with a difficult health condition or memory impairment such as Alzheimer's disease. Try to limit the number of visitors in your home. Instead of having everyone over for a large party, hold a few smaller gatherings or dinners with a few guests at a time.
Adapt your traditions. Maintaining holiday traditions can be extremely important. However, your loved one's care needs might make certain activities difficult. Don't be afraid to alter activities or try something new.
Include your loved one. Help your loved one feel like they are still a part of the celebration by finding simple, yet meaningful, ways for them to be involved. Have them help decorate by handing you items as you hang them up, or give them the job of opening cards and hanging them on the fridge. Let them pick out the holiday music that you play.
Tone down your decorations. Don't feel as though you have to go crazy with seasonal decorations. Sometimes, especially if you're caring for someone with memory loss, less is more. Going overboard on bright lights or large, shiny decorations could be overwhelming, but a simple, tasteful display can cheer them up.
Adapt gift giving. Ask friends and family members to give your loved one useful and meaningful gifts. Offer suggestions of gifts that might make things easier, such as large-print books or a new digital clock or watch. Suggest items that are pleasing to the senses – a fuzzy robe or socks, scented lotion, a soft blanket. Meaning gifts such as photo albums, copies of their favorite movies or framed pictures are other good ideas.
Know your limits – and stick to them! Understand that while you're caring for your loved one, you may not be able to do everything you did before. Explain this to your family members and delegate tasks. Maybe your brother's family can host dinner this year. Know how much you can reasonably manage and don't feel guilty for doing less than you might want to.
Take care of yourself. Don't neglect your physical or mental health during the holidays. Allow yourself to take breaks where you can relax and recharge. Perhaps place some not-so-subtle hints about how nice it would be to receive a gift of respite care once the holidays are over!
When it comes to sources of senior care, Bowling Green families can turn to Village Manor for any other their caregiving concerns. Not only does Village Manor offer a full continuum of care services, from independent living to skilled nursing care, but seniors and their families dealing with the challenges of Alzheimer's or dementia can enjoy temporary retreats from caregiving with comprehensive respite stays. Whether loved ones stay with us for a few days or a few weeks, they become part of the Village Manor community, experiencing the engaging lifestyle and compassionate support we provide for all residents. Loved ones enjoy a getaway, and caregivers enjoy a much-deserved break!
At Village Manor, seniors receive internationally renowned care through the Best Friends Approach. Highly skilled in Best Friends training, the Village Manor team utilizes the best in care techniques to build care support upon personal relationships, recognizing individual personalities and needs, and delivering compassionate, empathetic care you'd expect from a best friend.
If caring for your loved one during the holidays still has you feeling overwhelmed, call on Village Manor for guidance and support. We're always happy to help family caregivers and their loved ones. During this season and all year long, we're here to help you and your loved one feel merry and bright.