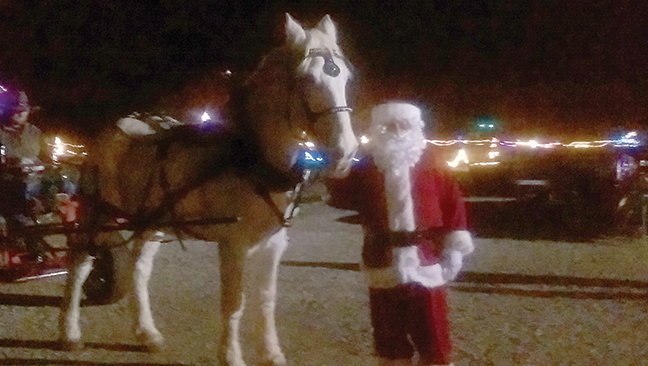 by Robin H. Harden
Can you believe the holidays are here! Boy, has time gone fast since Jan. 2, 2017. By the way, that's the day I sleep because my 18 hours at 37 days have ended. Each year, we seem to be able to reach just a little more outside of the local community in Rockfield to spread and shower a little more love and spirit.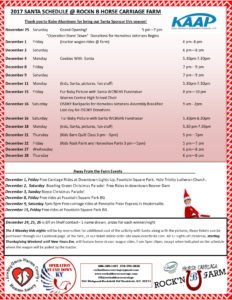 As you are speeding along this holiday, take the slow lane (figure of speech, by the way) to Highway 242 in Rockfield. Pull in the drive of a farm where you see all the lights and think, "Holy horse! What's going on there!" Visit Santa in our historic barn (sponsored by Kobe Aluminum), see the horses lined up along our petting wall, watch eyes sparkle while lights twinkle. Grab some delicious homemade food and snacks to make your bellies feel warm along with your heart. Snuggle up to the bonfire (sponsored by Lamb Tree Service) and roast marshmallows while staying warm. Grab all the kids and hold hands while under our blankets on your ride through the farm.
We have noted where we will be with free rides, away form the farm and parades where you can see our horses and carriages.
Want to be part of this 37-day-long holiday celebration? Our Facebook page has links to information on how you can participate, whether it be with a display, selling your homemade items, posting your business information on a carriage, donating your time, ordering a private sleigh ride, or even creating a unique gift for that person who needs something different!
Mammaws Kitchen and Farm is open during the day on our regular schedule. We are open six days a week, Monday to Friday open at 11 a.m. and Saturday open at 9 a.m.
The last day to order Christmas food and desserts is December 22 at noon. Learn more about our office party options and delivery.
The nighttime rides begin at 5 p.m. every night unless weather interferes. You can find out about cancellations on our facebook page.