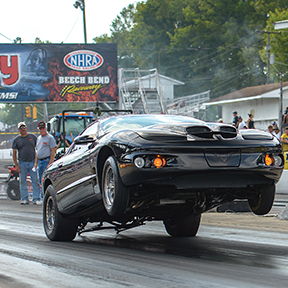 by Todd Veney
Images Credit: Ty Cobb (event photo was by Steven Rupp)
 Any vehicle powered by an LS or current generation LT engine has a home at one of the biggest events in southern Kentucky every year, Holley LS Fest. Staged at beautiful Beech Bend Raceway Park in Bowling Green the weekend of September 8-10, LS Fest attracts the finest LS-powered hot rods, race cars, street rods, muscle cars, and trucks for three days of non-stop action. There's something for car guys and gals of every kind – Drag Racing, Autocross, 3S Challenge, Show-N-Shine, Countryside Cruise, Dyno Challenge, Drift Challenge, Track X, Bolt-On Power Challenge, and Road Course Challenge and more.
DRIFT CHALLENGE PRESENTED BY LUCAS OIL PRODUCTS
One of the most popular events at LS Fest is the drift challenge. This invitational only event pits talented drivers against one another in tandem battle. As these drivers put their high horsepower cars to use sliding through the entire course, a panel of judges decides who advances to the next round. Fifteen hundred dollars goes to the deserving winner, and the other podium finishers pocket gift certificates good for any of thousands of products from any of the Holley family of brands.
BOLT ON POWER CHALLENGE PRESENTED BY CAR CRAFT MAGAZINE
NEW FOR 2017! If being a car guy to you is more about powerful engines than pinpoint driving, you'll love this event. Starting at 10 a.m. on Saturday, September 9, two teams with their own LS powered cars will compete against one another in an effort to see who can gain the largest percentage of power increase on their ride. Both teams will have an array of bolt-on performance parts from Holley, Hooker Headers, and others at their disposal. Teams will have to choose their parts wisely in order to see what parts add the most power. Performance gains will be measured on a chassis dyno in order to decide the winner. The winning team takes home all the parts they used to win the competition. Those interested in finding out more information on this particular aspect of LS Fest should visit our event website at www.lsfest.com.
DRAG RACING PRESENTED BY SCOGGIN-DICKEY PARTS CENTER AND ENGINE POWER TV
Watch some of the most powerful LS-powered racecars in the country battle side-by-side down the quarter-mile, or race your own ride! Numerous classes are available, headed by the COPO Battle At The Green, designed specifically for Chevrolet's COPO Camaros. These factory-built race cars come straight from General Motors with Holley EFI, Holley manifolds, and Earl's coolers. Race yours or watch the thrilling action from the stands! Log on to www.lsfest.com for information on the other eight classes returning to LS Fest for 2017.
AUTOCROSS PRESENTED BY QA1 AND LATERAL-G.NET
Want to test yourself on something other than the drag strip? Run your LS-powered vehicle on the QA1 autocross track in a moderate-speed competition that will showcase the car and driver with the best combination of acceleration, braking, and handling. This course has it all – hairpins, sweepers, chicanes, and slaloms. The autocross, 3S Challenge and the drag strip will all be used to help determine a Grand Champion winner for the 2017 event.
3S CHALLENGE PRESENTED BY BAER BRAKES AND SUPER CHEVY
The always popular 3S Challenge tests drivers' mettle in three areas: speed, steering, and stopping. It combines autocross and speed/stop skills in a single event to determine the all-around best driver. The down-and-back course has a 180-degree turnaround, a slalom, and a stop box. Left and right course times are combined, and the driver with the lowest total time is crowned champion. Don't go too fast, though – hit any course marker, cone, or stop-box cone and you're out!
SHOW-N-SHINE PRESENTED BY LS1TECH AND RAYMOND'S PERFORMANCE
Check out one great LS- or LT-powered build after another and have thousands of eyes on yours at the Show-N-Shine. Every kind of car and truck will be there – including a bunch you never would've expected to have an LS engine under the hood. Awards will be handed out for a dozen different categories, so don't miss it!
ROAD COURSE CHALLENGE PRESENTED BY GRASSROOTS MOTORSPORTS
Do you have a fully prepped LS powered track car? Finding your line and honing your skills as you go, you can lower your lap times on the challenging two-mile West Course at NCM Motorsports Park for literally an hour and a half a day! If weather permits, participants will get up to five 20-minute sessions each day, all sanctioned by the Ultimate Street Car Association. You don't have to be a pro – prizes will be awarded for three different skill levels (novice, intermediate and expert) – and it's open to any make and model powered by an LS or current-generation LT engine.
DYNO CHALLENGE PRESENTED BY BANGSHIFT.COM
Want to prove how much horsepower your ride really has? Look no further than the Dyno Challenge, where you can hook your car to the chassis dyno and find out for yourself! Sign up is on a first-come/first-serve basis, and valuable Holley product certificates worth hundreds of dollars are handed out to the top three finishers in each of two categories – Power-Adder and Non-Power-Adder.
TRACK X PRESENTED BY AMERICAN POWERTRAIN & PRO-TOURING
Do you like autocross? How about road-course driving? If you a fan of both, Track X could be right up your alley – it combines the best of both disciplines in a single event. It's a test of driving skill through a series of gates and chicanes on the east portion of Bowling Green's National Corvette Museum Motorsports Park, highlighting car balance and driving skill and is open to all autocross and all-access participants. Speeds can approach 90 mph, and prizes are awarded to all podium finishers.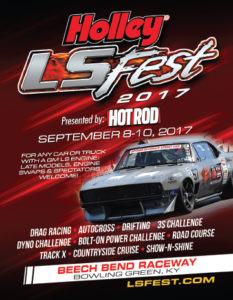 COUNTRYSIDE CRUISE PRESENTED BY BOWLER PERFORMANCE TRANSMISSIONS AND GM-EFI
The Countryside Cruise is always a welcome break from the fast-paced action on all the racecourses. Participants in this fun, family-focused event take to the beautiful back roads of rural Kentucky in a 30-mile digital scavenger hunt, taking pictures to record all their finds. The team that collects the most takes home a $500 Holley product certificate!
EVENT REGISTRATION, SPECTATOR TICKETS & PRICING
Register online to participate with your LS/current gen-LT powered vehicle today at www.lsfest.com. Spectator tickets are $15 a day at the gate and children 16 and under are free with the purchase of an adult ticket. A $5 discount is offered to active military, automotive students, and WKU students who produce active valid photo IDs for their organizations. Mobility scooters will be available for rental for those who are handicapped or disabled.