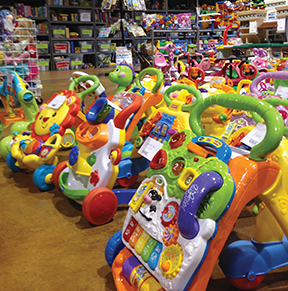 Duck-Duck-Goose has a new location for fall! Imagine the WKU Agricultural Center's arena packed down and covered in flooring. Then imagine all the clothing racks, shelves and baby gear that will fit in a place that size! Because of the large facility, there will be room for more consignors and for reintroducing DK Teen items. So if you have wanted to consign (or are a teen needing some cash), START THIS FALL!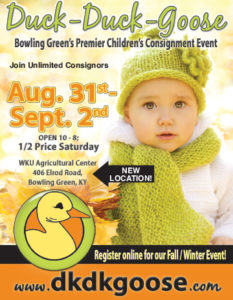 Duck-Duck-Goose is getting ready for the biggest consignment event in Bowling Green!
 •Shoppers will find deals from over 400 consignors in categories like toys, baby gear, clothing/shoes and teen
items! Be sure to shop opening day and half-price Saturday.
•Volunteers get to shop before the public sale. For all volunteer incentives, see our website. You only have to work one 4-hour shift to qualify!
•Don't forget to shop on Fundraiser Friday. Download the form from our website and have your favorite non-profit fill it out. We'll donate 10% of your purchase made on Friday to your organization.
The Duck-Duck-Goose consignment sale is August 31 to September 2, open each day from 10 a.m. to 8 p.m. For more information, visit www.dkdkgoose.com/bowlinggreen.