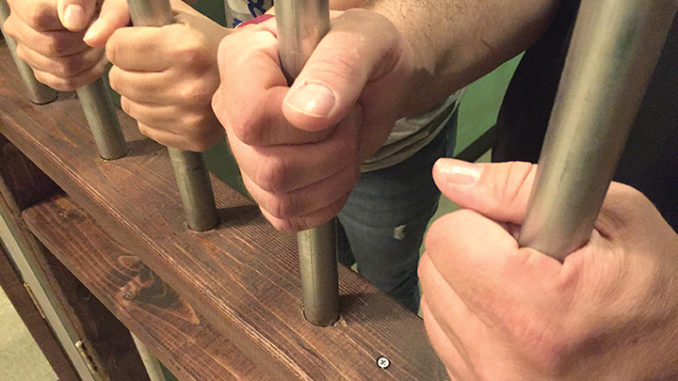 by Elliot Hyman
Being trapped in a room with friends, family, or even strangers with only a limited amount of time to escape can be very stressful. That situation could describe a holiday meal, company function, or even a daily commute. But it could also describe the thrilling experience of a visit to Conundrum Workshop.
Conundrum Workshop takes an unconventional approach to doing business compared to many companies across the United States. The company's purpose in business is simple – to connect people through creativity and cooperation. The nature of this concept leaves the "how" of conducting business open to many exciting opportunities.
The primary focus at Conundrum Workshop is on completely original escape games. An escape game is a puzzle-driven adventure in which a team is locked in a themed room with only 60 minutes to escape. The team must work together in search of hidden objects, clues, codes, riddles and puzzles. These discoveries allow players to solve an assortment of challenges that reveal keys or combinations to various locks throughout the room. The ultimate objective is to "escape" before the countdown clock expires.
A staff member monitors the group for the duration of the game and provides clues and assistance if the team gets stuck. This can be a lifesaver, since the escape games at Conundrum Workshop are intentionally designed to be a challenge. But it's this level of difficulty that makes a successful escape that much more exhilarating. A difficulty scale from 1 to 10, with 10 being the most difficult, gives players a good indication for their chances to escape within one hour.
Besides the difficulty of the puzzles themselves, a number of factors go into each group's escape experience. The two most significant indicators of success are communication and organization. Experienced players clearly have an advantage over first timers; however, some players embrace the analytical nature of the game very quickly.
Conundrum Workshop offers four escape game experiences at their 1901 Russellville Road location. The Mad Hatter's Tea Party is a whimsical and fantastic escape game where the Hatter, March Hare, and Dormouse invite you to a very curious un-birthday party. Bank Robbery puts players in the shoes of a notorious Chicago gang, tasking them with breaking into the Big City Bank, cracking the safe, and getting out with the goods before any alarms are triggered. In the Jail Break game, players work with their cellmates to attempt an escape from the corrupt county jail before the crooked cops and thuggish jailors return.
Aside from the on-site escape games available, Conundrum Workshop also offers a mobile escape game that allows companies, churches, civic groups and private parties to conveniently enjoy escape games at their location. The Jade Frog, a popular mobile escape game that debuted in June 2017, requires players to take on a notoriously ruthless artifact collector in search of the priceless Sri Lankan Jade Frog.
While Conundrum Workshop specializes in escape games, the business also provides many other creative and collaborative workshops, including painting, music, and basic team-building classes. The Summer Art Series features painting through guided instruction. The Drummer's Circle is a free workshop that encourages drummers of all ages and experience to come together to share tips and tricks. The first Drummer's Circle was on July 20, and the second Drummer's Circle event will be held on August 14.
The latest and most advanced experience from Conundrum Workshop is their new Bomb Squad escape room, which is revolutionary in several distinct ways. The Bomb Squad design replaces traditional padlocks with interactive devices that react based on the player's actions. This state-of-the-art design enables Bomb Squad to be played as one of three completely different games based on pl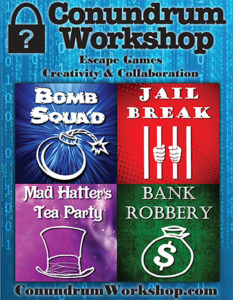 ayer skill level. Players can choose easy, medium, or hard mode when they book in advance at ConundrumWorkshop.com.
In Bomb Squad, the wacky Professor Conundrum is known worldwide for making marvelous, wonderful and fantastic inventions… that sometimes explode. His latest experiment went very w
rong and resulted in a dangerous and unstable creation in the laboratory. Fearing the worst, the local authorities called in the Bomb Squad to deactivate the device. Can your team defuse the Professor's malfunctioning machine before being blasted to bits? You can find out when the thrilling escape game debuts in August 2017!
A recent customer commented, "We did the Bank Robbery, and it was quite entertaining, frustrating, and exhilarating."
Book your own escape game experience today at www.ConundrumWorkshop.com and find out for yourself just how exciting it is to race against the clock.