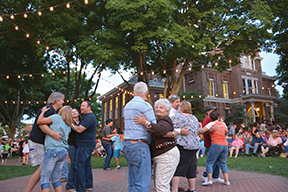 by Amy Ellis
We do Friday nights right in the summer in Franklin, Ky.!
Having a big time in a small town is what we do best with free live concerts in our downtown during the summer. Bring your family and friends and sit under the stars while you enjoy live performances by some of the hottest bands in the area.
The series of free Friday night concerts – hosted by the Franklin-Simpson Renaissance and sponsors Franklin Bank and Trust Co., Franklin Precision Industry, Inc., New Mather Metals and the Simpson County Tourism Commission – began in June and continues through August.
"Our beautiful downtown courtyard is the perfect setting for our free concert series," said Amy Ellis, executive director of Franklin-Simpson Renaissance. "Bring a lawn chair, grab a bite of food from one of our street vendors or area restaurants and sit back and relax to some great music. It is a family-friendly environment that offers something for everyone of all ages."
The concerts are held on the lawn of the historic Simpson County Courthouse beginning at 7 p.m. and wrapping up at 9 p.m. Lawn chair rental is available.
"Come to Franklin a little early and shop with some of our downtown merchants. Many of the shops will be open until the concerts begin at 7 p.m," Ellis said. "We have some great local merchants offering local art, furniture, clothing, antiques, sporting goods, books, jewelry and much more. You can grab a cup of coffee at the Four Soils Coffee Café and Bakery, dine at The Brickyard Café or grab some yogurt at the newly opened Frozen Spoon."
On the last Friday of June, July and August, a Mini Market will be open from 5-9 p.m. The Mini Markets will feature booths from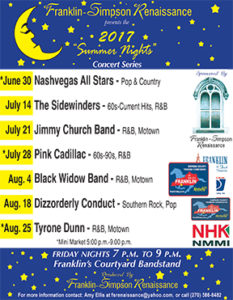 the Farmer's Market, vintage items, clothing, home décor and art. For vendor booth information go to www.fsrenaissace.org.
"We will have a variety of different booths at the Mini Market each month," Ellis said. "We wanted to provide a space for pop up shops. The market is a friendly place for a small business to test the waters and see how potential customers respond to their product."
The Sidewinders will play in the courtyard on July 14. You will not want to miss this Bowling Green based band that is comprised of so much talent. Musicians John McCracken, Dave Allen, Bhrett Puckett, Ernie Raymer, Kevin Snyder Webb Hendrix and friends will play some of their favorites from the 60s, 70s and 80s.
The Jimmy Church Band will heat up the stage on July 21. This Summer Night's staple will return to play R&B and Motown favorites from back in the day. New to the Summer Nights stage is Pink Cadillac on July 28. They will play oldie hits from the 50s, 60s and 70s. The Mini Market will be open on College Street for shopping from 5-9 p.m.
A fan favorite, Black Widow will be on stage August 4 with Motown sounds and R&B. Another Bowling Green based band, Dizzorderly Conduct, will help usher in the Solar Eclipse on August 18 with an "Out of this World" performance. Come to Franklin on Friday for the concert and stay through the eclipse on Monday afternoon. You can watch the eclipse at the Franklin Drive-In on Monday, and Franklin is one of the best places in Kentucky to view the eclipse!
The always amazing Tyrone Dunn and Kin-Foke will wrap up the Summer Nights series on August 25 as they bring R&B and Motown to downtown Franklin. The final Mini Market will be at 5 p.m. this night.
The Summer Nights Concert Series is a family friendly free event. Franklin welcomes everyone to come and see what is so special about our small town!
About the Author:
Amy Ellis is the executive director of the Franklin-Simpson Renaissance.