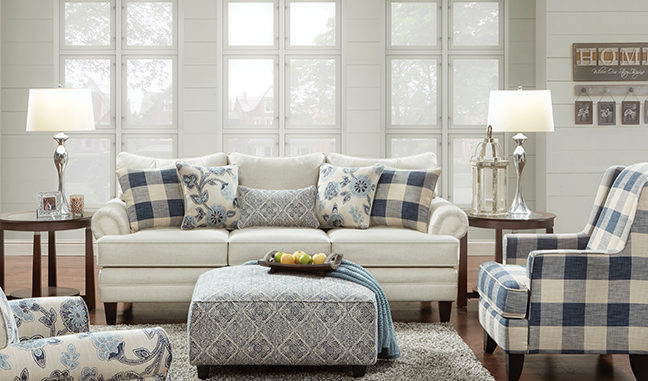 Fusion Furniture is such a great furniture line. On May 1, 2009, Fusion Furniture Inc. was created. Bo and Alison Robbins had been in the furniture industry for years and decided there was a need for a line offering style, value and service. They made a point of making selections of fabrics that are pleasing to all generations. Revolution Performance fabrics are a great addition to any home. So many options are available with this line for sofas, sectionals, loveseats and chairs to go with any line you already possess. Fusion is made in Ecru, Miss., and can ship within six weeks of the day of purchase. Fusion is known for a lot of color, with everything from lime green and mustard to navy and lavender.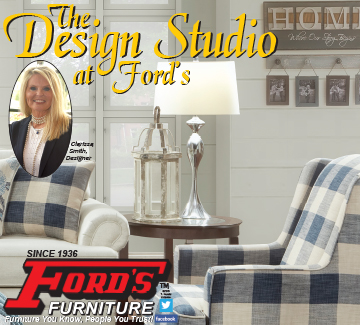 Ford's Furniture has been fortunate to add this excellent line to our showroom. If you are looking for a great look, warranty, and build, Fusion is your line. They offer one year on electronics on their products. Another great thing about Fusion furniture is it can separate into pieces so you can move it around to accommodate friends and family. Their chaises are a great example of that. Take a few minutes and stop by and look at our new spring Fusion line. You will be so excited to see all the color and fashion connected to this line. I would love the opportunity to show you the line or set up a design appointment with you to talk about giving your home a facelift.
– by Clarissa Smith
About the Author: Clarissa Smith received her education from David Lipscomb University and Western Kentucky University in the field of design. A former visual merchandiser for Castner-Knott, she decorated on the side. She has decorated Parade homes in Fountain Trace and Covington Grove plus a wide variety of commercial buildings including Chandler Park, Chandler Assisted Living and Hospice along with several banks and doctors' offices. She has been employed as a buyer of accessories and the on-staff designer at Ford's Furniture for 16 years.