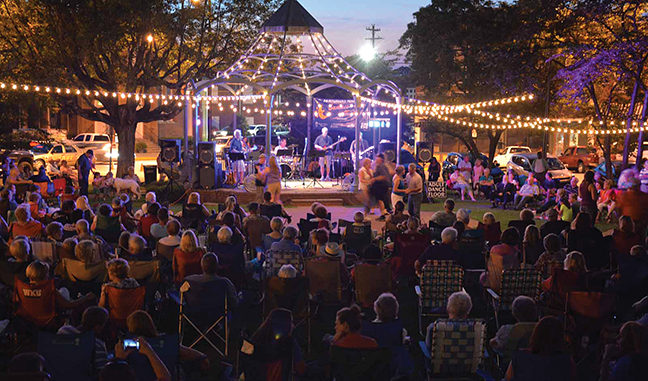 Having a big time in a small town is what we do best in Franklin with 11 free live concerts in our Downtown Historic District during the summer. Bring your family and friends and sit under the stars while you enjoy live performances by some of the hottest bands in the area.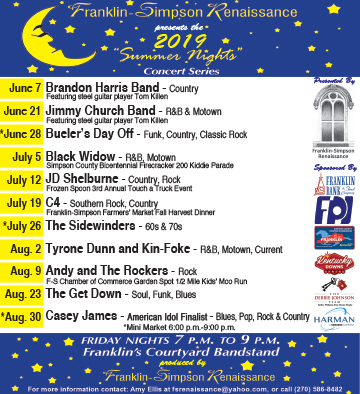 The series of free Friday night concerts – hosted by the Franklin-Simpson Renaissance and sponsors Franklin Bank and Trust Co., Franklin Precision Industry, Inc., Kentucky Downs, The Debbie Johnson Team – Keller Williams First Choice Realty, Harman and Franklin-Simpson Tourism – will kick off June 7 and run through the end of August.
"Our beautiful downtown courtyard is the perfect setting for our free concert series," said Amy Ellis, Executive Director of Franklin-Simpson Renaissance. "Bring a lawn chair, grab a bite of food from one of our street vendors or area restaurants, and sit back and relax to some great music. It is a family-friendly environment that offers something for everyone of all ages."
The concerts are held on the lawn of the historic Simpson County Courthouse beginning at 7 p.m. and wrapping up at 9 p.m. Lawn chair rental is available.
"Come to Franklin a little early and shop with some of our downtown merchants," Ellis said. "Most of the shops will be open until the concerts begin. We have some great shops offering local art, furniture, clothing, antiques, sporting goods, jewelry and much more. We have eight boutique clothing stores downtown, several specialty shops, a frozen yogurt shop, a coffee shop, a donut shop and two restaurants."
On the last Friday of June, July and August, vendors set up in the street at 6 p.m. for the Mini Market that is held in conjunction with the concert series. The Mini Market features booths from the Farmers Market, vintage items, clothing, home décor and art. Go to fsrenaissance.org to obtain a vendor application.
"We wanted to provide a space for pop-up shops," Ellis said. "The market is a friendly place for a small business to test the waters and see how potential customers respond to their product."
The Summer Nights Concerts are: The Brandon Harris Band June 7, Jimmy Church Band June 21, Bueler's Day Off June 28, Black Widow Band July 5, JD Shelburne July 12, C4 July 19, The Sidewinders July 26, Tyrone Dunn & Kin-Foke August 2, Andy and the Rockers August 9, The Get Down August 23 and Casey James August 30.
There are several events planned to coincide with the concert schedule this summer.
Simpson County will celebrate its 200th anniversary this year and the Firecracker 200 Kiddie Parade will be held on Friday, July 5, at 6 p.m. prior to the Black Widow Band concert. Registration is on site and begins at 5:30 p.m. Broadway the Clown will lead the parade of children age infant-3rd grade as they "parade" around the historic courthouse. Only people-powered vehicles (bikes, trikes and wagons) are allowed.
The Frozen Spoon 2nd Annual Touch a Truck will be held on July 12 during the JD Shelburne concert. Children of all ages are encouraged to come and touch, climb or sit in tractors, fire trucks, police cars, and other vehicles that will line College Street.
The Franklin-Simpson Farmers Market Fall Harvest Dinner will be July 19. This fundraising event will be held in conjunction with the C4 concert. The F-S Chamber of Commerce will host the Garden Spot ½ Mile Kids Moo Run on August 9 before Andy and The Rockers play. The Moo Run is a kick-off event for the Garden Spot 5K Run on Saturday morning.
Franklin Movie Nights will be at dark on the Courthouse lawn on Saturday nights this summer! The movies are free to the public. The schedule is: June 8 – A Dog's Way Home (Glow Night – Free glow sticks); June 22 – Remember the Titans (Faith and Family Night – Free Mini Footballs); July 13 – Incredibles 2 (Special Abilities Night – Free Ice Cream); July 20 – The Lion King (Disney Throw Back – Free Hot Dogs); August 3 – Captain Marvel (Teen Night); August 17 – The Greatest Showman (Girls Night Out); and August 31 – Wreck It Ralph 2 (Free Popcorn).
For more information on the Summer Nights Concerts go to fsrenaissance.org or call 270-586-8482.