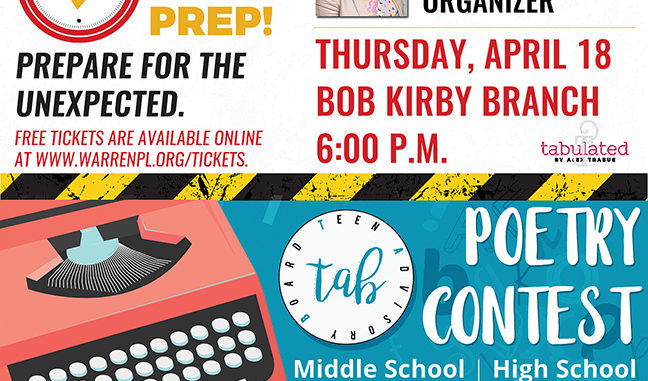 Warren County Public Library is "making it rain" when it comes to this month's exceptional programming! There is no reason to dread those April showers when they consist of downpours of exciting events courtesy of your neighborhood public library. Enjoy a presentation by an area professional organizer to help with your spring-cleaning efforts, and checkout several outstanding authors during this month's highly anticipated SOKY Book Fest. These are just two of many events on the calendar aimed at helping you make the most of your month, regardless of the weather forecast.
Teen Advisory Board Poetry Contest Accepting Submissions through April 8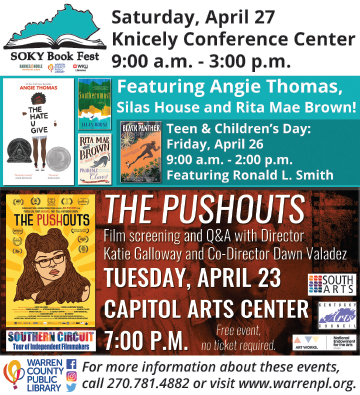 April is National Poetry Month, and WCPL's Teen Advisory Board is marking the occasion by sponsoring a poetry contest for middle school and high school students. Entries will be accepted through April 8. Two winners will be published in Bowling Greens Daily News and will appear in next month's SOKY Happenings article. Submissions are requested to be under one page long. For more information, please contact laurafox@warrenpl.org.
New Art Program for Youth Launching this Month with "Night with an Artist" Event, April 2
WCPL is excited to announce its new "Do More Art" initiative for teens and tweens, which will take place every Tuesday from 6 to 7 p.m. throughout April and May. The new program kicks off with "A Night with an Artist" on April 2, featuring local artist, Alice Gatewood Waddell. Ages 11 and up are invited to attend by registering online at warrenpl.org/events.
Basics of Genealogy with Nancy Richey, April 9
Even with the recent popularity of DNA kits and TV shows such as Who Do You Think You Are?, family history research can still be intimidating. Learn how to start, what common terms mean, and organization tips with this introductory class, led by genealogy expert Nancy Richey Tuesday, April 9 at 6 p.m. at the Bob Kirby Branch. Registration is requested; please email nancyr@warrenpl.org for more information.
The Woman's Hour Elaine Weiss Book Discussion, April 11. Weiss to Visit WKU, April 30
Award-winning journalist and writer Elaine Weiss' book, The Woman's Hour, will be the subject of a WCPL discussion on Thursday, April 11, at the Main Library beginning at 6 p.m. In The Woman's Hour, Weiss tells the gripping story of how America's women achieved their right to vote through one of the greatest political battles in American history, culminating in a battle for Tennessee, which stood as the 36th state needed to make women's voting rights the law of the land. For more information on WCPL's book discussion, please email hollyh@warrenpl.org.
Also, mark your calendar for April 30 at 7 p.m. when Weiss will be speaking at the Downing Student Union on Western Kentucky University's campus. The event is a free public presentation and swipeable for WKU students. This program is made possible by the Boyd Lubker Foundation and WKU Sisterhood and is part of a two-year collaboration between Western Kentucky University's Kentucky Museum and the Warren County Public Library commemorating the centennial of the 19th amendment's passage. For more information visit https://www.wku.edu/go/journey.
Ready, Set, Prep! with Alex Trabue, Professional Organizer, April 18
If you are a fan of Netflix's hit series, Tidying Up with Marie Kondo, then you will not want to miss this month's installment of Ready, Set, Prep.
Alex Trabue, founder of Tabulated, an area professional organizing service, will offer tips on getting organized during her 6 p.m. presentation at the Bob Kirby Branch Library on Thursday, April 18. Trabue is a member of the National Association of Productivity and Organizing Professionals (NAPO) and can be reached through her website, https://tabulated.me/.
The Pushouts Film Screening, April 23
This month's independent film screening will feature The Pushouts on Tuesday, April 23, at the Capitol Arts Center. Director Katie Galloway will be in attendance to discuss the film. All Southern Circuit film screenings are free and open to the public; no ticket is required.
The Pushouts is a feature-length documentary that takes on crucial social issues. The film examines crucial questions of race, class, and power – and the promise and perils of education – at a particularly urgent time.
SOKY Book Festival, April 26-27
Southern Kentucky Book Fest is one of the state's largest literary events and is presented by Barnes & Noble Booksellers, Warren County Public Library, and WKU Libraries. Held annually in April, the Book Fest draws thousands of readers of all ages who welcome the occasion to meet their favorite authors and purchase signed copies of their books.
The 2019 SOKY Book Fest will be held Saturday, April 27, from 9 a.m. to 3 p.m. Well over 100 authors are scheduled to attend, including Angie Thomas, who wrote The Hate U Give. Other notable attendees will be Rita Mae Brown, Silas House, Ronald Smith, and more. Children's Day will be Friday, April 26, from 9 a.m. to 2 p.m. Both days are free and open to the public; please note that all books signed at SOKY Book Fest must be purchased at the festival. In addition, The Kentucky Writers Conference will occur April 26 and 27.
Don't be an April fool by missing out on this month's lineup of events for all ages. From youth art activities to teen poetry contests, April will include a host of adult programs ranging from a genealogy class to a variety of book discussions. A day-by-day calendar is available through WCPL's website, warrenpl.org/events.
Grab your umbrella and rain boots, because April showers won't just bring May flowers; they'll also bring a flood of activities at the Warren County Public Library!