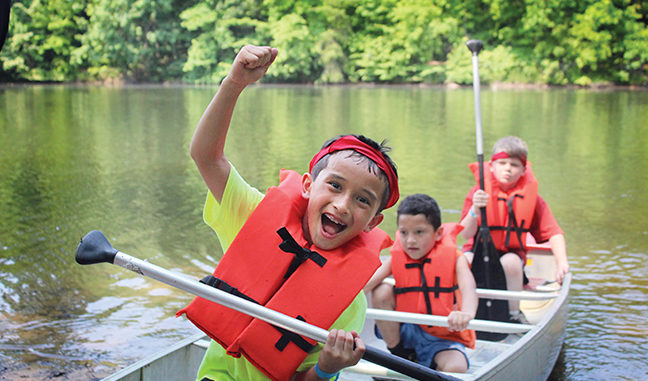 Spring is here! Or it's coming! Or it's passed and is on its way back around. Who knows! I'm not entirely sure, what with Kentucky weather being the way it is, but one thing is sure – summer is just around the corner. If you've got kids in school, you've probably made summer plans or are dreading trying to find them. Summer camp is an excellent way to give your kids unbridled play along with structured learning, mentoring, and peer-to-peer interaction without the need for screens, sports, or figuring out meals and rides. Camp Loucon is a Christian summer camp in Leitchfield, Ky., for students grades 2-12. Just under an hour away from Bowling Green, Camp Loucon might be the solution for one week of your summer planning.

Loucon sits on just shy of 700 acres of beautiful land, with a dock on Nolin Lake. For eight weeks of the year, Loucon holds summer camp for kids entering 2nd grade through graduating seniors in high school. At camp, a new and wholly unique set of campers arrives each week and spends time in the outdoors, learning to live and love alongside one another. Campers live in cabins (with air conditioning!) and are mentored by counselors who help them face their fears, try new things, and grow in awesome ways.
Loucon offers campers the opportunity to zipline, rock climb, rappel, canoe, fish, swim, make crafts, and so many other memory-making activities. Through these adventures, campers get to step outside of their comfort zones by trying new things, meeting new people, and doing things they never thought they could. In doing so, campers are encouraged to open up to their peers and to God, growing more vulnerable and intimate with Him all the while!
Camp isn't just a place for thrill seekers; Loucon also offers sports, cross-country, disc golf, art, photography, drama – the list goes on! Campers are encouraged to be themselves and be loved; no one camper will leave having felt like a bystander! Loucon's trained staff members are fantastic role models and Christian adults who love God and love having fun with kids.
Camp Loucon is a place chock-full of adventure, memories to be made, and growth to be had. Imagine your child spending a week of their summer in the fresh air, under a blue sky, surrounded by kids their age and a group of mentors who love them for who they are. If this sounds like something you'd like to plan for your kids or you'd like some more info regarding summer camp at Camp Loucon, head over to Loucon.org or call the office at 270-242-7160. Can't wait to see you there!