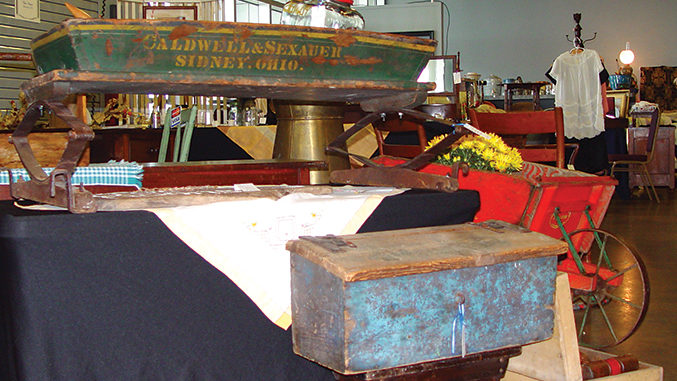 submitted by Alpha Theta Chapter of Epsilon Sigma Alpha
Bowling Green's Alpha Theta chapter of Epsilon Sigma Alpha was chartered in 1952. Epsilon Sigma Alpha, or ESA, is an international organization full of members that create activities and support causes that let us surround ourselves with welcoming, positive people who enjoy making a difference and having fun together. Supporting local organizations and members of the community is at the heart of ESA and the Alpha Theta chapter and has been for many years. In the mid-1960s, the members of the Alpha Theta chapter discussed various fundraisers to help finance those local organizations. Several chapter members were interested in collecting antique furniture, china and jewelry, so the idea of having an antique show and sale was proposed by a committee and excitedly adopted. Since the idea, the show has been held at local high schools, Western Kentucky University, the Red Roof Inn and the Knights of Columbus Hall.
Since 2015, the show has been held at the National Corvette Museum, located at 350 Corvette Drive in Bowling Green. This year the show will be September 8 from 5 to 7 p.m., September 9 from 9 a.m. to 4 p.m., and September 10 from noon to 4 p.m. There will be dealer booths from several states including Kentucky, Tennessee, and Mississippi. Items available to purchase from dealers include antique glassware, jewelry, linens, china, silver, porcelain, pottery, books and much more. A craftsperson will also be there to repair and restore glassware, crystal, pottery and porcelain. Door prizes, donated by the show dealers, will also be given away at the end of the show. You will n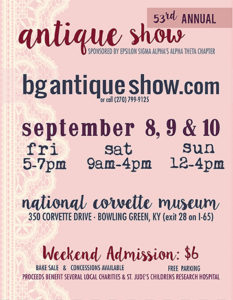 ot need to be present to win. Admission is $6 and can be used for all three days. Food will also be available for purchase.
This year the St. Jude table, which features home-baked goods and items prepared by the members of the Alpha Theta Chapter, will be available again. A concession stand will also be available and will offer sloppy Joe sandwiches, hot dogs, chicken salad, pimento cheese, desserts, lemonade, tea, coffee and soft drinks. All proceeds from the St Jude table and concession stand go directly to St. Jude Children's Research Hospital located in Memphis, Tenn. ESA International adoptd St. Jude in 1972 as an ongoing international service project. Since then, ESA International, including the Alpha Theta chapter, has donated over $200 million to the hospital. In honor of these contributions over the years, a floor at the hospital is named the Epsilon Sigma Alpha Floor with bronze plaques noting the name.
Monetary proceeds and donations from the show continue to benefit various local and international organizations as they have in the past. Along with St. Jude Children's Research Hospital, ESA also internationally supports Easter Seals, the leading non-profit provider for individuals with autism, developmental disabilities, physical and mental disabilities, and other special needs. Locally, Alpha Theta donates to the American Cancer Society, the American Heart Association, Barren River Area Safe Space (BRASS), the Boys and Girls Club, CASA of South Central Kentucky, the ESA disaster fund, Hospice of Southern Kentucky, the ESA Kentucky Scholarship fund, Kids on the Block, the Salvation Army, Eloise B. Houchens Center, and Wreaths across America. Alpha Theta also participates in and supports other local organizations and events including Relay for Life.
Please mark your calendars for September 8-10, 2017, as The Bowling Green Alpha Theta chapter of Epsilon Sigma Alpha would like to formally invite you to our 53rd Annual Antique Show and Sale! For more information or to become a dealer, please call 270-799-9125, visit www.bgantiqueshow.com or visit us at Bowling Green Antique Show on Facebook. We look forward to seeing you and your friends and family there!