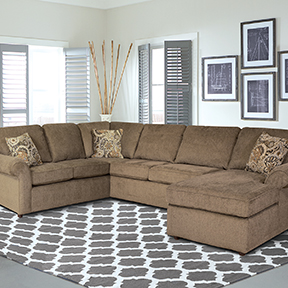 submitted by Ford's Furniture
When you begin to think about adding a new sofa to your home, or maybe replacing a tired old friend, there are a number of elements you might want to consider. Beauty? That's a given. Comfort? Of course. Quality construction? Surely – you don't want to have issues or have to replace it again in a year or two. And, finally, cost and how quickly it can be in your home are also very important considerations.
Whew! Sounds like a lot of work, right? Not at all if you drop by Ford's Furniture and have a look at our England Furniture Gallery. England, like Ford's, is an American company founded by family –brothers Charles, Eugene and Dwight England. In 1964, they started their company in the foothills of east Tennessee and have been crafting quality upholstered furniture ever since. The brothers' original goal was to put their friends and neighbo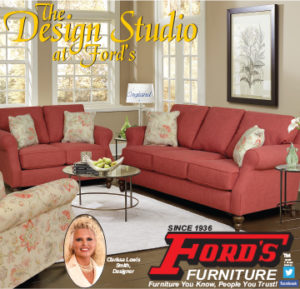 rs in Appalachia to work. However, that goal has evolved into a legacy of producing furniture of the highest quality in the shortest amount of time.
Visit us at Ford's and talk with one of our knowledgeable and experienced consultants. Choose from over 500 fabrics and leathers. In addition to a sofa, you might want a sectional, chair, recliner or ottoman; each comes with a 10-year cushion warranty. Once you make your selections, Ford's and England can have your new, custom furniture in your home in 21 days or less. That's right… you wait less than a month to enjoy the beauty, comfort and quality of custom ordered furniture from Ford's and it is made in the USA and purchased from a furniture store that is proud to sell and deliver USA manufactured products to your home.
If you are considering new furniture, remember those important elements – beauty, comfort, quality and price – and then visit Ford's Furniture. The Ford's family has been selling quality furniture at reasonable prices for over 80 years; you won't be disappointed.