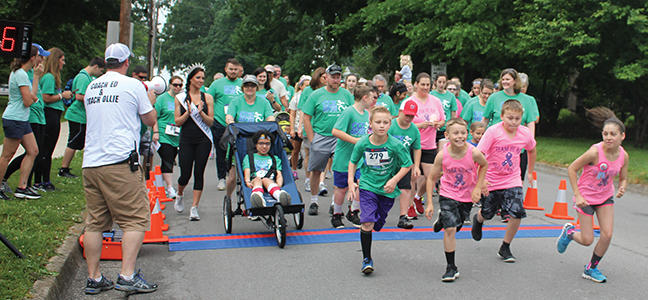 You will make a difference in the life of a seriously ill child at the Center for Courageous Kids 6K Run & Backwards Mile
The Center for Courageous Kids is gearing up for the Fifth Annual Courageous Kids 6K Run & Backwards Mile presented by Edmonton State Bank on April 13! CCK is excited to announce that the 2019 race will take place in the beautiful countryside surrounding Chaney's Dairy Barn.
Participants can choose to register for the competitive 6K run (3.72 miles) that will be professionally chip timed by EnMotive or participate in the NEW Backwards Mile, where participants are challenged to walk backward. Walking backward is not normal, right? Well at CCK we change a seriously ill child's idea of "normal" by transforming their life from their normal days filled with hospital visits, to days filled with all the joys of CAMP! On April 13, we wanted to transform YOUR idea of a normal walk. YOU can join others and help make a difference by showing CCK's courageous campers that no matter how you do the race, anyone can make it to the finish line!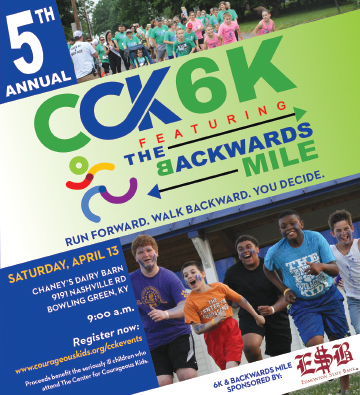 This year's event offers something for the whole family! Run and walk participants will start and end at Chaney's Dairy Barn and will have the opportunity to take part in lots of fun family activities before and after the race! There will be a jumping pillow, Chaney's ice cream, food, and the barnyard playground!
All proceeds from this event will benefit The Center for Courageous Kids, a medical camp in Scottsville, Ky., that has served over 32,000 children and families from 45 states and 10 foreign countries, many of which have come from South Central Kentucky. Since 2008, CCK has led the charge in inspiring, empowering, and enhancing the lives of seriously ill children, and has held true to its mission and values by providing year-round camping opportunities to children and families at no cost. We could not carry out our mission without the generous support from our community. If you are looking for a way to make a difference in the lives of children right here in our own community and beyond, joining us for the Fifth Annual Courageous Kids 6K Run & Backwards Walk is the way to do it! We hope to see everyone at the start line on April 13.
EVENT ITINERARY:
FRIDAY, APRIL 12TH – RACE PACKET PICK-UP
TIME: 3 p.m. – 6 p.m.
LOCATION: Donato's Pizza in Bowling Green. All day, Donato's Pizza is donating 10% of sales to CCK! Come get your registration packet and stay for some pizza to benefit our courageous kids!
SATURDAY, APRIL 13TH – RACE DAY
8 a.m. On-site Registration at Chaney's Dairy Barn
9 a.m. – 6K Run Begins (The 6K Run is competitive and will be chip timed by EnMotive and qualifies as a Bowling Green Road Runner Grand Prix Race)
10 a.m. – Backwards Mile (Not timed)
10:15 a.m. – Age group awards for 6K Runners
10:30 a.m. – Family Fun Day Activities at Chaney's Dairy Barn (Chaney's Ice cream and lunch menu items will be available for purchase)
ENTRY FEES:
6K RUN: $25 per person
BACKWARDS MILE: $15 per person.
REGISTRATION:
TO REGISTER: GO TO WWW.COURAGEOUSKIDS.ORG/CCKEVENTS *Online registration closes Monday, April 8.
Note:
To be guaranteed a t-shirt, participants must register by March 18. After that date, t-shirts are on a first come first serve basis until supplies run out!
For questions about this event, please contact Sarah Keltner, Director of Communications and Special Events, at skeltner@courageouskids.org OR call 270-618-2900 ext. 225