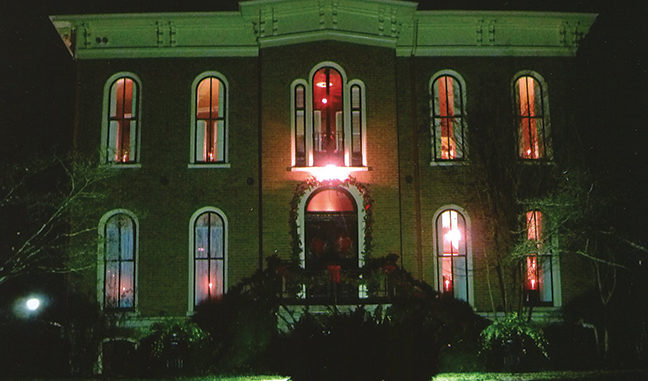 There are certain milestones that mark the holiday season – picking the perfect tree, watching the Christmas parade, visiting Santa, wrapping gifts. So it is with the Candlelight Tour at Riverview at Hobson Grove. Each December, the Hobson House opens its doors for a magical evening with costumed tour guides, inviting you to take a journey back in time as you explore candlelit rooms and learn about Victorian Christmas traditions, including the origin of the Christmas tree. Join us Saturday, December 8, 4:30-7:30pm. This tour is free to the public, although donations are certainly appreciated! Parking will be at the bottom of the hill at the ballpark and golf course, with shuttles provided to Riverview. Our gift shop will be open and free refreshments will be provided to our guests.
Throughout the season, you will find Riverview is the perfect spot to celebrate. On Wednesday, November 28, from 10 a.m. to 7 p.m., we will hold our Vend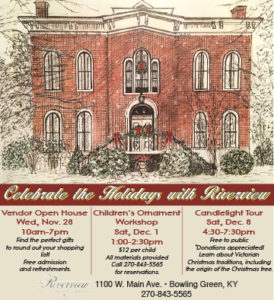 or Open House where you will find the perfect gifts to round out your shopping list. Enjoy a selection of clothing, home décor, books, and homemade goodies, including George Anna McKenzie's bourbon balls. When you are finished shopping, enjoy free refreshments and take advantage of our gift wrapping station. Free admission.
There is fun for the little ones, too! On Saturday, December 1, from 1 to 2:30 p.m., Nancy Baird will teach a Children's Ornament Workshop. Participants will learn sewing skills and come away with a beautiful handmade Christmas ornament! The cost is $12 per child with all materials provided. Parents are welcome to stay. We recommend small children have an accompanying adult for assistance. Limited spots available. Call 270-843-5565 for reservations.
Whether you want to tour a historic home, get some shopping done or let your children create an ornament, Riverview at Hobson Grove is the place to be this holiday season!