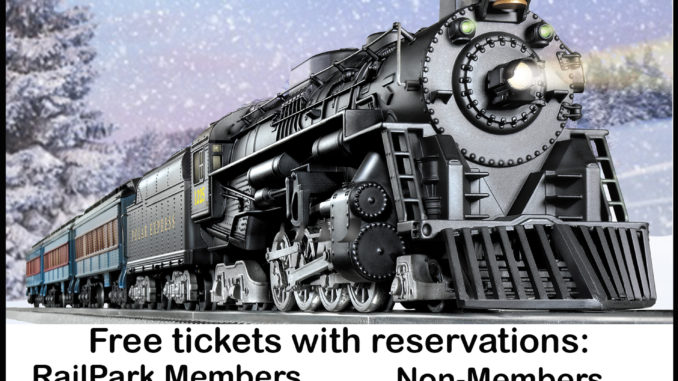 submitted by Jamie Johnson
Fall is in the air and pumpkins are everywhere! However, at the Historic RailPark, our minds are focused on warm cookies and festive pajamas! We are excited to announce dates for this year's Polar Express at the RailPark presented by Jim Johnson Nissan Hyundai.
It's a magical evening with cocoa, cookies, snow, a conductor, storytime on the dining car, and Santa! Back again this year, the O scale Polar Express model ex
hibit will be set up and Santa's Toy Shop, our Gift Shop, will be open for Christmas shopping.
For many kids in our community, they hear L&N Depot and think POLAR EXPRESS. It just goes together. The Polar Express Storytime is an annual event cherished by families everywhere. Many families have made this event a part of their holiday tradition.
The popularity of this event has grown by leaps and bounds since 2003 when it began as a partnership between the Warren County Public Library and the Historic RailPark & Train Museum. This Christmas, once again, the most coveted ticket is the Polar Express ticket. Registration day is a very exciting day for the staff and volunteers of the RailPark, Warren County Public Library, Friends of the Library and Kiwanis Club of Bowling Green. All of these organizations come together to make this celebration bigger and better than before.
We have removed the option to call in for tickets for non-members. Demand has grown to a level that makes it difficult for callers to get through on our two phone lines.
For the third year in a row, there is an opportunity for early registration forRailPark members. Memberships start at $25 and can be purchased by calling or visiting the Historic RailPark & Train Museum. RailPark members receive many additional benefits including early notice and discounts for events.
 RailPark Members – Polar Express early registration for members will be held November 1-4, 10 a.m. to 4 p.m. daily. Ticket reservations will be taken in person at the RailPark or by calling 270-745-7317.
Non-Members – Registration will open for the general public Tuesday, November 7, 9 a.m. to noon. Ticket reservations will be taken in person ONLY at the RailPark. Tickets will NOT be available by phone.
The Polar Express is free, but all participants must have a ticket in order to board the train for the story times. The 15th Annual Polar Express readings will occur five times each night on November 27, 28, 29, 30 & December 4, 5, 6, 7. Readings are scheduled nightly at 4:30 , 5, 5:30, 6:15, 6:45 and 7:30 p.m.
This holiday season we will also host the annual Festival of Trains at the L&N Depot on December 2-3. Make plans to visit us after the Christmas Parade for a viewing of model trains on display by the sHOw Modular Model Train Club.