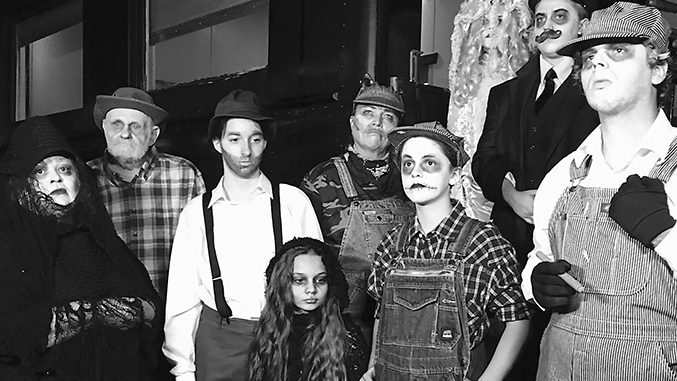 by Jamie Johnson
Haunted Lantern Tours, presented by Trent Bedding, are back this October for a third year. And if you think you have heard all the spooky tales from the RailPark, you are mistaken. We have uncovered new and untold tragedies. Join us this October to hear the Legends of the Rail Yard Worker straight from the ghosts themselves.
During the day you can visit our museum and hear about railroad history, but when the day grows dark and the night takes over, the spirits that haunt the RailPark become visible. Characters will come alive as you make your way through our haunted railcars.
You will meet Roscoe, a rail yard worker, who will tell you the story of the moans he still hears ringing in his ears that haunt him to this day. Do not be afraid when yo
u see the haunted bride who wanders aimlessly about the platform searching for her lost love. Henry, an old ticketmaster, will warn you of what you will encounter. Take his advice; it could keep you from getting spooked.

Kari Carr is back this year as the theatrical director for the production of Haunted Lantern Tours. She has compiled a spectacular list of ghost stories featuring the life and experiences of the rail yard workers. Those who once kept the trains running have now become the spirits that haunt the L&N Depot today.
Our restored railcars will each host a storyteller that will share a tale with you that is sure to give you goose bumps. Step back in time with us on select nights between October 13 and 28 from 6 to 9 p.m.
Family Fun Night is October 26, 6 to 9 p.m. Dress up in your favorite Halloween costumes and bring the whole family out for a spooky and fun tour. Enjoy games and concessions provided by Potter Gray Jr. Optimist Club. Thanks to our sponsors, admission will be half price on Family Fun Night.
During the evening tours, we will offer a variety of concessions available for purchase. Concessions each evening will be hosted by local kids who are fundraising. Montessori Elementary School of Bowling Green will sell concessions on October 13, followed by X'claim Academy on October 20, Warren Central High School Choir on October 21 and 27, and the WKU Circle K Club on October 28. Bring your appetite and support these local school groups.
Cast members include Rachel Atkinson, Nicole Bratcher, James Buchner, John Buchner, Moriah Buchner, Sarah Buchner, Simon Buchner, Cory Burdette, Cadence Carr, Savannah Carr, Lucy Carter, Isaac Deaton, Kirsten Kellersberger, Carla Kirkland, Miliska Knauft, Riley Lancaster, Tanya Lancaster, Maya Lebedinsky, Zoe Lebedinsky, Sarah Mayer, Patty McCloud, Brennon Moss, Patrick Moss, Melanie Oglesby, Duncan Pattee, Ryan Pattee, Sorcha Pattee, Tara Pattee, Christy Reinstandt, Christy Roband, Raylee Skipworth, Caroline Spencer, Cade Stephens and Ava Walker.
Adult tickets are $10, child tickets (ages 3-10) $6, and children 2 and under are FREE. You can get tickets by visiting our website at www.historicrailpark.com, by visiting the RailPark at 401 Kentucky Street in Downtown Bowling Green or by calling 270-745-7317.
To learn more about this event, you can check out our website www.historicrailpark.com or find us on Facebook, Instagram and Twitter. You will also be able to hear interviews about the production airing on WNKY-TV and WGGC 95.1.