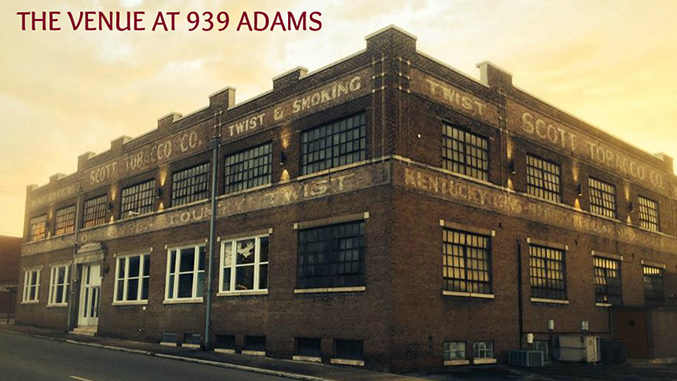 Big Brothers Big Sisters of South Central Kentucky invites you to SOKY Spirits on Thursday, September 21, from 6 to 9 p.m. This is the 16th Annual Spirits event for the agency, and it will be held at a great new location, The Venue at 939 Adams. This year's event will include a food and beverage tasting, live music, and an extensive silent auction that features something for everyone.
For a ticket price of only $50, patrons will enjoy an all-inclusive evening of beverage samplings of wine, beer, signature liquor and non-alcoholic beverages as well as food samples from over a dozen local restaurants. SOKY Spirits is an exciting event held at The Venue, a historic downtown building and one of Bowling Green's newest event sites. This event allows attendees to eat, drink, mingle, and bid on auction items all while having fun in a unique setting.
This year, patrons can dance the night away while enjoying live music by DiZZorderly Conduct. The band's energy and exciting performances are sure to keep you moving all night long. Another popular aspect of SOKY Spirits is the silent auction. This year's auction is sure to impress with a lineup of items including spa and salon packages, artwork, photography, travel packages, family packages and experiences, and much more.
The goal of SOKY Spirits is to raise awareness and funds for children in our community who need a dedicated mentor in their lives. Our one-to-one mentoring programs serve the children of Warren, Barren, and Allen counties. Each time Big Brothers Big Sisters pairs a child with a role model, we start something incredible, a one-to-one relationship built on trust and friendship that can blossom into a future of unlimited potential. Big Brothers Big Sisters accomplishes its mission to help children succeed by generating financial support through grants, individual donations, and annual fundraising events, such as SOKY Spirits and Bowl for Kids' Sake.
For children in the agency's programs, having a committed, caring adult in their lives can make a big difference. It is matches like Ryan (Big) and Joseph (Little) that help bring to light the success of the Big Brothers Big Sisters program.
When Peggy enrolled her grandson, Joseph, into the Big Brothers Big Sisters (BBBS) program, her hope was that Joseph would be able to have fun and new experiences with a caring and invested individual. She also hoped that Joseph would be able to have a mentor who could help him learn more about what the world has to offer.
One year ago, Joseph was matched with Ryan. From the beginning, Joseph and Ryan have had a great connection and have developed a strong friendship
through many shared experiences. These experiences have included going to the movies, to Jump Air Zone, and to the zoo. More importantly, Ryan has been able to show Joseph the value of strong and rewarding friendships.
Since being matched, Joseph and Ryan have enjoyed many wonderful experiences that have enriched not just Joseph's life, but Ryan's as well. While providing stable and caring friendships is always the main goal of Big Brothers Big Sisters, another goal is that the child matched in a BBBS program will enjoy long-lasting, positive effects from the match. For Joseph, he has had the benefit of a friendship that has provided guidance and a chance to grow into a more outgoing boy. From his match with Ryan, Joseph has had a caring and loving role model who is there to listen and help him excel in life and in school.
A match like Ryan's and Joseph's is something we at Big Brothers Big Sisters celebrate. They embody all that we strive to achieve when making a match and what we work hard for everyday. Without excellent Bigs like Ryan, our work cannot be done, and we are thankful for those in our community who want to impact the life of a child for the better, forever.
To find out how you can make an impact with Big Brothers Big Sisters, visit www.bbbsky.com or call 270-781-1180.