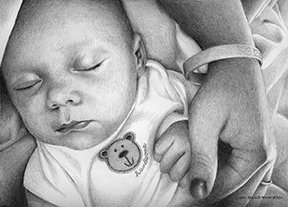 Artist John David Thompson: From doodling to design
submitted by the artist
A native Kentuckian, I've been drawing since I was old enough to hold a pencil. In my early years, my parents owned a Dairy Queen. I spent a lot of time there, especially during the summer. To stay busy (and out of the ice cream cooler), I spent countless hours doodling on Dairy Queen order pads. In school, my teachers sometimes noticed my drawing skills. While the schools I attended didn't offer much in the way of the arts, occasionally a teacher took interest in me and gave me art-based assignments. Drawing was something I couldn't refrain from, even when I wasn't necessarily supposed to be doing it. I often joke that my artistic career stems from 13 years of getting in trouble for doodling in class.
In my teens, I was a comic book nerd. I began drawing in that style and creating characters of my own. I was amazed at the design of the human anatomy, and I enjoyed the process of visually telling a story. After high school, I took fine art classes at a local community college where I learned to paint and to improve the realism in my drawings.
After a stent of mission work in Europe, I returned to the States and attended the Art Institute of Atlanta. There I worked my way through college at a printing company, which was great because I was learning graphic design on the job as well as in school.
After graduation, I returned to my roots in Kentucky where I landed a job at ZebraGraphics in Paducah as a graphic artist. Over the years, I was instrumental in expanding Zebra by opening a new branch in Bowling Green. I never gave up the fine art, however, and continued to produce graphite portraits on commission.
I grew to love Bowling Green more and more over the years. One day an idea came to me to create a large illustrated map of the city. This was a good way to blend my illustration skills with graphic design. Upon completion, I began selling prints of the map at Candle Makers on the Square. On the first day of their appearance I went into the store and noticed a small crowd around them. I eased in quietly, as no one knew what the artist looked like. As I listened to the unfiltered comments, one fellow noted, "It's like something out of a graphic novel." That made me happy, because it was a reference to comic books. I felt I had finally managed to blend my skill set into one cohesive style. The maps were a big hit, so I continued on that path to make a Kentucky map in a similar style. It was a success as well.
Brandon Jones of Houchens industries, having seen the Bowling Green map, contacted me about creating a 30-foot-wide mural at Diddle Arena. It needed to be done in the same style, full color, and finished within a month. I worked with Brandon to create a 1/5th scale illustration, after which Zebra printed it full scale and installed it at the North Entrance of Diddle Arena on the day before the first game of the season.
Other opportunities emerged from this piece, such as United Way's "Balloons, Tunes and BBQ" and the "211" project. I just completed a 9-foot-tall mural for The Center for Courageous Kids. I enjoy the process of finding out the clients' needs. A lot of planning goes into each project. Research, thumbnail sketches, "roughs" and note taking are often the most time-consuming part of a job. When I begin the actual artwork, at least half of the work is already done.
What's next? I'm going all the way back to the beginning and making a comic book. I've teamed up with a writer, and I'm enjoying the process. It's given me a new respect for this type of art, and I'm eager to see it to completion.
Time will tell where I go from here. I'm a pragmatist, so I see art as simply creating a product and fulfilling a need. It's not about me. It's about the product itself. If the product is a success, that makes me happy.